UK heatwave brings hottest July day on record as Heathrow hits 36.7C
The previous record was set on 19 July 2006, when the temperature hit 36.5C in Wisley, Surrey
Lizzie Dearden
Wednesday 01 July 2015 22:48 Comments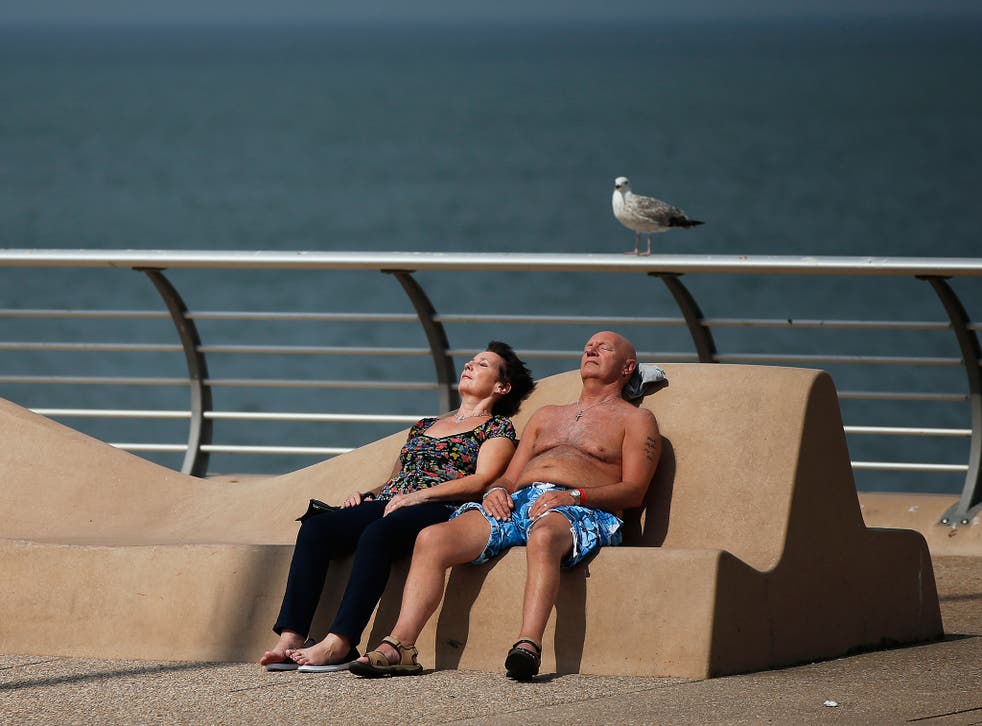 Today is officially the hottest July on record in the UK, with temperatures of 36.7C being recorded at Heathrow Airport in London.
The milestone comes after two people drowned while trying to cool off in rivers and reservoirs yesterday, sparking warnings from the emergency services about the dangers of swimming in unguarded areas.
In Cumbria, a man in his 30s was found dead in the early hours of this morning in the River Esk near Longtown.
The man, believed to be from Carlisle, had reportedly been swimming with his young daughter when they got into difficulty at around 4.15pm on Tuesday.
Cumbria Fire and Rescue Service said the girl was rescued by a passer-by but her father remained missing until his body was recovered by search teams overnight.
Watch manager Paul Dean told the Mirror: "We do think this was a weather-related incident.
"It is a very popular place, very idyllic. But it has hidden currents, jagged rocks and it's very deep and very cold."
The girl is recovering in hospital and her family are being supported by police, Cumbria Constabulary said.
Another man died at a reservoir in Suffolk during the hot weather yesterday.
Police were called to Alton Water at around 8pm to reports that a swimmer had disappeared under the surface and the body of a man in his 20s was found after a search by divers, boats and a helicopter.
Suffolk Constabulary is now warning people of the dangers of cooling off in rivers, lakes and reservoirs.
Jumping into cold water can cause the body to go into shock, a spokesperson said, and submerged hazards and strong currents can be difficult to see.
Urgent health warnings have also been issued as much of Britain sees the mercury hovering between between 30C and 33C.
Young children, the elderly and those with serious illnesses are at particular risk amid fears the hot weather could lead to hospitalisations and more deaths.
The heatwave has sparked delays, cancellations and speed restrictions on train lines across England because metal tracks could buckle in the "extremely high temperatures".
Heatwave hits UK

Show all 9
The precaution will make journeys in stifling carriages even longer on routes operated by First Great Western, Southeastern, Virgin Trains East Coast and Abellio Greater Anglia.
Meanwhile, parts of the London Underground are expected to be hotter than the legal temperature for transporting cattle.
The AA warned also that roads could melt, bringing more disruption to motorists who have already been stuck in huge tailbacks on the M20 caused by strikes in Calais.
President Edmund King wrote on Twitter: "Some road surfaces can melt at 50C so if weather hits 30s the ground temp in direct sun can hit 50. You have been warned."
Wimbledon is experiencing what could be the hottest day in the tournament's history, which could trigger its controversial new heat rule allowing only women players to take longer breaks.
St John Ambulance said yesterday it had treated 123 tennis fans and taken two to hospital, with the majority suffering from heat-related conditions.
Public Health England has activated its heatwave plan after the Met Office issued a Level 2 heat health alert.
The response was put in place after another spell of exceptional temperatures in August 2003, when there were 2,000 "excess" deaths in England over just 10 days.
People are being urged to drink plenty of water and keep out of the sun between 11am and 3pm.
Additional reporting by AP
Register for free to continue reading
Registration is a free and easy way to support our truly independent journalism
By registering, you will also enjoy limited access to Premium articles, exclusive newsletters, commenting, and virtual events with our leading journalists
Already have an account? sign in
Join our new commenting forum
Join thought-provoking conversations, follow other Independent readers and see their replies