After cyclists' deaths, TfL moves headphones ban a step closer
London-based institution to study their impact on safety
Paul Gallagher
Wednesday 20 November 2013 18:24 Comments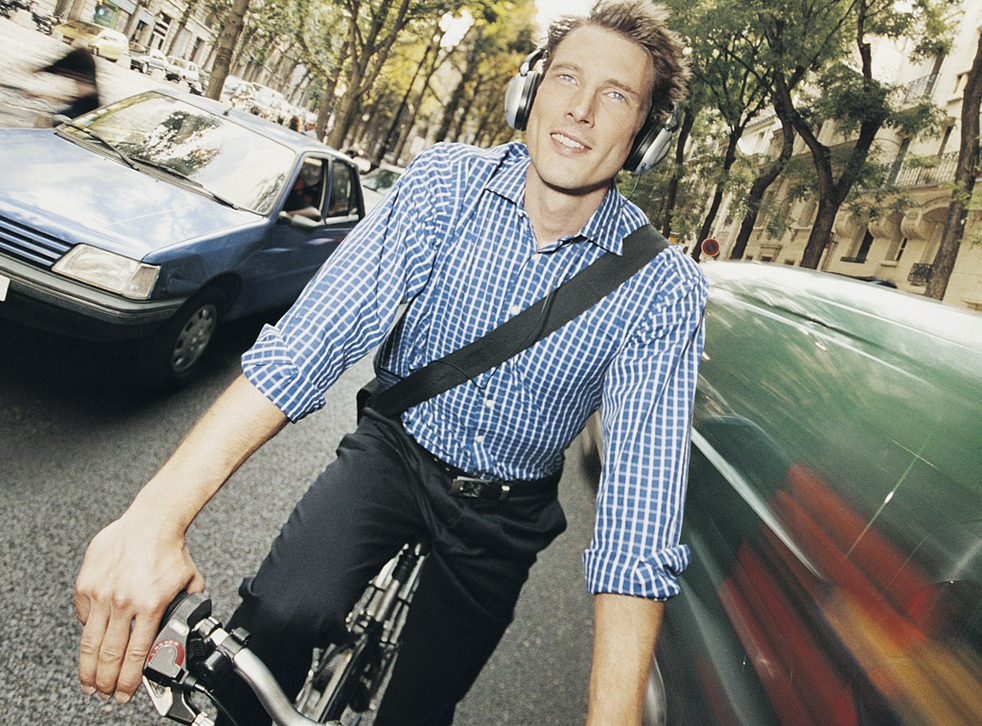 Banning cyclists from wearing headphones moved a step closer on Wednesday with news Transport for London has approached a London-based institution to carry out research on the impact on cyclists' safety of wearing headphones.
If their findings match that of a 2011 peer-reviewed study by Dutch scientists, which found several negative effects, a ban could be introduced in the capital where six cyclists have died over the last two weeks.
Mayor of London Boris Johnson was heavily criticised for appearing to blame cyclist behaviour for the recent spate of deaths after he said on Tuesday: "I'm very alarmed about cyclists wearing headphones. I would not be against a prohibition or ban on cyclists wearing headphones. Call me illiberal but it makes me absolutely terrified to see them bowling along unable to hear the traffic."
He made the comments towards the end of a wide-ranging interview discussing cycling safety. It is unclear whether any of the six were listening to music when they were killed and what, if any, impact that would have had.
Responding to Mr Johnson's comments regarding a potential headphone ban, one source said: "I know for a fact that a research institution has been approached by TFL to ascertain if wearing headphones has an impact on cyclists' reaction times. They need this research because they don't know if it does, there is just some indicative evidence."
Cyclists listening to music are at greater risk of injury, according to the study carried out by scientists at the University of Groningen. They found that "listening to music resulted in reduced visual and auditory perception and reduced speed". The authors suggested this may reduce cyclist stability.
Their report, published in the journal Transportation Research, concluded: "Negative effects are very large when in-earbuds are used. Negative effects of high volume and fast tempo on auditory perception were found. No negative effects were found when listening to music using only one earbud."
A handful of states in the USA have banned cyclists from wearing headphones while on the road. Florida state law, concerning an area where cycling fatalities are among the highest in the country, says regarding 'headsets': "A bicyclist may not wear a headset, headphone, or other listening device other than a hearing aid when riding. Wearing a headset blocks out important audio clues needed to detect the presence of other traffic."
Cyclist and attorney Christopher Burns said on his Florida Cycling Law blog: "There is a common stereotype that a cyclist listening to music, wearing headphones, is a dangerous rider, who is not able to pay attention to his surroundings. Many types of headphones allow outsides sounds to reach their ears - not just music or sound coming from the mobile device. In fact, the issue of safety with headphones and cycling is simply not that clear."
The ban does not appear to have had an effect on cycling fatalities though which increased in Florida by nearly 58 per cent from 76 deaths in 2010 to 120 deaths from cycling accidents in 2011.
Rhode Island also has a ban in place while California, Maryland and Delaware regulate the use of headphones or "earbuds" stating that cyclists must leave one ear uncovered while riding.
Quebec's highway safety code also prohibits wearing headphones while cycling. It's the only Canadian jurisdiction to do so and after it was introduced police officers stopped cyclists they spotted listening to music to give them "courtesy warnings" stating in future they would be fined C$52 (£30)
In a 12-month period between 2011 and 2012 there were four bike-related deaths "in the Montreal area", with a population of more than 1.6m people, but police said none of them was related to cyclists wearing headphones while riding.
Fourteen cyclists have been killed in London in 2013 as arguments continue to rage that further legislation regarding headphones, or compulsory helmets, will discourage people from cycling, which remains very safe. About 22 cyclists die per billion km (620,000,000 miles) cycled, or one per 28,000,000 miles, according to a 2011 Department for Transport report.
A spokesman for TfL declined to answer whether it had made the approach and recommended cyclists read its safety tips "for drivers and cyclists" on their website.
CYCLING - DOS AND DON'TS
Helmets
Wearing a helmet is not compulsory though the Government says: "You should wear a cycle helmet which conforms to current regulations, is the correct size and securely fastened."
Lights
Cyclists must have white front and red rear lights lit at night. It must also be fitted with a red rear reflector (and amber pedal reflectors, if manufactured after 1/10/85). White front reflectors and spoke reflectors will also help you to be seen. Flashing lights are permitted but it is recommended that cyclists who are riding in areas without street lighting use a steady front lamp.
Clothing
The Government recommends wearing "appropriate clothing". It states: "You should wear light-coloured or fluorescent clothing which helps other road users to see you in daylight and poor light and reflective clothing and/or accessories (belt, arm or ankle bands) in the dark."
Crossing the road
Rules for cyclists state: "Do not ride across a pelican, puffin or zebra crossing. Dismount and wheel your cycle across."
Source: The Highway Code - rules for cyclists
*
Register for free to continue reading
Registration is a free and easy way to support our truly independent journalism
By registering, you will also enjoy limited access to Premium articles, exclusive newsletters, commenting, and virtual events with our leading journalists
Already have an account? sign in
Join our new commenting forum
Join thought-provoking conversations, follow other Independent readers and see their replies