'Shameful and dangerous': Airlines condemned for forcing female staff to wear lipstick, high heels and no body hair
'I thought uniform policies like these had been consigned to the history books, they have no place in the modern workplace'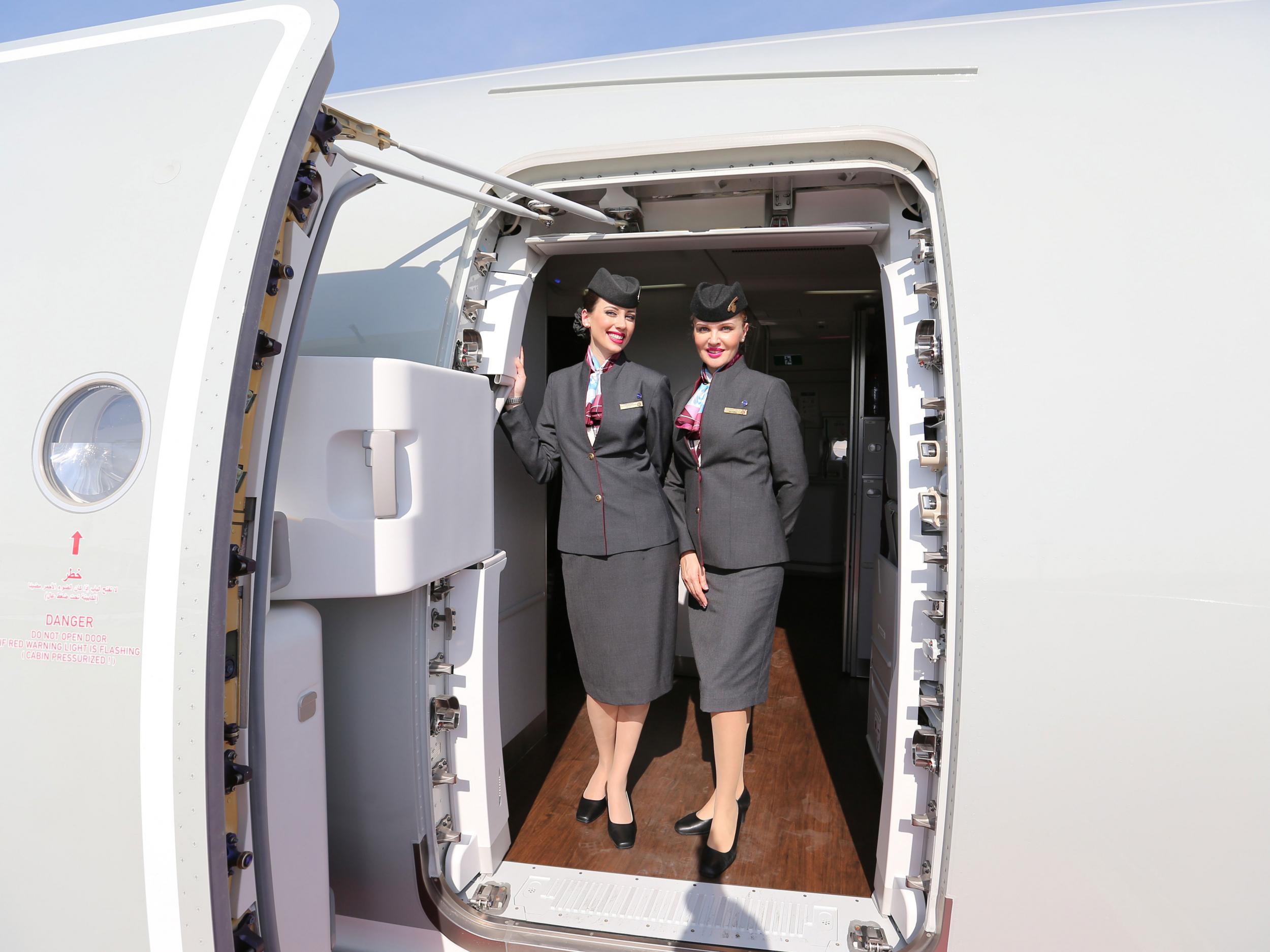 Airports have a "shameful trolley-dolly culture" and many workers in the airline industry are forced to work under "frankly dangerous" dress codes, a scathing report has warned.
GMB Union, which represents tens of thousands of workers in the airline industry, found women are compelled to wear makeup, lipstick and high heels by their employers.
The study also found they have to abide by strict rules that say noticeable hair on legs, arms and face is "not acceptable".
Workers say they are only allowed to wear flat shoes at work if they provide a doctor's note, in spite of having to walk several miles a day in busy airports covering multiple terminals.
The study found women at international ground service giant Swissport are required to wear makeup and "lip gloss or lipstick in red, pink or brown is obligatory", a minimum heel height of 1.5cm and "well-groomed legs are a prerequisite".
World news in pictures
Show all 50
The union found Dnata, the airport services provider for Emirates Airlines, says it does not allow dreadlocks.
Dnata's uniform policy on female body hair states "noticeable hair on legs, arms and face is not acceptable. It can be removed with various methods, choose which one is most appropriate for you".
Similar requirements are not stipulated for male workers.
Dnata's policy also lays out an extensive list of makeup and makeup colours which "you are required to wear at all times when in uniform". Men, on the other hand, are not allowed to wear makeup unless it is "concealer to cover imperfections".
Women "must wear nail varnish" but if a nail breaks then the policy advises "they should all be filed down".
Nadine Houghton, GMB national officer, said: "I thought uniform policies like these had been consigned to the history books, they have no place in the modern workplace. It's shameful 'trolley dolly' culture.
"Having policies that apply to women but not men is discriminatory, plain and simple. Requiring women to wear heels and traipse about for miles on end, specifically not allowing them to wear flats like their male counterparts, is downright discriminatory.
"Equally worrying is forcing women to remove their body hair in order to be presentable – women have body hair, get over it. It's not for an employer to tell them they should remove it and nor should a woman be made to feel like she should have to in order to comply with outdated and sexist standards."
Ms Houghton argued the #MeToo movement against sexual assault and harassment has made people realise that women require "proper protection" in the workplace.
She noted that while these policies do not amount to sexual harassment they contribute to a "frankly dangerous perception" of the way women "should look and behave" in order to fit in with a "superficial, patriarchal" standard.
It is these perceptions and dress code requirements which women have to adhere to which leads to them being sexually objectified, she added.
The report comes after Norwegian Air dropped a controversial policy that required female cabin crew to wear heels at all times when outside the aircraft cabin unless they carried a doctor's note.
The budget airline is also ending the mandatory make-up policy for female crew members.
A Norwegian spokesperson told The Independent in May that the guidelines were being rewritten. Norway's largest airline, which was heavily criticised for its dress code, told its women employees that they must wear heels which are at least two centimetres tall in a 22-page dress code.
It was accused of being trapped in a "Mad Men universe" – a reference to a popular US period drama which portrays the sexist and patriarchal attitudes of the 1960s.
In March, Aer Lingus announced it would no longer require female cabin crew to wear makeup or skirts, days after Virgin Atlantic had made the same move. The airline's female flight attendants, famed for their red uniforms, will be given trousers as standard, instead of having to specially request them.
A spokesperson for Swissport said: "The current Swissport uniform and protective clothing policy is designed to comply with airline partners' policies and health and safety standards. We are currently carefully reviewing elements of the policy to ensure the comfort of all staff".
A spokesperson for Dnata said: "Dnata values the role its staff play in the success of the business and promotes equality in the workplace. As such, it has policies that suit both male and female employees and a uniform designed to be comfortable and functional.
Join our commenting forum
Join thought-provoking conversations, follow other Independent readers and see their replies