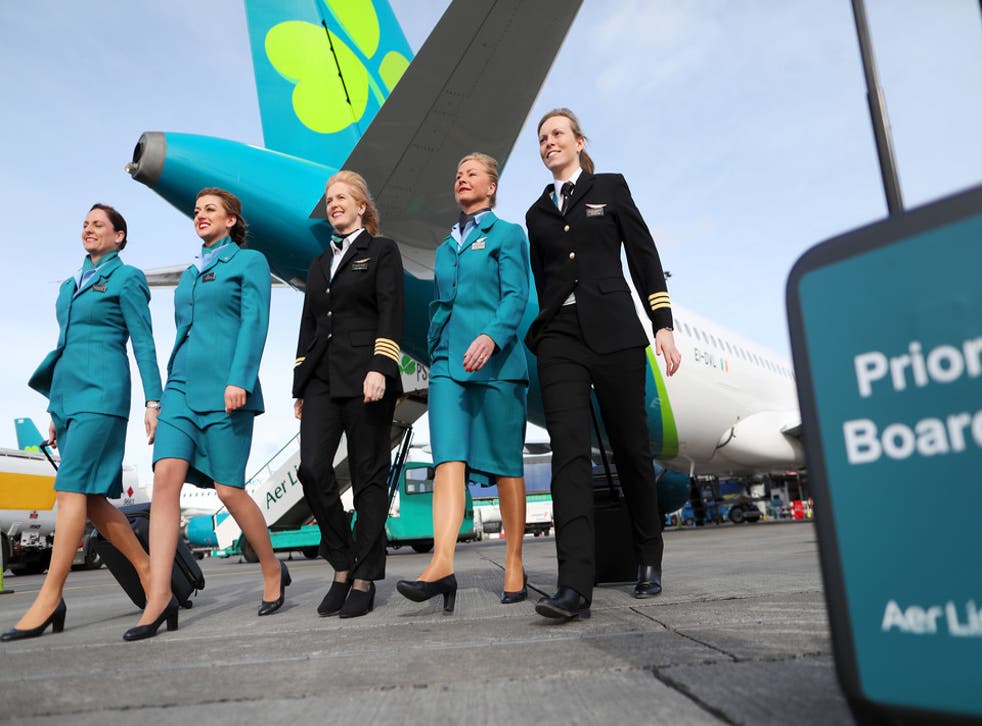 Aer Lingus scraps makeup and skirts for female cabin crew in time for International Women's Day
The airline is rolling out new uniforms designed by Louise Kennedy
Aer Lingus has announced it won't require female cabin crew to wear makeup or skirts anymore in time for International Women's Day.
The airline said it had made the decision in response to feedback sessions with staff across many departments.
An Aer Lingus spokesperson told The Independent: "Aer Lingus uniform staff guidelines for the new uniform are currently being completed, but Aer Lingus can confirm that these will not include mandatory use of makeup."
It's part of a bigger brand overhaul, which will see new uniforms created by Irish fashion designer Louise Kennedy rolled out in the coming months.
The new designs will include a trouser option for women, meaning they'll no longer be required to wear skirts.
easyJet's secret cabin crew signals

Show all 11
"The new uniform collection was designed in partnership with a number of our staff to reflect changing dress norms and to better meet the needs of our guest-facing colleagues," said the spokesperson.
"The new uniform collection incorporates a range of wearer options including a trouser option for females and an ability to combine collection elements."
The airline unveiled an updated logo and new aircraft livery in January, "reflecting the airline's position as a modern and contemporary Irish brand that competes on the international stage."
Aer Lingus follows in the footsteps of Virgin Atlantic, which revealed makeup and skirts would cease to be mandatory for female staff earlier this week.
The airline's female flight attendants, known for their red uniforms, will be given trousers as standard, rather than having to specially request them.
The move is a "significant change" for the aviation industry, according to Virgin.
Virgin Atlantic executive vice president of customer, Mark Anderson, said that the airline had "always stood out from the crowd and done things differently".
"We want our uniform to truly reflect who we are as individuals while maintaining that famous Virgin Atlantic style," he added.
Register for free to continue reading
Registration is a free and easy way to support our truly independent journalism
By registering, you will also enjoy limited access to Premium articles, exclusive newsletters, commenting, and virtual events with our leading journalists
Already have an account? sign in
Register for free to continue reading
Registration is a free and easy way to support our truly independent journalism
By registering, you will also enjoy limited access to Premium articles, exclusive newsletters, commenting, and virtual events with our leading journalists
Already have an account? sign in
Join our new commenting forum
Join thought-provoking conversations, follow other Independent readers and see their replies