Teenage refugee takes own life after 'opportunities lost' to help him, inquest finds
Local authority failed to adequately respond to Alexander Tekle's 'destructive spiral' before his death, says coroner
May Bulman
Social Affairs Correspondent
Friday 07 January 2022 19:59 Comments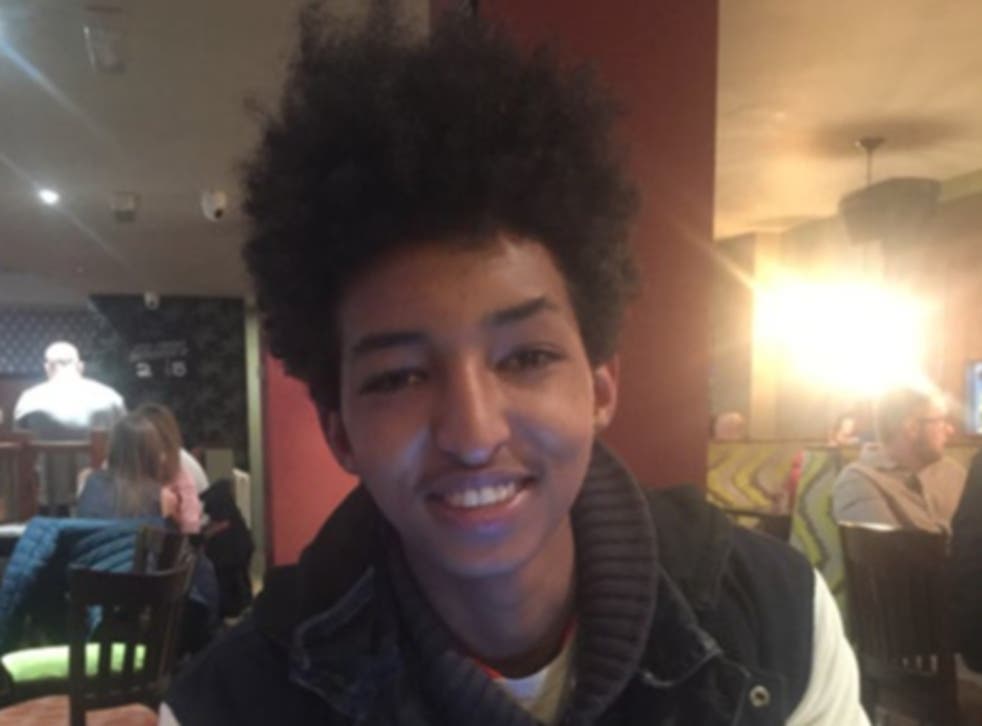 Opportunities were lost by local authorities to help a teenage refugee before he took his own life, an inquest has concluded – prompting calls for an urgent review into the care of young asylum seekers in the UK.
Alexander Tekle, a "deeply caring" Eritrean national who arrived in Britain in a refrigerated lorry in December 2016, was found dead on 6 December 2017 in his shared local authority accommodation in Croydon, London, three months after he turned 18.
He is one of four young Eritrean asylum seekers from the same friendship group to take their own lives within a 16-month period after arriving in the UK. One of his friends, Filman Yemane, died days before his own death.
An inquest into Tekle's death concluded on Friday that he died by "suicide while the balance of his mind was affected" after having consumed more than five times the legal limit of alcohol.
Assistant coroner Bernard Richmond QC said Croydon Council's social services had "struggled to put into place effective strategies to facilitate [Tekle] being cured of his alcoholism" and that "opportunities were lost both before and after he was 18 for earlier interventions".
The teenager was moved to adult Home Office accommodation by Kent County Council in March 2017 despite an ongoing dispute about his age.
Alex Stringer, Tekle's social worker at the time, told the inquest that the council had the discretion to keep him in local authority care, but that his manager at the time decided not to.
While in Home Office accommodation, Tekle was violently assaulted, requiring hospital treatment, and that he subsequently absconded and became homeless, staying on friends' sofas, the inquest heard.
Mr Richmond concluded that Kent County Council had "positively encouraged and agitated" for Alex to go to Home Office accommodation and "did not do anywhere near as much as they might have done" to keep him within the care of children's services.
"An opportunity to keep Alex within their care was lost, and Alex might have been better off had it not have been," he added.
In May 2017, with the support of the Refugee Council, the teenager was moved to Croydon Council's children's services, where he was placed in foster care and later moved to independent living accommodation for care leavers.
Mr Richmond said the "inexperience" of social services in being able to deal with Tekle's alcoholism and complex needs made their jobs "very difficult indeed", adding that the difficulty in Croydon was not helped by fact that Alex was placed in the care of an "inexperienced social worker who was not as engaged as she could or should have been".
"What was needed was somebody of significant experience who could recognise that dealing with his mental health issues which alcohol is a part of and recognising that he was in a destructive spiral. Dealing with this as soon as possible was something that should have happened and didn't," he said.
In the month before he died, the 18-year-old's condition "worsened", the coroner said, adding that Tekle was "profoundly worried" about his immigration status. Tekle's asylum claim had been withdrawn in September after he had failed to attend a Home Office interview.
"His immigration status was a constant concern and I'm quite sure this added to the stress he was experiencing [...] He was doubtless very concerned about what was happening to him," said Mr Richmond.
In light of the inquest conclusion, Helen Johnson, head of children's services at the Refugee Council, called for an "urgent" review of the way the asylum system and children's social care system treats young asylum seekers.
"As this inquest has laid bare, the unaccompanied children and young people we work with have endured so much in their short lives and it is essential they are supported to recover once safe in the UK," she said.
A statement from Mr Tekle's family's legal team at Bharat Murphy Solicitors said: "As other children like Alex arrive on our shores seeking safety, we look to local authorities and the Home Office to take urgent steps to prevent such tragedies happening again."
Benjamin Hunter, a friend and advocate of Tekle, who met him while working for a child refugee charity in Calais, and whom the coroner described as a "significant support and friendship" to him, said Tekle was "failed" by social services and the Home Office.
"Every day I fought to get him support, I was witness to gatekeeping of services, high levels of suspicion about his general character and a general lack of care for Alex's wellbeing," he said.
"Alex was my little brother. He was deeply caring. He was fearless. Everybody who met him, wanted to get to know him and be his friend."
Tekle's father, Tecle Tesfamichel, who is currently in Sudan, said hearing that social services, who were "supposed to be looking after" his son, were "inexperienced and didn't care for him in the way they should have was shocking".
"My son Alex was loving, caring and had a great sense of humour. He loved his family, especially his mum, who he loved more than you can imagine. I miss him every day."
If you are experiencing feelings of distress and isolation, or are struggling to cope, the Samaritans offers support; you can speak to someone for free over the phone, in confidence, on 116 123 (UK and ROI), email jo@samaritans.org, or visit the Samaritans website to find details of your nearest branch
Register for free to continue reading
Registration is a free and easy way to support our truly independent journalism
By registering, you will also enjoy limited access to Premium articles, exclusive newsletters, commenting, and virtual events with our leading journalists
Already have an account? sign in
Join our new commenting forum
Join thought-provoking conversations, follow other Independent readers and see their replies