Alton Towers crash: Fail-safes that should have kept The Smiler carriages apart did not work
A carriage carrying 16 people crashed into a stationary cart that 'should not have been on the same part of the track'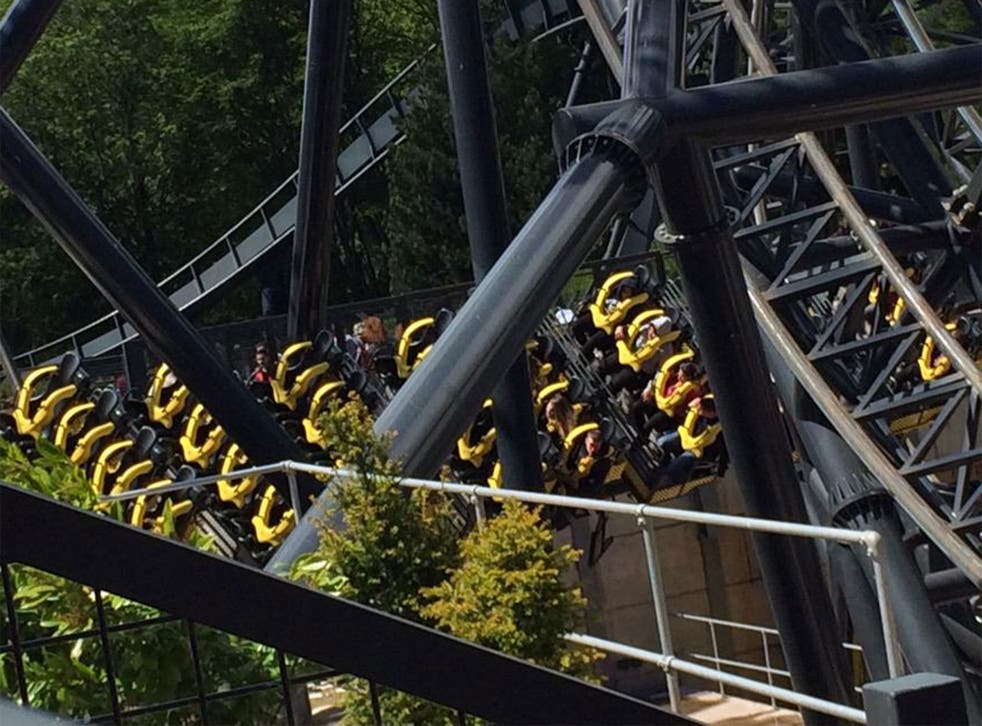 The owners of Alton Towers have said the two carriages that crashed on The Smiler ride should never have been on the same part of the track and that "fail-safes" had not worked.
Four riders were hospitalised with serious injuries after the accident on Tuesday, including one who may have lost a leg, according to unconfirmed reports.
They were among 16 people in a carriage of the 53mph rollercoaster when it rammed into a stationary cart sitting on the track after a test run.
Nick Varney, chief executive of Merlin Entertainments, which runs the theme park, told BBC News the two carriages "should not have been on the same piece of track".
"Technically that should not have happened," he added.
"The Smiler is a relatively new ride, all rides have teething problems when they open. Guest safety on those sorts of incidents is not really a major issue in the sense that when you're on a rollercoaster car, the car can't come off the track and you are restrained in the seats.
"When you have a glitch and the ride stops, it's not really an issue of safety to the riders.
"What happened yesterday is something that there are other fail-safes for. There are other braking locks that should stop two cars being on the same track, but that didn't work the way it was supposed to."
A spokesperson for Alton Towers said that she did not know whether human error or a computer glitch was at fault and a full investigation involving the Health and Safety Executive was underway.
Ben Richardson, who had been on the ride before the accident, said the first carriage was "completely static" by the time the second cart was at the tip of the ride.
"At that point they could have unloaded the carriage and got people away safely," he added.
"Whether that was computer error or human error, I don't know, but common sense would say, get the passengers off while you can."
Two men aged 27 and 18 and two women aged 19 and 17 were airlifted to hospital with serious leg injuries and the other 12 riders - six men and six women – were treated for less serious injuries.
The theme park remained closed on Wednesday and Mr Varney said he could not say when it would reopen after the "unusual and very tragic accident".
The best roller coasters in the world

Show all 9
Register for free to continue reading
Registration is a free and easy way to support our truly independent journalism
By registering, you will also enjoy limited access to Premium articles, exclusive newsletters, commenting, and virtual events with our leading journalists
Already have an account? sign in
Register for free to continue reading
Registration is a free and easy way to support our truly independent journalism
By registering, you will also enjoy limited access to Premium articles, exclusive newsletters, commenting, and virtual events with our leading journalists
Already have an account? sign in
Join our new commenting forum
Join thought-provoking conversations, follow other Independent readers and see their replies