Alton Towers crash: Theme park says rumours of The Smiler being removed are 'pure speculation'
Two young couples were reportedly on dates when the carriage they were in smashed into another cart on the track on Tuesday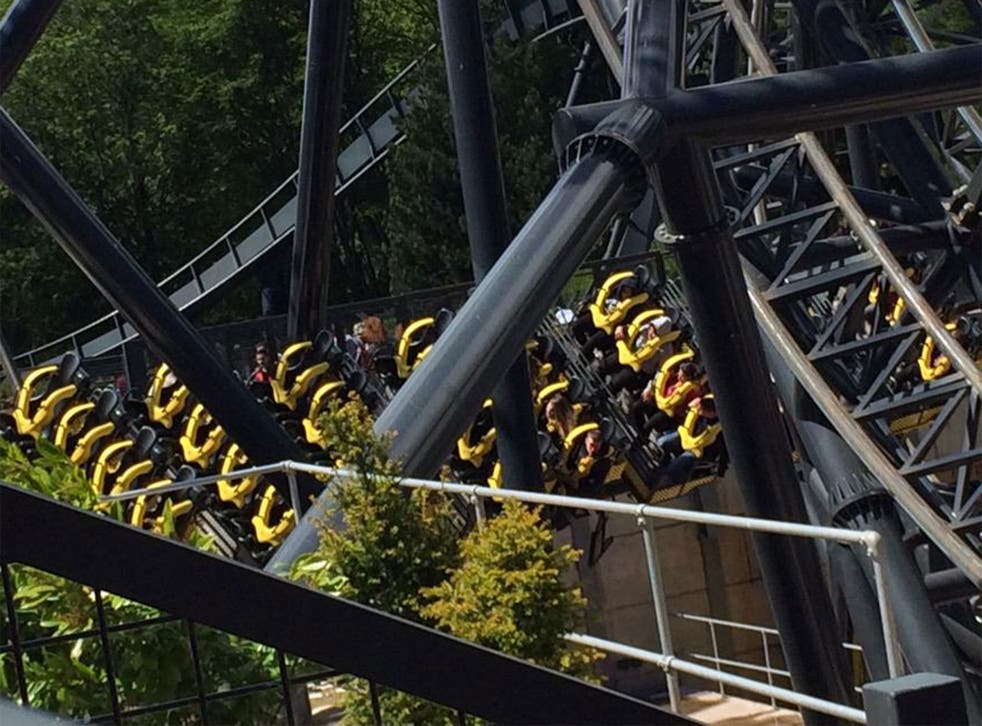 Alton Towers has dismissed rumours it will tear down The Smiler rollercoaster as "pure speculation" as the crash investigation continues.
Queuing riders were told the £18 million ride was having "technical difficulties" immediately before the accident, when a full carriage of 16 people smashed into an empty cart sitting stationary on the track after a test run.
The Smiler has been beset with problems since its delayed opening in 2013, seeing at least two temporary closures among seven other incidents before Tuesday's crash.
Among those on board was Vanisha Singh, 29, her mother Chanda, 49, and sister Meera, 26, who were sitting in the second row.
Ms Singh told the Sun they saw several test cars being sent ahead of them and were held at the start of the rollercoaster.
"We finally went up and were kept at the top for 10 or 15 minutes chatting, joking that we were the guinea pigs," she said.
Describing the crash, she added: "The metal safety bar smashed into our legs. There was loads of screaming. I felt a burning sensation in my pelvis, and back and neck pain.
"It was terrifying. There was blood all over the floor because it was pouring out of their legs in the carriage and dropping down. The doctors and firemen were covered in blood as they scaled the scaffolding to treat the guys on the front row."
Alton Towers remains closed today and a spokesperson could not give an estimate of then the theme park would re-open as the Health and Safety Executive investigation continues.
The theme park is racking up losses of an estimated £500,000 for every day it is closed.
Refunds are being offered for tickets or people can use them at Thorpe Park, Chessington World of Adventures, Warwick Castle or Legoland Windsor.
The four riders sitting in the front row of the carriage are still being treated at two hospitals in the Midlands.
Daniel Thorpe, a 27-year-old hotel assistant manager from Buxton in Derbyshire, is in a stable condition at the University Hospital in Coventry.
In a statement, his family said: "We would like to thank everyone for their wishes at this time and would ask for some privacy while Daniel recovers."
Mr Thorpe, who suffered a broken leg and punctured lung according to his father, was reported to be on a date with Vicky Balch, 19, from Leyland in Lancashire.
They were sitting together alongside another young couple, textile design student Joe Pugh, 18, from Barnsley, South Yorkshire, and his girlfriend, Leah Washington, 17.
The teenagers are still being treated at the Royal Stoke University Hospital for what it described as "serious injuries".
Mr Pugh tweeted that he had been "overwhelmed" by the support people had shown since the accident, which reportedly left him with two broken legs.
Ms Washington is said to have been given a blood transfusion and morphine before she passed out following the collision.
A spokeswoman for the Staffordshire tourist attraction confirmed that there was an 11-minute gap between the incident and the time it took to phone 999, having previously said emergency services were "called immediately".
Additional reporting by PA
Register for free to continue reading
Registration is a free and easy way to support our truly independent journalism
By registering, you will also enjoy limited access to Premium articles, exclusive newsletters, commenting, and virtual events with our leading journalists
Already have an account? sign in
Register for free to continue reading
Registration is a free and easy way to support our truly independent journalism
By registering, you will also enjoy limited access to Premium articles, exclusive newsletters, commenting, and virtual events with our leading journalists
Already have an account? sign in
Join our new commenting forum
Join thought-provoking conversations, follow other Independent readers and see their replies