Alton Towers crash: Witnesses of Smiler ride collision describe 'shocking' incident
One bystander said there was "blood everywhere" after the incident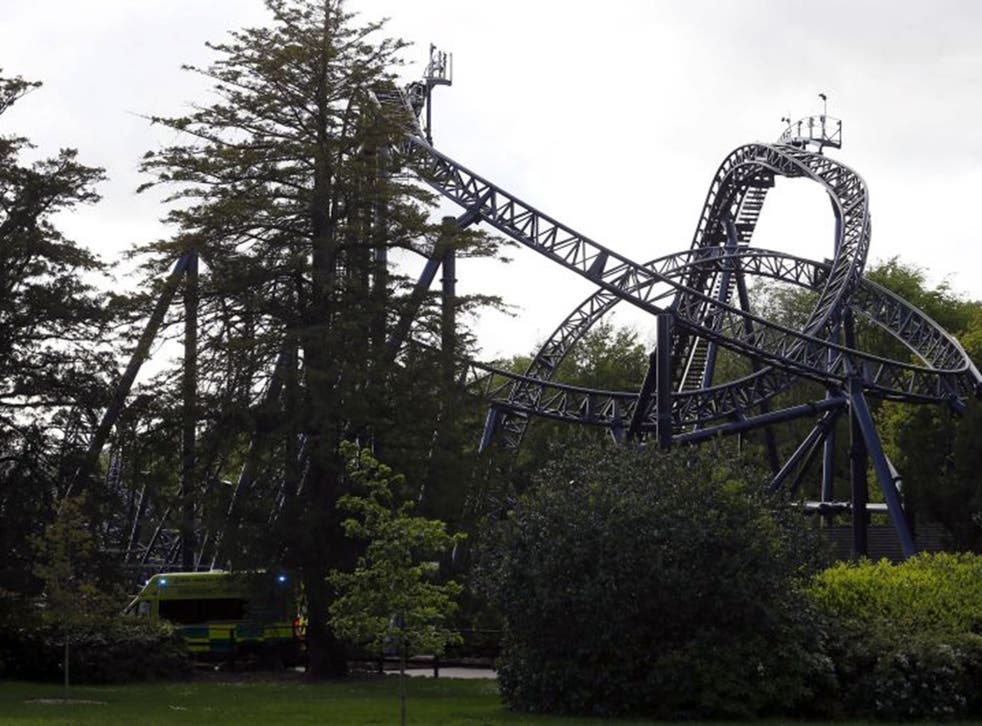 Guests at Alton Towers have described the "shocking" moment two carriages collided at the theme park, leaving four teenagers with serious leg injuries and their "blood everywhere".
Two males aged 27 and 18 and two females aged 19 and 17 suffered severe leg injuries in the crash on the 50mph Smiler ride, when two full and empty carriages collided on a low section of the track.
Emergency services and park staff worked to evacuate the 16 people from the ride, who were left on-board for four hours, after the ride halted 25 feet in the air at a 45 degree angle.
After the four injured people were airlifted to hospital, the remaining 12 occupants, six women and six men, were gradually removed from the ride in an operation that ended at 6:35pm.
Danny Simm, a musician and songwriter who is also a radio presenter on 96.5 Bolton FM, witnessed the aftermath of the accident, and tweeted: "People unconscious, knocked out. Blood everywhere. It really was shocking. Air ambulances landing now, people still stuck."
Mr Simm told The Independent: "A few people appeared to be injured but one man looked serious. Out of respect I didn't take any photographs.
"An air ambulance arrived after 25 minutes. It wasn't handled well by Alton Towers staff."
Sophie Underwood, who was waiting to board the ride, told the BBC that she had seen a carriage carrying passengers crashing into another that was still at the top of the ride.
"They had made quite a few announcements to say there were technical difficulties. They were sending coaches around with nobody on them," she said.
"And then they said they had sorted it out so they decided to put people on the coach."
"It was quite scary. There was a big crash and as soon as everybody heard the crash, everybody started walking back and leaving the ride," she said.
A video of the incident has emerged from an onlooker at Alton Towers shortly after the crash, in which one of the carriages can be seen rocking back and forth on the track, as frightened passengers can be heard swearing and screaming: "Help us" and "Stop this f***ing ride."
The amusement park will remain closed on Wednesday, as an investigation into the cause of the incident is carried out.
A West Midlands Ambulance Service spokeswoman said that the four people who were injured were given advanced trauma care, pain relief and immobilisation and were each carefully extricated from the ride and onto the platform before being lowered to the ground.
"They were released one at a time over a time period of four hours and lowered to the ground in order for a further assessment of their condition.
"One of the 12, a male in his 20s was treated for neck and abdominal injury and was taken to the Royal Stoke University Hospital by land ambulance for further assessment and treatment," she said.
Nick Varney, chief executive of Merlin Entertainments, which runs the resort, said: "This has been a terrible incident and a devastating day for everyone here.
"I would like to express my sincerest regret and apology to everyone who suffered injury and distress today and to their families.
"The safety of our visitors is our primary concern. The park will remain closed until we understand better the cause of this dreadful incident."
Register for free to continue reading
Registration is a free and easy way to support our truly independent journalism
By registering, you will also enjoy limited access to Premium articles, exclusive newsletters, commenting, and virtual events with our leading journalists
Already have an account? sign in
Register for free to continue reading
Registration is a free and easy way to support our truly independent journalism
By registering, you will also enjoy limited access to Premium articles, exclusive newsletters, commenting, and virtual events with our leading journalists
Already have an account? sign in
Join our new commenting forum
Join thought-provoking conversations, follow other Independent readers and see their replies