It takes eight weeks for an Amazon warehouse worker to earn what Jeff Bezos makes in a second, says union
UK government must bring forward employment bill to protect workers' rights, says TUC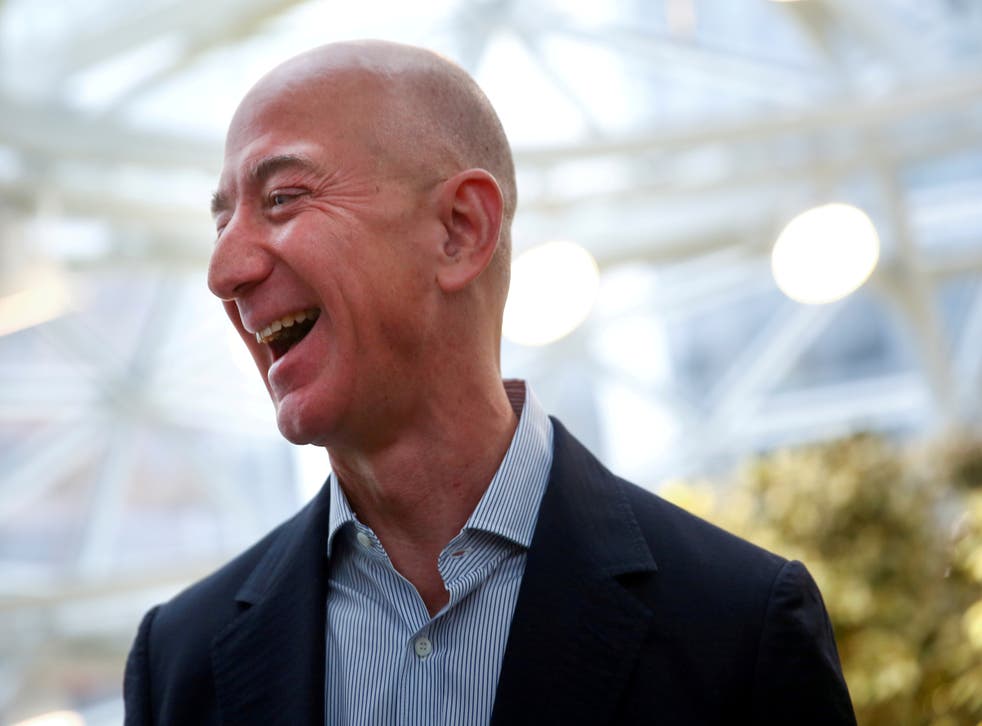 A union has claimed that it takes an Amazon warehouse worker over eight weeks, or 293 hours, to earn what Amazon CEO Jeff Bezos in a single second, a union has said.
The Trades Union Congress (TUC) analysed the earnings of the world's wealthiest man and found that the amount of time it takes for an Amazon warehouse worker to earn what Mr Bezos earns in a second increased from more than five weeks last year to eight weeks this year.
The increase is indicative of the huge profits Amazon has seen during the coronavirus pandemic this year, but the TUC pointed towards reports by Amazon workers who describe "gruelling" working conditions.
Mr Bezos saw his net worth exceed US$200bn (£148bn) this year, and has been called the richest human being who has ever lived by Forbes magazine. According to data from the International Monetary Fund, the Amazon founder's net worth is larger than the GDP of Hungary or Ukraine.
The company itself has seen its market value rocket in 2020, registering US$96bn (£72bn) in revenue for the third quarter of the year. However, Amazon has been criticised for its actions against staff, after claims of dangerous working conditions and retaliation for unionising emerged this year.
The TUC is calling on the government to bring forward its new employment bill, which promises to protect and enhance workers' rights after the UK leaves the European Union on 1 January.
The prime minister, Boris Johnson, made an upgrade to the existing employment law one of his campaign promises, vowing that it would be "the largest upgrade to workers" rights in a generation that the government is bringing forward".
It was first announced in the Queen's Speech on 19 December 2019, but no date has been set for a second reading.
Frances O'Grady, general secretary of the union, pointed out that Amazon employees "played a key role during this pandemic" as people turned to the Internet shopping giant to avoid leaving their homes.
"If the government is serious about levelling up Britain, it needs to start by levelling up pay and conditions," she said in a statement.
"Ministers must get on with bringing forward the long-awaited employment bill to end exploitative working practices like zero hours contracts and boost rights and pay."
The TUC is also calling for unions to be allowed into every workplace, a ban on zero hours contracts, stronger joint liability laws to protect supply chain workers' rights, and "an end to bogus self-employment".
A spokesperson for the Department for Business, Energy and Industrial Strategy said in a statement: "This Government is committed to making the UK the best place in the world to work. That's why we have committed to establishing a single enforcement body for employment rights to provide a clearer route for workers to raise a complaint and get support, while providing a consistent approach to enforcement.
"We are also taking action to guarantee workers a decent wage and the latest increase to the National Living Wage will put an additional £345 into the pockets of the lowest paid workers from April 2021."
Earlier this month, 400 legislators from around the world demanded that Amazon take action to change the company's policies to better protect its employees and the environment.
Writing to Mr Bezos, the signatories – which included former Labour leader Jeremy Corbyn, Diane Abott, John McDonnell, Nadia Whittome, and Zarah Sultana – said the CEO should raise workers' pay in all Amazon warehouses in line with the increasing wealth of the corporation.
Responding to the report, a spokesperson for Amazon told The Independent: "The fact is we already offer excellent pay, excellent benefits and excellent opportunities for career growth, all while working in a safe, modern work environment. Our competitive wages start at £9.70 or £10.80 per hour depending on location, and we'd encourage anyone to compare this to the wages and benefits offered by other retailers.
"Since the start of the pandemic we've invested billions of dollars in our safety programmes, including rapidly rolling out onsite COVID-19 testing at our sites, and confirmed US$500m in additional bonuses this holiday season bringing our total spend on special bonuses and pay incentives to over US$2.5bn for employees in 2020."
Register for free to continue reading
Registration is a free and easy way to support our truly independent journalism
By registering, you will also enjoy limited access to Premium articles, exclusive newsletters, commenting, and virtual events with our leading journalists
Already have an account? sign in
Register for free to continue reading
Registration is a free and easy way to support our truly independent journalism
By registering, you will also enjoy limited access to Premium articles, exclusive newsletters, commenting, and virtual events with our leading journalists
Already have an account? sign in
Join our new commenting forum
Join thought-provoking conversations, follow other Independent readers and see their replies