'American torturers told me they would rape my daughter to get confession,' claims Britain's last Guantanamo Bay prisoner Shaker Aamer
The 48-year-old was detained in Afghanistan in 2001 on suspicion of working with al-Qaeda but maintains his innocence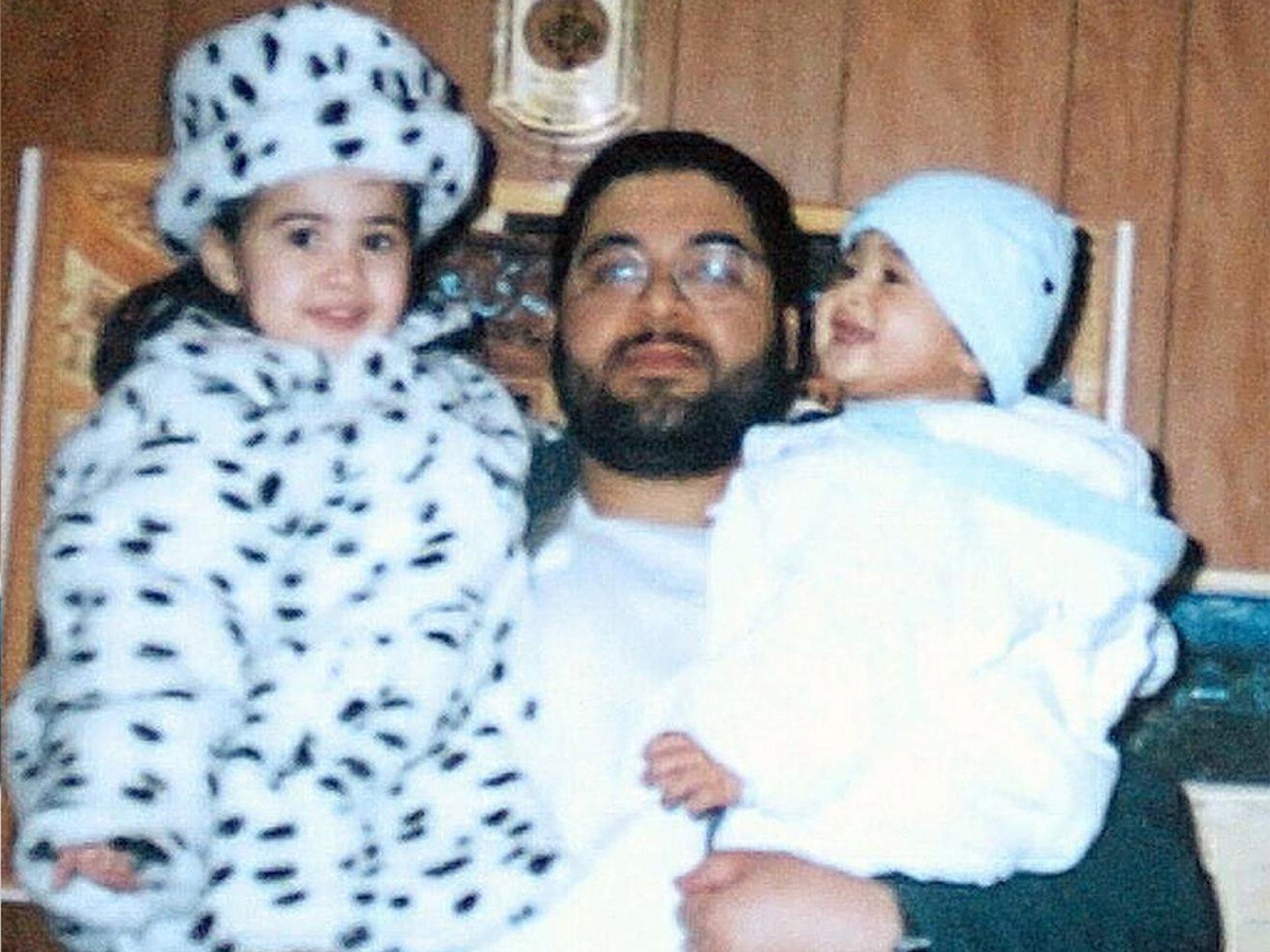 The last "British" prisoner in Guantanamo has described horrific torture at the hands of US interrogators who allegedly told him they would rape his five-year-old daughter.
Shaker Aamer, 48, has been held in the notorious jail for 13 years without charge after being imprisoned in Afghanistan on suspicion of working with al-Qaeda.
He was born in Saudi Arabia but gained British residency while living in the UK with his wife and four children, who he has not seen for 14 years.
While being held at US military bases at Bagram and Kandahar, Mr Aamer claimed interrogators used his then young daughter in efforts to "break" him.
"One interrogator talked about what he would do to my five-year-old daughter in details that destroyed me," he said.
"He said 'They are going to screw her. She will be screaming, 'Daddy! Daddy'."
Another interrogator allegedly used a mixture of "cruel and kind", giving him hot food before resuming the torment.
Mr Aamer said: "(He) talked to me as if I were a human being. Then (he) would say he was going to screw my five year-old daughter; he was going to do this and that to my daughter sexually; how my daughter would scream and scream.
"I thought about attacking (him) and getting killed. But I wouldn't do anything aggressive. Force is the weapon of the coward."
Mr Aamer maintains he had been in Afghanistan working for a children's charity and signed a false confession in 2001 because he would have "told them he was bin Laden" to make the torture stop.
According to a medical report written by an American doctor who visited him in prison, it did not.
Dr Emily Keram, a California-based psychiatrist who has assessed prisoners in the US and abroad at the request of US courts and lawyers, was acting on a request by Mr Aamer's legal representatives.
The report, published by prisoners' rights group Reprieve, contained testimony she recorded from Mr Aamer about his imprisonment.
He was first held by the Northern Alliance in December 2001, when he described losing "all sense of time" while packed in a basement with other prisoners.
"I was hearing people screaming from the torture day and night," Mr Aamer said.
"They would beat you two to three hours a day with a metal braided wire, belts, and a hose. They beat you in public. Everyone could see.
"Five people would beat you. They'd kick your face, body, and head."
Mr Aamer said guards told him he should tell an interrogator "whatever he wants to hear" to make the torture stop, so he allowed a fake confession to be filmed where he falsely claimed to be working with al-Qaeda gathering intelligence.
Dr Keram said he understood from prisons in Saudi Arabia that he would be treated well and freed quickly after complying with interrogators and believed he would be able to face trial or return back to his family in the UK.
CIA 'torture' report: Timeline from 9/11 to Dianne Feinstein's findings
Show all 12
But instead he was moved to a CIA "black site" at Bagram Airfield, where he described humiliation, sleep deprivation, exposure to cold, food and water deprivation and beatings.
"I was not a human being anymore," Mr Aamer said. "I lost my dignity, my pride, being a man. I had to take off my underwear and hand it to them.
"You lose your humanity. You are an animal. You know if you don't do it, they will do it by force and it will be a lot worse.
"I respected and believed they would give me a fair chance because they were Americans. I was happy that I was with Americans because of their human rights."
He said he was made "crazy" by sleep deprivation and forced to stand for 20 hours a day, which caused hallucinations.
After developing constipation, he claimed he was given a laxative and forced to defecate in front of guards who allegedly joked that he looked like he was giving birth.
Mr Aamer said: "They let you recover so you think you're strong again. And then they break you again. And you thought you were strong again. And you don't know your thoughts anymore."
He described being beaten and having his head banged against a wall in hours of interrogations.
"They do that until you are shivering, until they have broken you, until your mind is completely empty," he added.
"You feel like you're not real anymore. Like it's a dream.
"And now the worst part comes. They treat you with kindness. It destroys you completely…you don't know what to love and what to hate because it's all happening at the same time.
"You don't know anything anymore. You can't tell apart good and bad, kind and evil."
After signing more confessions , Mr Aamer was shipped to Kandahar Airfield, where he said he was kept in a cage exposed to the elements.
He told Dr Keram that after he was told he would be taken to Guantanamo he had a visit from a UK officer.
"A British agent came to see me, a young officer with a red beret," Mr Aamer said. "I wouldn't talk with him because he said he couldn't do anything to help me."
Every time Mr Aamer was moved, he claimed he and other detainees were given "goodbye" and "welcome" parties were soldiers "could do anything they wanted".
The mistreatment allegedly continued at Guantanamo, where he claims to have been variously kept in an isolated cell, moved every two hours and held in an open-air cage.
During his imprisonment he has joined other detainees in hunger strikes that have further weakened his health.
Dr Keram found Mr Aamer to be in "psychological distress", frequently trying to distract himself from painful memories by loudly singing parts of songs including Sweet Dreams by the Eurythmics.
She wrote in her report: "The lyrics he sang referred to his maltreatment: 'Sweet dreams are made of this. Who am I to disagree? I travel the world and the seven seas. Everybody's looking for something. Some of them want to use you. Some of them want to get used by you. Some of them want to abuse you. Some of them want to be abused.'"
Mr Aamer suffers from acute post-traumatic stress disorder (PTSD), migraines, digestive problems, swelling, asthma and tinnitus, Dr Keram concluded.
She recommended urgent treatment for the "serious medical concerns" and the need for therapy alongside his family on his hoped-for return to the UK.
She said the prisoner feels most guilty about not parenting his children.
"The most horrible thing is being away from my family for so long," he told her.
Cori Crider, Reprieve's strategic director and one of Mr Aamer's lawyers, said Dr Keram's report confirmed the group's belief that "13 years of abuse in the hell that is Guantanamo" has taken its toll.
"Shaker has been cleared for release under two separate US administrations and has never faced any charge or trial," she added.
"We know that the UK government's official position is that he comes back to Britain, but with a wave of releases apparently anticipated this month, Shaker should be on his way home.
"It is past time that Shaker came back to his British wife and their four young children in London."
Reprieve, Amnesty International and other groups have been lobbying for Mr Aamer's release for several years.
Efforts intensified after he was cleared for release by the US in 2008 but continued to be held, and Mr Aamer's supporters now fear the US will attempt to send him to Saudi Arabia rather than the UK.
David Cameron personally raised the issue with Barack Obama most recently in January and a special Parliamentary group has been formed for his cause but appears to have had little success.
Tory MP David Davis, who lobbied senators for Mr Aamer's release during a visit to Washington earlier this month, condemned his continued detention in Parliament.
Addressing the Commons in March, he said: "Our legal system and the American legal system are based on a very important principle, the principle of the presumption of innocence. That has not been extended to Shaker Aamer…if there were confessional evidence against Shaker, it would be completely untrustworthy."
Mr Davis said Mr Aamer should be given a fair trial and a "great deal of evidence" points to his innocence.
He suggested the Americans may have delayed his release because of fears he would "embarrass them" with torture allegations, adding: "We have abandoned our own standards and fallen short of the ethical standards that we should uphold."
A spokesperson for the Foreign and Commonwealth Office said: "This government has consistently raised Mr Aamer's case with the US authorities at the highest levels.
"We welcome President Obama's commitment to prioritise Mr Aamer's case following his meeting with the Prime Minister. We will continue to work with the US to secure his release to the UK as a matter of urgency."
Regarding Mr Aamer's treatment, she told The Independent: "We are committed to ensuring that serious allegations about alleged UK involvement in mistreatment and rendition of detainees by other countries are examined carefully.
"The Government has been clear that it stands firmly against torture and cruel, inhuman and degrading treatment or punishment. We do not condone it, nor do we ask others to do it on our behalf."
Join our commenting forum
Join thought-provoking conversations, follow other Independent readers and see their replies