Anti-binge-drinking posters condone rape, warns campaigners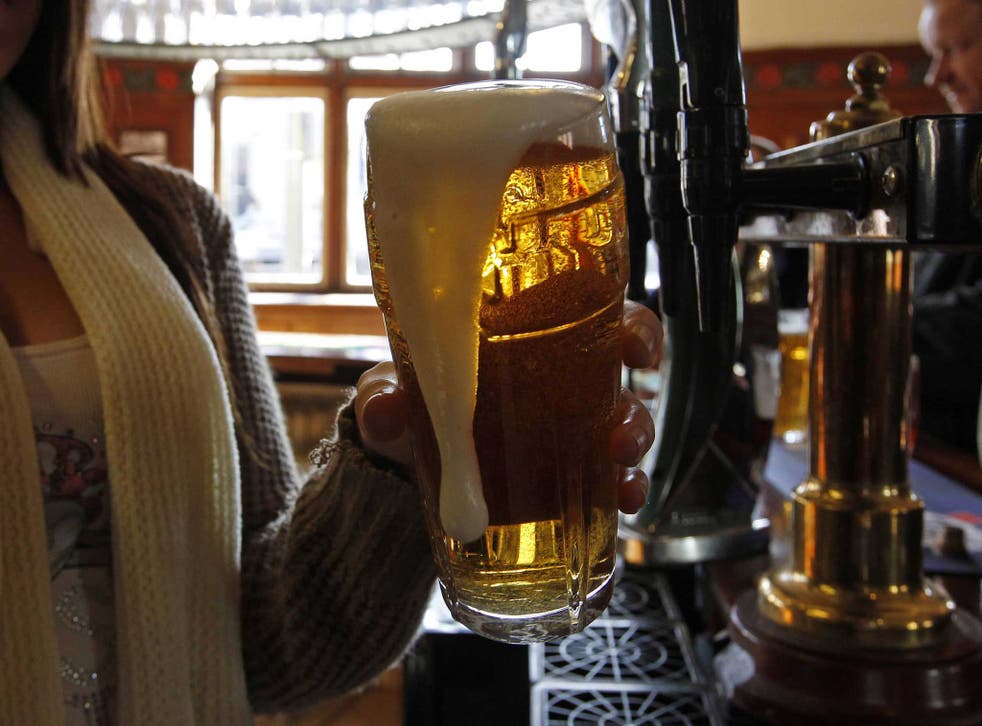 A series of posters aimed at deterring binge drinking have come under fire for appearing to imply that women who get too drunk are putting themselves at risk of rape.
The seasonal adverts, put out by Calderdale Council in West Yorkshire, are part of a campaign to reduce crime and shock revellers into thinking twice about their alcohol consumption.
They feature zombie-like party-goers who are worse the wear after a tipple too many.
But in one of the images a drunken and dishevelled young woman is pictured alongside the slogans "Night of the Reckless Drunk" and "When you drink too much you lose control and put yourself at risk."
Women's campaigners have reacted angrily, saying that there is a clear suggestion that women are in part responsible for preventing their own rape.
Campaigner Karen Ingala Smith, of women's charity nia, told the Yorkshire Post that the poster shifted the responsibility for sexual assault on to the victim's behaviour.
"There is no other crime in which victims are made to take responsibility," she said.
"I've yet to see a Christmas anti-drink-driving campaign telling people to stay indoors in case they get run over by a drunk driver.
"We know that the vast majority of rapes are not reported to the police, women are less likely to report rapes if they are made to feel that they are responsible.
"This allows rapists to continue to assault women. Calderdale Council's campaign reinforces the excuses made by rapists as they attempt to discredit the women they rape and to justify their crime.
"The only ones being helped by the anti-rape campaign poster from Calderdale Council are rapists and the only ones who can stop rape are rapists."
Two other posters, featuring men, warn about the dangers of drink-driving and drink-related violence.
The council's Cabinet member for economy and environment, Councillor Barry Collins, told the Yorkshire Post that the images were not intended to cause offence.
"We have used images of both men and women to raise awareness of the impacts on anyone of taking drugs and drinking too much. The aim of the campaign is to expose as many people as possible to timely advice to enjoy a safe night out."
He added that the same images had been used last year without complaint.
But Twitter users suggested that is not the case this year. One user tweeted: "@Calderdale Your poster campaign suggesting rape victims are to blame for their rape is DISGUSTING!!!".
Another said: "@Calderdale are you going to apologise for your poster that blames rape on survivors rather than perpetrators?"
The backlash comes as Humberside deputy police and crime commissioner Paul Robinson backed PCC Matthew Grove's plans to introduce so-called drunk tanks, saying that they could be used to help protect drunk women from harm.
Mr Robinson told the Hull Daily Mail: "We are looking at drunk tanks, but it is complicated. We need a certain type of facility to allow people to basically sober up in a safe place. That way, they are not creating mayhem in A&E or potentially falling victim to crime.
"I am talking particularly about women there who have had far too much drink who become at risk of harm and we have to do something with those people. I have seen it myself, young women who have had far, far too much to drink, who are trying to find a taxi and have lost their phone.
"It is about what we do with these young women to put them in a safe environment. That is what we are looking to explore. It might not be about arresting people, but taking them from a place of danger or risk into a safe environment."
Mr Grove and his deputy are organising a summit next year involving police, the health service and local authorities to discuss the impact of alcohol on crime and health. Mr Grove will suggest introducing the so-called drunk tanks to hold people until they sober up. They may then be fined.