Anti-austerity protest outside Tory conference was overwhelmingly peaceful and dignified, say police
The march, organised by the Trades Union Congress and the People's Assembly campaign group, drew around 60,000 people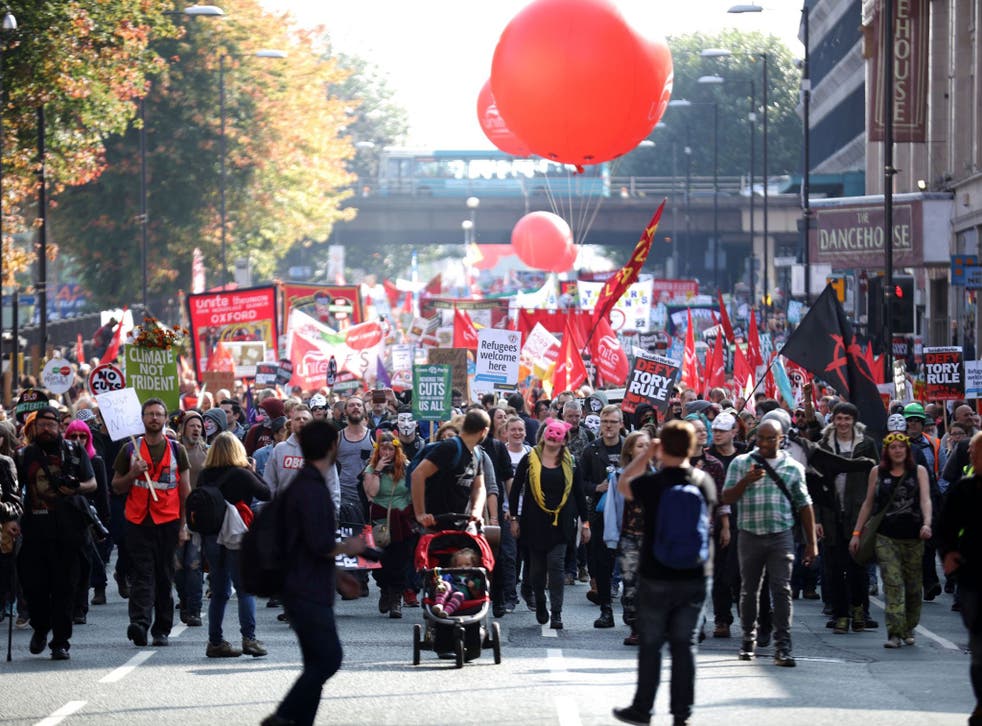 The anti-austerity protest held outside the Conservative conference in Manchester was largely peaceful and dignified, the city's police service has said.
Chief superintendent John O'Hare of Greater Manchester Police said low arrest numbers were "pleasing" and that the overwhelming majority of people on the march showed "good grace".
The march, organised by the Trades Union Congress and the People's Assembly campaign group, drew around 60,000 people, police said.
Protesters were angry at continued austerity cuts by the Government, which they say are unnecessary, counter-productive, and hurt the poorest hardest. The Government says the cuts are necessary and conducted fairly.
The demonstration strated from the city's All Saints Park and progressed to Castlefields, via the edge of the Conservative party conference's secure zone.
A rally at the end of the march saw speakers including musician Charlotte Church and writer Owen Jones.
Conservative party members had been warned in advance by their leadership not to venture out of the secure zone wearing identifiable badges, for fear of hostile actions being taken against them.
"Today around 60,000 people took part in a demonstration and I would like to thank them for their cooperation," said chief superintendent O'Hare.
"The overwhelming majority of people have exercised their democratic right to protest with dignity and good grace.
"The fact that only four arrest have been made throughout the day so far was particularly pleasing."
Low-level cases of public disorder did occur at the event, however.
A number of journalists working for Huffington Post UK, LBC, and Channel 4 reported on social media having being spat on by protesters.
One apparent Conservative party member also had an egg thrown directly at his face while he lingered too close to the edge of the "ring of steel" during the protest march.
Conservative party conference started on 4 October and continues until 7 October.
Register for free to continue reading
Registration is a free and easy way to support our truly independent journalism
By registering, you will also enjoy limited access to Premium articles, exclusive newsletters, commenting, and virtual events with our leading journalists
Already have an account? sign in
Register for free to continue reading
Registration is a free and easy way to support our truly independent journalism
By registering, you will also enjoy limited access to Premium articles, exclusive newsletters, commenting, and virtual events with our leading journalists
Already have an account? sign in
Join our new commenting forum
Join thought-provoking conversations, follow other Independent readers and see their replies