Arms companies spending millions each year promoting brands in UK schools
Weapons manufacturers sponsor events, fund competitions and provide classroom materials – including worksheets asking youngsters how camouflage could provide battlefield advantage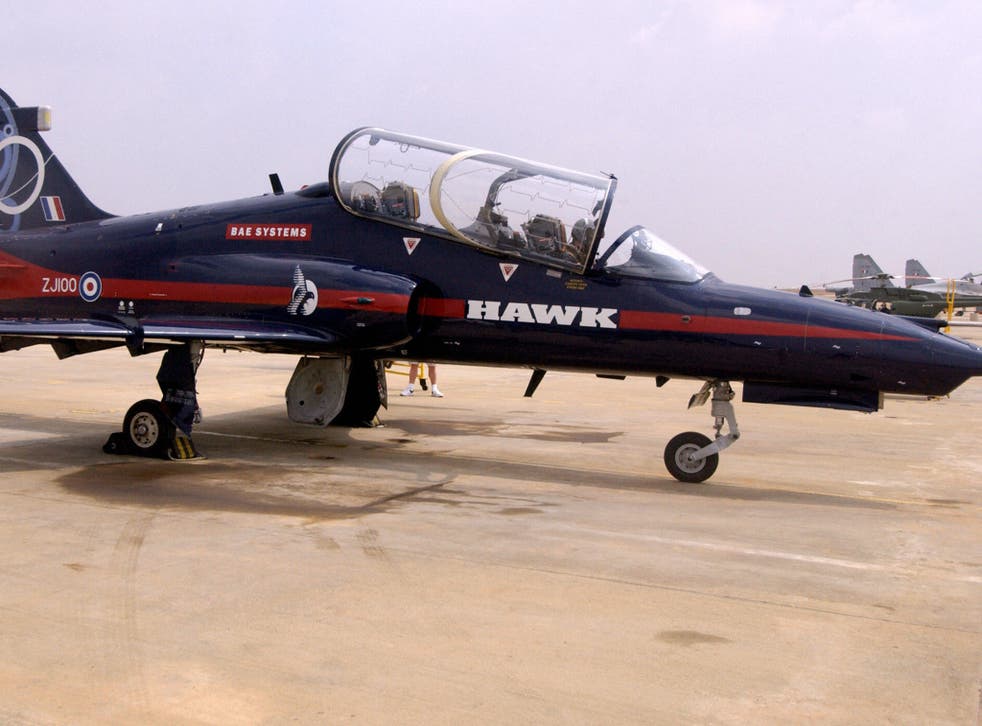 Arms companies are spending millions of pounds each year promoting their brands in British schools, new research has revealed.
The firms including BAE Systems and Raytheon – whose weapons have killed millions of people – sponsor school events, fund competitions and provide teaching materials.
One arms manufacturer developed a missile simulator for children to play with. Another provided classroom workshops which encouraged youngsters to think how camouflage could provide "advantages on the battlefield". On one occasion, a CBeebies presenter was hired to appear at a school roadshow.
The activities are aimed at children as young as four, the study by Campaign Against Arms Trade (CAAT) shows.
The companies – which make billions selling their deadly products to governments, including some with poor human rights records, around the world – say getting involved in schools is vital for the UK to produce the next generation of engineers. They say their materials are designed to excite youngsters by the possibilities of the STEM subjects – science, technology, engineering and maths.
But critics say the funding is an attempt to normalise weapons manufacturing and, by extension, war.
"When these companies are promoting themselves in British schools, you can bet they are not talking about how their missiles and bombs have actually destroyed schools in Yemen," Andrew Smith of CAAT told The Independent.
He added: "These are companies who profit from war, conflict, death and destruction on a global scale – but when they are promoting themselves to children, they are not talking about the deadly impact their weapons have or the terrible consequences they sow. It is entirely immoral and entirely inappropriate for them to have any kind of presence in the classroom.
"Arms companies aren't spending money in schools because they care about education or young people. They are doing it because they want to improve their reputations and normalise what they do."
And he said: "We accept there are huge funding issues for schools but the answer is not turning to the arms industry. There is no link between what's good for children and the aims of these firms."
BAE Systems, whose fighter jets are currently being used by Saudi Arabia in its war in Yemen, where there have been repeated strikes on civilians, visited 420 schools across the UK in 2017.
One of its roadshows included an appearance by CBeebies presenter Maddie Moate. The company says it has 845 "ambassadors" – comprised mainly of school governors – across the UK.
A spokeswoman said: "As a world leader in advanced engineering and technology, our education and skills activities inspire the next generation of engineers to help address the critical skills gap. We invest in a diverse portfolio of programmes aimed at encouraging more young people to study STEM subjects, which is vital for the UK economy."
Raytheon, which has also sold missiles to Saudi Arabia, runs an annual competition across the UK for pupils to build model drones. The US company's website says it supports science and technology programmes "in primary schools, secondary schools, universities and colleges".
And Thales, whose customers include Saudi Arabia, the United Arab Emirates, Egypt and Kazakhstan, has its own mascots, Raybot and Faybot, who are used to promote the French company's education tools.
The company has designed a missile simulator as "a new activity for children to play with that… would help inspire them to consider engineering for a future career".
Manufacturers MBDA, Leonardo and Rolls-Royce all also have regular contact with schools.
UK news in pictures

Show all 50
Paul Everitt, chief executive of ADS, the trade body which represents defence contractors, said it was important for the sector to engage with schools.
He said: "UK defence companies play a vital role in local communities, providing high value long-term jobs with rewarding career paths for those choosing apprenticeships, graduate or postgraduate routes.
"The UK has a national shortage of engineers. Events and challenges run by industry in partnership with schools help to inspire the next generation of engineers and boost access to careers in an innovative and technologically advanced sector. In their engagement with schools, defence companies focus on encouraging pupils to study maths and sciences."
Register for free to continue reading
Registration is a free and easy way to support our truly independent journalism
By registering, you will also enjoy limited access to Premium articles, exclusive newsletters, commenting, and virtual events with our leading journalists
Already have an account? sign in
Register for free to continue reading
Registration is a free and easy way to support our truly independent journalism
By registering, you will also enjoy limited access to Premium articles, exclusive newsletters, commenting, and virtual events with our leading journalists
Already have an account? sign in
Join our new commenting forum
Join thought-provoking conversations, follow other Independent readers and see their replies