A trailblazer made visible: World's first black professional footballer to be honoured in Darlington
Arthur Wharton was a goalkeeper of such ability he was called 'invincible' by one 19th-century newspaper. This week a mural in the northeast town where he first played will be unveiled, writes Colin Drury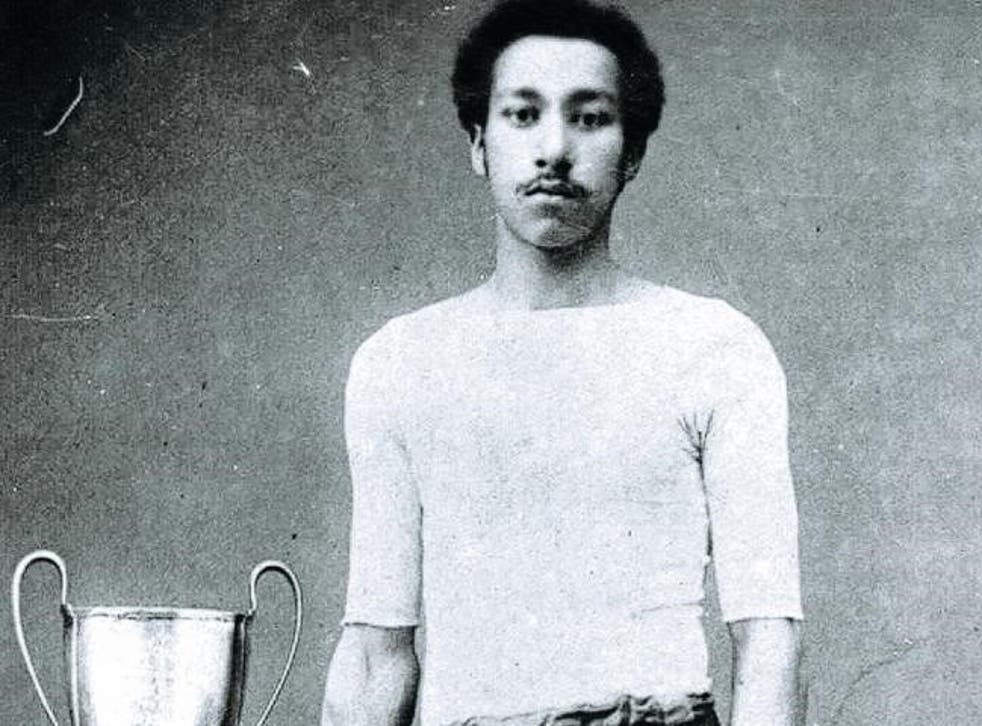 Widdowfield Street in Darlington is by any standards an unremarkable enough road.
At one end there is a Ladbrokes and a children's playground; at the other, a small glass-making factory and a Sure Start centre. In between, it's pretty much half a mile of back-to-back terraces.
Yet this innocuous throughfare 10 minutes from the town centre will next week become the unlikely setting for a memorial honouring one of England's great – but oft-forgotten – trailblazers.
A huge two-storey-high mural of Arthur Wharton is to be officially unveiled here on Wednesday.
Who's he?
A good question. The world's first black professional footballer, a goalkeeper of such ability he was called "invincible" by one 19th-century newspaper, and a man who, even in the ideological context of Victorian Britain, refused to accept racism lying down.
While waiting for an athletics race in his early 20s, he overheard two other competitors calling him the n-word. "Allow me to give you to understand," he later recalled telling the pair, "I not only run but do a little boxing when required." They piped down. He won the race.
Over his 17-year footballing career spanning from 1885 to 1902, this son of a Grenadian-Scottish father and a Ghanaian mother played for the era's leading clubs, including Sheffield United, Rotherham and the then giants of the game Preston North End.
A decent all-rounder, he also turned his hand to professional cricket in summer and was known for a period as the fastest man in the world after becoming the first person to complete 100 yards in 10 seconds flat.
But it was in Darlington, where he moved in his late teens, that he started this astonishing sporting career – hence, the new mural in Widdowfield Street.
The painting – completed on Saturday by Spanish street artist Jay Kaes – has been created adjacent to the Arthur Wharton Foundation's head office, a little-known charity which, from this unlikely base, aims to use its namesake's life to inspire a greater understanding of black history in Britain.
Why such a public piece now? Because, so says the charity, in the context of this year's Black Lives Matter protests, there has never been a more important time for figures like Wharton to have their roles in our collective past highlighted for all to see.
"There's been a lot in the news about this over the last few months but the fact is black lives won't matter until black history matters," founder Shaun Campbell tells The Independent between posing for drone-shot photographs alongside the vast painting. "Nothing will change – there will not be real racial equality – until we fully understand this aspect of the UK's heritage. And when it comes to pioneers – certainly sporting pioneers – there is no one more important than this guy."
This is not, it should be said, the first such tribute to Wharton.
A stunning 16-foot statue already commemorates him at St George's Park, the FA's national football centre in Staffordshire.
Yet, as significant as this 2014 piece is, the fact that it is on private land means the only people who ever really see it, notes Campbell, are "England players when they train".
Having this new portrait in the middle of one of Darlington's least fashionable neighbourhoods – close to where the man himself first played his beloved game – is a way of beaming the area's (and country's) multicultural past back into the present.
"It literally makes this invisible part of history visible again," says Campbell, who launched the foundation with none other than Stevie Wonder in 2008.
This visibility is indeed important because after his career finished in 1902, Wharton was essentially whitewashed out of football history.
His pioneering achievements disappeared so far from view that today, despite work to promote his memory by groups like Football Unites Racism Divides (FURD), his name remains largely unknown to both football fans and campaigners for racial equality.
"We're so proud of him," says Dorothy Rooney, his 61-year-old great-granddaughter who lives in South Yorkshire where Wharton eventually settled. "People have started to recognise his legacy more in recent years but I still don't think he gets the credit he deserves.
"It must have been so hard for him, being a mixed-race man in that era, and still making it to the top – that takes a huge amount of courage and determination."
Wharton himself was born in Jamestown in what is today Ghana in 1865 but came to England to train in the same profession as his father, a Methodist preacher.
At 19, he moved to County Durham to study at Cleveland College but religion, he later told a newspaper, was "not my inclination".
Sport was. He started playing for Darlington – then an amateur team – before he was eventually signed by Preston and then turned professional in 1889 with Rotherham.
Of late, there has been suggestion another footballer, Andrew Watson, son of a Scottish father and a British Guianese mother, may actually have been paid to play for Bootle before either Wharton turned pro or the Football League had been founded. Be that as it may, there seems little doubt that the goalkeeper was the first person of colour to play in the league itself.
His style as well as his ability won him plaudits.
"He was an entertainer," says Howard Holmes, director of FURD. "This is in the very early days of football when the rules were still being codified.
"Wharton was a goalkeeper but the suggestion is that he would run out of his nets to get involved outfield. The crowd loved it, although I'm not sure his teammates would have done."
In one incident, it is said, he made a save by jumping up, swinging on the bar and catching the ball between his knees. Fans called him "The Skylark".
Off the field, he was said to be similarly laidback but someone who did not tolerate fools – or racism – lightly.
Quite how much he suffered because of his skin colour remains unknown. Other players did nickname him "Darkie" but Wharton himself rarely talked about suffering discrimination in the few interviews he gave, nor do contemporary reports allude to it.
There is a suggestion, as author Phil Vasili noted in his 1997 biography The First Black Footballer, that examples of overt racism may have been so commonplace they were simply considered unworthy of comment by Victorian newspapers.
Yet it seems beyond doubt that Wharton would have experienced prejudice in 19th-century Britain – a place and time where pseudo-science placed people of colour at the bottom of a racial hierarchy in a bid to justify the empire.
In one intriguing episode, he was said to have won a running race in Middlesbrough by three foot but given only second prize by judges who said a white contestant had pipped him. Whether there was a racial overtone to this, the reports – nor Wharton himself – make clear. But he reacted furiously.
"I was presented with the salad bowl as second honour," he told the Athletic Journal in 1887. "I smashed the prize in front of the committee and told them to make another with the bits."
Others have since suggested he may have been capped by England had he been white.
If that seems tragic, so, to some extent, were Wharton's later years.
Despite paving the way for other black players to follow – notably Walter Tull and Jack Leslie – his post-playing years were hard and impoverished.
He settled in South Yorkshire and worked as a miner, while slowly falling into the jaws of alcoholism and sowing a complicated personal life which saw him embark on an affair with his own wife's sister.
When he died of cancer in 1930, aged only 65, he had so little money, he was buried in an unmarked pauper's grave in the village of Edlington near Doncaster – something only corrected in 1997 when FURD raised money to have a headstone placed there.
On it, today, the final line seems especially poignant: "The dust of his toil laid traces that will never be covered," it reads.
Apart from his two names – he was also known as Kwame by his Ghanaian family – there will be no writing on the new Darlington artwork.
But, speaking to Campbell again, he says it is the image that is all-important. "Its speaks for itself," he says. "A black guy who overcame the odds to help shape who we all are today."
Register for free to continue reading
Registration is a free and easy way to support our truly independent journalism
By registering, you will also enjoy limited access to Premium articles, exclusive newsletters, commenting, and virtual events with our leading journalists
Already have an account? sign in
Register for free to continue reading
Registration is a free and easy way to support our truly independent journalism
By registering, you will also enjoy limited access to Premium articles, exclusive newsletters, commenting, and virtual events with our leading journalists
Already have an account? sign in
Join our new commenting forum
Join thought-provoking conversations, follow other Independent readers and see their replies