Ashya King: Arrest warrant for parents to be withdrawn as CPS confirms they will face 'no further action'
Nick Clegg had been among more than 167,000 people calling for their release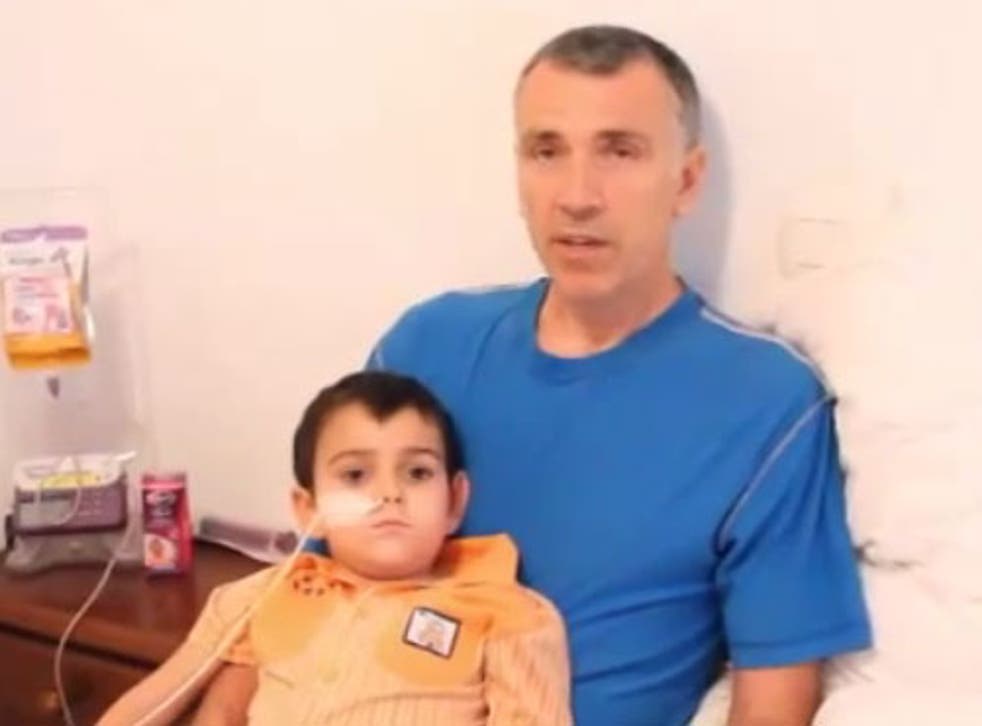 The parents of Ashya King will face no further action from prosecutors over their attempt to take their five-year-old son abroad seeking alternative treatment for his brain tumour.
Brett and Naghmeh King have been in custody in Spain for two nights without being allowed to see Ashya after being arrested using a controversial European arrest warrant.
The warrant is in the process of being dropped and the Crown Prosecution Service (CPS) is attempting to contact Spanish authorities to allow the parents to be reunited with their son.
In a statement, it said: "The CPS is currently taking steps to withdraw the European arrest warrants in relation to Brett and Naghemeh King.
"No further action will be taken against Mr and Mrs King and we are now in the process of communicating this decision to the Spanish authorities so that they can be reunited with their son as soon as possible."
In pictures: Ashya King's case

Show all 22
David Cameron, who had earlier said the boy's plight reminded him of his late son Ivan, who suffered cerebral palsy and epilepsy, welcomed the news.
"It's important this little boy gets treatment and the love of his family," the Prime Minister said.
In a letter to the Crown Prosecution Service (CPS), the government, Portsmouth City Council and Southampton General Hospital, Hampshire Constabulary's Chief Constable, Andy Marsh, said: "It is my view as chief constable that the situation today is not right.
"Irrespective of what has happened it is our view that Ashya needs both medical treatment and for his parents to be at his side."
His comments followed calls from MPs and friends of the family not to criminalise the parents for doing what they believed to be in their son's best interest.
A judge had previously awarded a European arrest warrant for the pair on the basis of the medical advice and concerns at the time but police said the situation was different in light of new information.
Earlier today, Ethan Dallas, 16, a friend of Ashya's brother, delivered a petition to Downing Street to reunite Aysha with his parents.
He appealed to the Prime Minister to personally request that Mr and Mrs King were immediately released from custody in Spain so they can get the best treatment for their son.
More than 167,000 people have so far signed his online petition, which says the couple "only want the best for him".
They took the boy from hospital in Southampton, where he was being treated for a brain tumour, and fled to Spain in the hope of getting proton beam therapy abroad.
But his disappearance on Thursday sparked an international manhunt as doctors and police voiced concerns for Ashya's welfare.
Nick Clegg was one of many politicians backing the calls, saying he does not believe it is appropriate to "throw the full force of the law" at them and that the arrests had cut of Ashya from his family.
The Deputy Prime Minister told BBC Breakfast: "My heart goes out - and I'm sure every mum or dad will have the same response, which is, as far as I can make out, this is a family in a state of real anguish who have taken this exceptional step of moving their sick child to another country because they think that's what is best for their child.
"We can debate whether it is or is not but that seems to be their motive and those are not motives I can argue with.
"That's why I personally think that throwing the full force of the law at Mr and Mrs King, who appear to be doing what they believe to be best for their own family, I don't think is an appropriate thing to do. But that, at the end of the day, is for the police and the CPS and others to decide."
Andy Burnham, the shadow Health Secretary, tweeted: "Enough is enough. Ashya King should be reunited with his parents today. Basic humanity demands it."
A Spanish court is considering whether to grant a request to extradite the parents to Britain, where they could be charged with child cruelty.
Mr and Mrs King were arrested on Saturday night and told the judge in Madrid they do not want to return to the UK.
They are considering legal action against Southampton General Hospital, their lawyer said, claiming they were told by doctors there was no problem with them taking Ashya out of the UK for treatment.
Their son, who is suffering from a stage four brain tumour, is being cared for at the Materno-Infantil hospital in Malaga.
Ashya's brother, Naveed, told Channel 4 News the family were not being allowed to see Ashya, who is being guarded by police in hospital.
"We have tried to call the hospital but they are not revealing any information at all to us," he added.
Ashya's grandmother, Patricia King, called their arrest "a huge injustice".
She added: "They are still not allowed to see Ashya, which is shocking. It's the worst thing of all. If this carries on, it could kill him."
The couple intended to sell a holiday home to pay for proton beam therapy, which is only given for eye cancer in the UK, in the Czech Republic.
The Proton Therapy Centre in Prague confirmed it was able to treat Ashya immediately if he was eligible for therapy, with the cost of the treatment to be sorted out later, and is assessing his MRI scans.
Dr Michael Marsh, medical director at University Hospital Southampton NHS Foundation Trust, said he regretted the relationship with the Kings had broken down.
He added: "We have discussed proton beam radiotherapy with Ashya's family and there are some tumours that respond well to this type of treatment, but there are some cases where there isn't the evidence that this is a beneficial treatment.
"Where the evidence supports this treatment, we have made a referral and patients have been treated abroad."
A spokesperson for Southampton General Hospital said the boy has a 70 to 80 per cent chance of survival with the treatment it offers and the parents were putting Ashya at risk.
"I'm not coming back to England if I cannot give him the treatment I want, which is proper treatment," Mr King, 51, said in a video posted before his arrest. "I just want positive results for my son."
The couple are Jehovah's Witnesses but there has been no indication their decision to take Ashya from hospital was made for religious reasons.
The case has prompted international discussion over the power hospitals should have over a child's treatment if the parents object and David Cameron's spokesperson said people up and down the country were "moved".
"First and foremost, the priority must be that he receives the very best and most appropriate medical care," he said.
"Of course, I am sure that every parent wants to do the best for their child. That is probably the most human of human instincts."
Additional reporting by agencies
Register for free to continue reading
Registration is a free and easy way to support our truly independent journalism
By registering, you will also enjoy limited access to Premium articles, exclusive newsletters, commenting, and virtual events with our leading journalists
Already have an account? sign in