'Animals don't get treated like this': How asylum housing problems have been exacerbated by the pandemic
Asylum seekers endure caved in ceilings and severe leakages as charities warn of 'brewing crisis'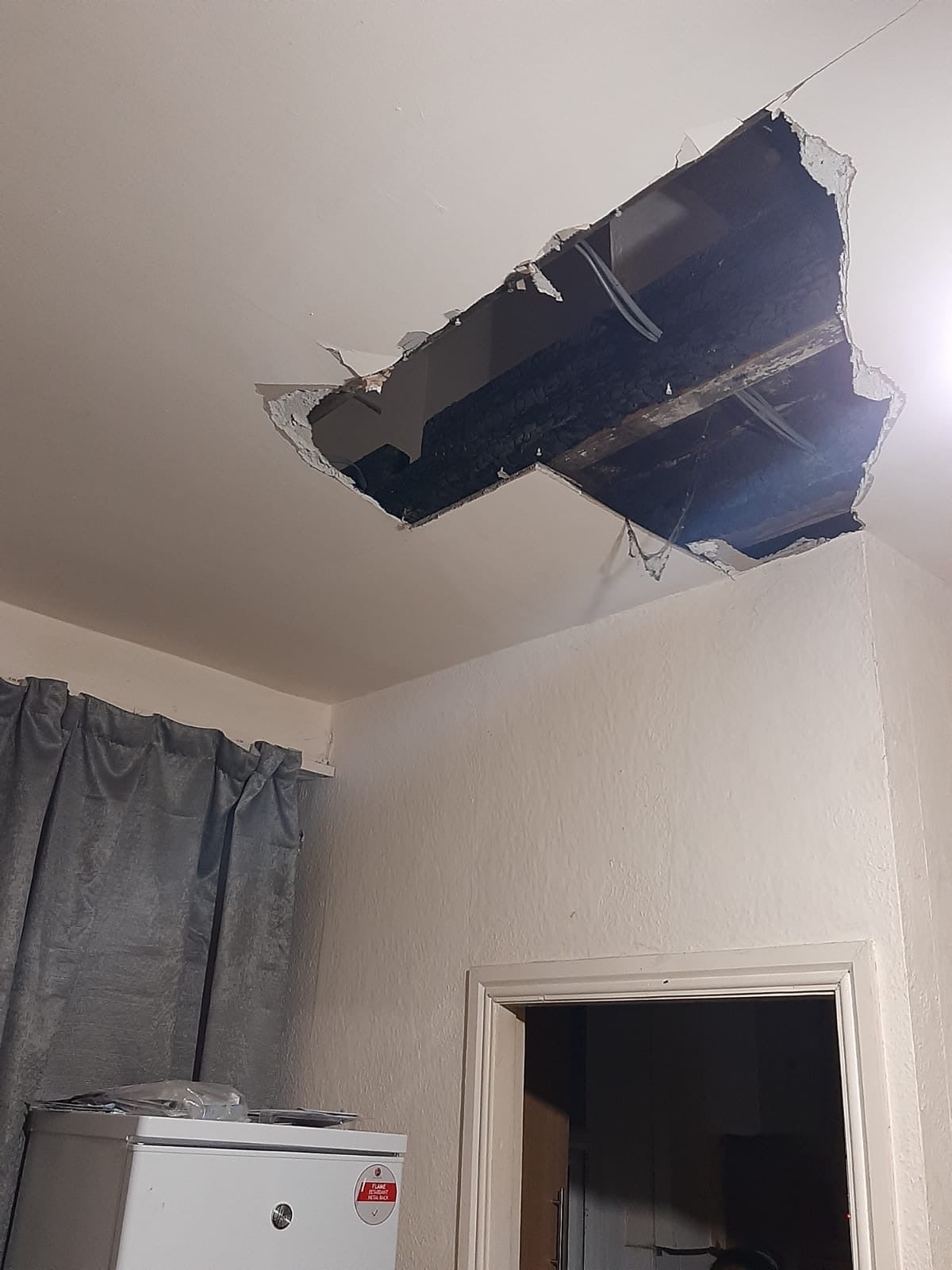 "There was blood everywhere. I was screaming," says Omeimah, 36, describing the moment the ceiling of her asylum housing fell on her two-year-old daughter as she sat on the sofa.
The Sudanese national and mother of two had been living in the property in Bradford for more than a year and had raised concerns multiple times about the living room ceiling, which she said she had been worried about since the day she arrived in July 2019.
"When I moved in all the rooms were dirty, and in the bedroom upstairs I could feel that the floor was moving," she says. "I contacted Migrant Help and informed them, but nobody took notice. I called again and they said they would do something about it, but nobody came."
It was only at the end of September that people builders arrived to fix the problem – but the ceiling had become so weak that as soon as they started work on it, it caved in on her child in the room below, who had to spend three days in hospital and have 20 stitches to fix the wound on her head.
Omeimah says her daughter has been left with psychological problems and won't leave her side. "Even animals don't get treated like this," she adds.
Omeimah is one of many asylum seekers who have been left living in dangerous conditions or without basic essentials in their homes. Charities say that under a new Home Office contract for asylum accommodation provision implemented in September 2019, conditions have only gotten worse – with the coronavirus pandemic exacerbating this further.
A damning report by the National Audit Office in July found that the department had failed to monitor the contractual requirements of Mears, Serco and Clearsprings – the three companies awarded the new asylum contracts – to ensure they were delivering services, which had culminated in vulnerable people's needs not being met.
It also revealed that Migrant Help, the organisation awarded the Home Office contract for the provision of asylum support services – known as Advice, Issue Reporting and Eligibility Assistance services (AIRE) – in September 2019, had answered only one-fifth of calls to its helpline.
Campaigners say the situation only appears to be getting worse, with asylum seekers living in sub-standard and dangerous housing conditions unable to get help, leading to situations like that of Omeimah.
In another case, Eritrean asylum seeker Magi, 32, who is currently in a shared asylum flat in Bradford with her five-month-old baby, says she is afraid each night because the ceiling above their bed leaks when it rains.
On the day she was placed in the house at the end of August, she noticed the issue and contacted Migrant Help, but she waited two months before any action was taken. Last week, someone came and sprayed substance on the ceiling, but she says the issue has not gone away.
"I was phoning them and phoning them to tell them the roof is leaking, please help me," she says. "I couldn't sleep. Someone eventually came but it's still leaking onto my bed when it rains. I'm worried the roof will fall on me and my baby. My eyes hurt because I don't sleep at night."
Magi says she has contacted Migrant Help to tell them the leak has persisted, but no action has been taken. This week, the oven in the flat has broken, and she's worried that she'll now be unable to prepare hot food for weeks.
"I'm worried, how am I going to eat? And I still can't sleep at night. I just want to feel safe. I want to have a healthy baby who can grow happily, but I feel like nobody cares. Nobody wants to help."
Rachel Goodall, Refugee Action's west Yorkshire asylum services manager, said there was a "crisis brewing" in asylum housing, with already high levels of disrepair increasing further.  
"Water is coming through rooves, properties are getting filthy. These were concerns before lockdown but now there's even less care. It's gotten really bad during the pandemic, and it feels like it's getting worse," she said.
In other cases, replacement appliances such as cookers and washing machines have been delivered to homes during lockdown but not plumbed in, meaning people haven't been able to use them, according to Ms Goodall.
The Independent has heard of cases in south Wales where asylum seekers living in accommodation provided by Clearsprings have been waiting for over a month for replacement boilers and washing machines, leaving them without hot water and unable to wash their clothes.
 Ms Goodall said a combination of reduced face-to-face contact from the housing providers and difficulty accessing support from Migrant Help, as well as a loss of support on the ground from charities that assist asylum seekers during the pandemic, had allowed conditions to deteriorate considerably.
"[The contractors] have done the bare minimum. They had a policy of doing only urgent repairs during lockdown, which just means that other things have left, and have got more urgent as time has gone on," Ms Goodall said.
"People are supposed to be reporting these issues through Migrant Help, but there seems to be a real bottleneck. People are phoning 30 or 40 times and nothing changes. Nothing gets resolved."
A Home Office spokesperson said: "We work tirelessly with local authorities and other partners to provide asylum seekers, who would otherwise be destitute, with suitable accommodation – as we are required to do by law. There is also a 24-hour helpline for maintenance requests.
"We take the wellbeing of asylum seekers extremely seriously and are determined to fix the broken asylum system to make it firm and fair."
Home Office to carry out review of hostile environment following Windrush says Priti Patel
A Mears spokesperson said: "This has been a time of transition as we have worked to make improvements and bring accommodation and support up to the new asylum accommodation and support services (AASC) contract standards.  
"We have carried out over 12,000 repairs and of these only 0.17 per cent have not been completed within the contractual timeframe due to extenuating circumstances, such as waiting for a specialist part.  
"We have addressed issues of damp at a number of properties and will respond to any issues that are reported.  If any service user has issues with their accommodation, these can be raised directly with Mears staff, who keep in regular contact with service users, or through the Migrant Help service, and we will respond as quickly as possible."
Join our commenting forum
Join thought-provoking conversations, follow other Independent readers and see their replies