Asylum seekers could contribute £42m to UK if allowed to work, finds study
'I don't want to rely on the government's benefits – I want to work so I can prove myself to my children,' says mother prevented from working
May Bulman
Social Affairs Correspondent
Tuesday 16 October 2018 11:20 Comments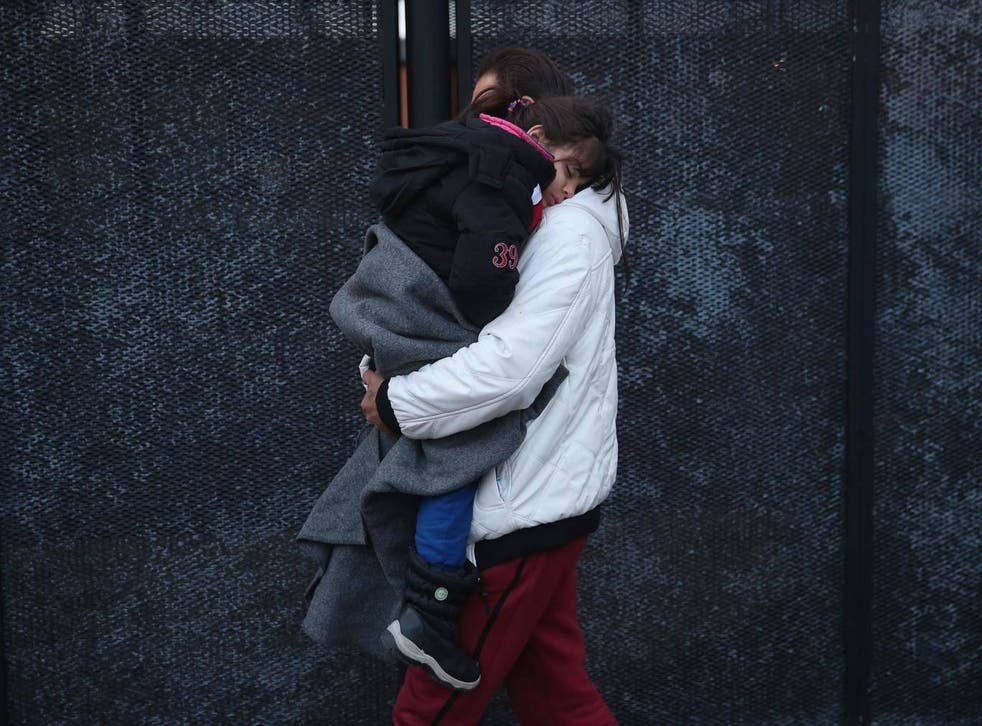 Asylum seekers could bring an additional £42.4m to the economy if they were allowed to work – a move that is overwhelmingly backed by the British public, a new study shows.
Under current rules, people seeking asylum are prevented from working while their claims are being processed. The Home Office aims to deliver decisions within six months, but almost half wait for more than six months, with some waiting years.
Asylum seekers can only apply for permission to work if they have been waiting for a decision for more than a year and, even then, only for jobs that are on a restrictive list.
Research by the Lift the Ban coalition, a group of 65 organisations, shows that if half of people seeking asylum earned a national average wage, £42.4m would be recouped by the government through tax and national insurance payments and savings on financial support.
The study also shows that the public is in favour of lifting the ban, with 71 per cent agreeing that people seeking asylum should have the right to work.
A survey of 246 people with direct experience of the asylum process revealed 74 per cent had secondary-level education or higher and over a third (37 per cent) held an undergraduate or postgraduate university degree.
Nearly two-thirds (65 per cent) of respondents were working before they came to the UK, even though many of their countries of origin have been at war for years or have some of the world's lowest employment rates.
The survey also showed that 94 per cent of people seeking asylum in the UK want to work.
Instead, they are left to live on £5.39 a day to meet all their essential living costs, including food, clothing, toiletries and transport. Many struggle to support themselves and their families, and may even become destitute.
A report by the Red Cross earlier this year found that the number of refugees and asylum seekers living in food poverty had soared by 20 per cent in 12 months.
The charity supported 15,000 people experiencing destitution last year, during which it recorded a 20 per cent rise in demand for food parcels and a 43 per cent increase in people needing baby packs since 2016 – with overall distributions now at a five-year high.
Rose, an asylum seeker with two young children, has been waiting for a decision on her initial asylum claim for three years.
The woman, who asked to be identified only by her first name, said she tried to ensure that her children lead a normal life but is often unable to offer them even the most basic of things.
"Not being able to work, it cripples you… As a parent, you feel that you are not good enough. When you have kids, their daily needs – there are things that you need to give them," she said
"I want to work – I don't want any more hand-me downs. I want to enjoy the reward of my sweat. I don't want to rely on the government's benefits – I want to work so I can prove myself to my children."
Stephen Hale, from Refugee Action, urged the government to "move rapidly" to grant the right to work for people seeking asylum.
"It's madness that people fleeing the horrors of conflict and persecution are unable to work for long periods after they arrive in the UK," he said.
"It is deeply damaging to those it affects, makes integration far harder, and is bad for the economy and public finances. Lifting the ban has strong public support.
"People seeking asylum tell us every day that they feel worthless and that being unable to use their skills over a long period of time forces them to be dependent. They want to give back to the country that has protected them. It's time for change."
Frances O'Grady, general secretary of the Trade Unions Congress (TUC), said the ban was "cruel and self-defeating", adding: "We shouldn't be wasting the talent and skills of these workers.
UK news in pictures

Show all 50
"People seeking asylum must be given the right to work and contribute. These damaging restrictions are in no-one's interest."
A Home Office spokesperson said: "Once an individual has been granted protection, they have immediate and unrestricted access to the labour market.
"However, asylum seekers are not normally allowed to work while their asylum claim is determined, this is to protect the resident labour market and ensure access to employment is prioritised for British citizens and those lawfully resident here, including refugees.
"Those who would otherwise be destitute are provided with free, furnished accommodation and are provided a cash allowance to cover other essential living needs."
Register for free to continue reading
Registration is a free and easy way to support our truly independent journalism
By registering, you will also enjoy limited access to Premium articles, exclusive newsletters, commenting, and virtual events with our leading journalists
Already have an account? sign in
Join our new commenting forum
Join thought-provoking conversations, follow other Independent readers and see their replies