Atomwaffen Division: UK government accused of 'dithering' over ban of neo-Nazi terrorist group
Shadow minister calls gap between formation of group in 2015 and ban 'profoundly concerning'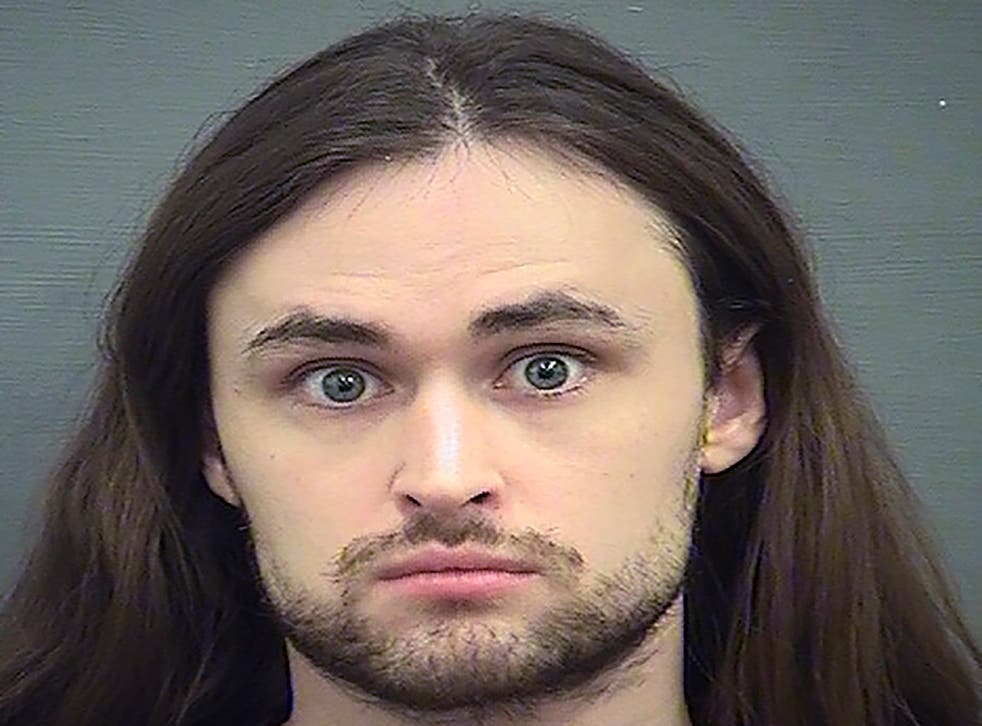 The British government has been accused of "dithering" over the decision to ban a neo-Nazi group that was formed more than five years ago.
MPs approved the proscription of Atomwaffen Division, and its alias National Socialist Order, as terrorist organisations on Wednesday but some questioned the timing.
Bambos Charalambous, Labour's shadow Home Office minister, said it was "profoundly concerning" that action had not been taken since Atomwaffen Division became operational in 2015.
"In March 2020, Atomwaffen Division claimed it had disbanded and the National Socialist Order announced itself as its successor in July 2020," he told the House of Commons.
"Why on earth has is taken so long for the government to recognise this threat and finally proscribe this group? It is already way past its peak and action has already been taken against it in the US."
Several leaders of Atomwaffen Division have been arrested in the US and members of its UK affiliate Sonnenkrieg Division have been prosecuted.
Atomwaffen Division promotes the use of violence to trigger a race war, in order to bring about a fascist, white ethno-state, and has been linked to several murders and terror plots in the US.
It has links to British terrorist groups including National Action and Sonnenkrieg Division, which have also been proscribed.
Mr Charalambous said concerns were also raised about the timing of a previous ban on the Feuerkrieg Division group, which was linked to Atomwaffen Division and also dissolved before it was proscribed.
"The slowness of the UK's response begs the question: is the proscription process really fit for purpose?" he asked. "Today's proscription order is welcome but we are seeing an emerging pattern from this government—one of dither and delay on these vital decisions, with action happening far too late.
"Ministers must prove that they have a robust enough strategy to address this worrying rise in far-right extremism and terrorism, and tackle this appalling threat."
Stuart McDonald, the Scottish National Party's Home Office spokesperson, noted that the group's British affiliate Sonnenkrieg Division was banned in February 2020.
He told the House of Commons that a trial of members for terror offences heard that they had been in contact with Atomwaffen Division leaders.
"Why could this not have happened earlier?" Mr McDonald asked, urging the government to assess the effectiveness of proscription.
He added: "We know it does lead to disruption and the arrest of members, but equally the fact that we are continually adding aliases raises the question of whether we are really causing anything more than inconvenience to these actors."
Chris Philp, a Home Office minister, said proscription was "not the end of the process" and that intelligence agencies and counter-terror police would monitor the groups.
He told MPs that Atomwaffen Division and the National Socialist Order would be added to the UK's list of 76 banned international terrorist groups.
"Proscription is designed to crack down on a group's ability to operate, through various means including enabling prosecution, supporting the takedown of online material and underpinning immigration-related disruptions," Mr Philp added.
UK news in pictures

Show all 51
"Given the wide-ranging impact of this power, the home secretary exercises it only after thoroughly reviewing the available evidence on any organisation, whether that is open-source material, intelligence material or advice that reflects consultation across government, the intelligence agencies, law enforcement and international partners. Decisions are taken with great care and consideration."
The ban makes membership of Atomwaffen Division a crime punishable by up to 10 years in prison, which will rise to 14 years when a new package of terror laws comes into force next week.
It will also be a criminal offence to invite support for the group or raise money for it.
Atomwaffen Division grew out of the fascist Iron March online forum that went offline in 2017 and is among numerous "accelerationist" white supremacist groups drawing from the writings of American neo-Nazi James Mason.
It promotes the use of violence to overthrow the US government and trigger a race war, ultimately resulting in a new society based on white supremacy, antisemitism and virulent anti-LGBT beliefs.
Since 2017, Atomwaffen Division's ideology has become more influenced by Satanism and the occult, according to Stanford University's Center for International Security and Cooperation.
Using various techniques including online harassment and "swatting", Atomwaffen Division has targeted public figures, politicians and journalists, as well as mounting terror plots.
In January 2018, a member murdered 19-year-old Blaze Bernstein, who was gay and Jewish, and in California followers have carried out several other killings.
Join our new commenting forum
Join thought-provoking conversations, follow other Independent readers and see their replies