Autistic boy receives 20,000 birthday cards after mother's public appeal
'Some people might think it's just a card, but to us it's massive - I'd love to thank everyone and remind them that there are 'Ollies' everywhere'
Rachael Pells
Sunday 28 August 2016 11:25 Comments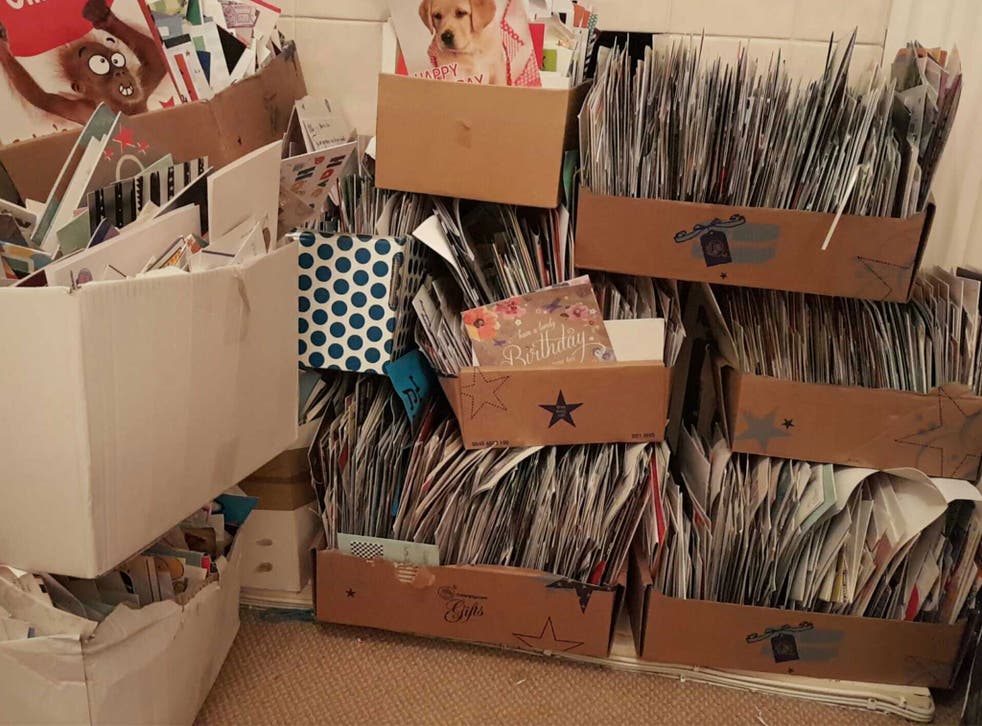 An autistic boy has received tens of thousands of birthday cards from strangers all over the world, after his mother made a public appeal.
Karen Jones, 49, from Exmouth, posted a request for help on Facebook after her son Ollie told her he loved opening cards and had made his own to open on his 15th birthday.
Writing on a community page, she said: "He's just told me he love opening cards to [the] extent he's made himself a couple."
"We are a small family and he has no friends so gets very few."
By Ollie's birthday on Saturday, his mother said he had received some 20,000 cards, messages and presents from people all over the world who had seen her plea.
For comparison, the Queen is estimated to have received 17,000 cards for her 90th birthday this year.
Speaking to the Independent, she said she took Ollie to a family friend's house for his birthday.
"He sat in a hot tub with his new selfie-stick and said: 'mum, I'm famous'".
Ms Jones, who is a voluntary support worker for parents of autism, spoke of how positively her family had been affected by the widespread act of kindness.
Having autism means her son struggles with processing, she added, which affects his verbal and academic communication.
"I'd love to thank everyone and remind people that there are 'Ollies' everywhere," she said.
Autistic boy receives 20,000 birthday cards after mother posts public plea

Show all 5
"Some people might think it's just a card - but to us it's massive. Sending cards can bring so much joy".
Boxes of post began arriving to the Jones's on Thursday, and boxes are said to still be incoming from strangers as far as Cyprus, Crete and Australia.
Speaking to the Plymouth Herald, Ollie said: "No one gives me birthday cards, just me.
"It's fab, amazing and fun - but not so many next year please."
Ms Jones said: "My son made two birthday cards.
"He has no friends because of his autism and when I saw he had made the cards it pulled my heart strings.
"I thought maybe we could just try to get him a few extra cards this year."
When droves of cards and messages began to arrive, she said it brought "tears to the eyes".
"It was a lump in the throat moment," she said. "All I can say is thank you, the kindness, love and goodwill of everyone has been phenomenal."
The Facebook message has been shared more than 25,000 times and attracted thousands of comments from well-wishers using the hashtag #cards4ollie.
One well-wisher from Saudi Arabia sent the teenager an X-Box, and another has offered the family a weekend away.
Jane Harris, Director of External Affairs at the National Autistic Society, said: "This story shows how small acts of kindness can make a huge difference to the lives of autistic people and their families.
"Over one in one hundred people are autistic in the UK, and many find it hard to communicate with and form relationships with other people. But no-one should fall for the myth that autistic people are loners or prefer to spend time on their own; many want to have friends but struggle to do so because of difficulties understanding the social world.
"If anyone is unsure how best to communicate with someone on the autistic spectrum, the simple answer is to ask them or someone who knows them well, whether a family member, friend or professional."
Register for free to continue reading
Registration is a free and easy way to support our truly independent journalism
By registering, you will also enjoy limited access to Premium articles, exclusive newsletters, commenting, and virtual events with our leading journalists
Already have an account? sign in
Join our new commenting forum
Join thought-provoking conversations, follow other Independent readers and see their replies