Baby Isaiah: Parents of brain-damaged boy lose fight to keep him on life support
'I see a child who is injured. He needs love. He needs care. I have it. I can give it,' Isaiah's mother Takesha Thomas told the court
Lucy Pasha-Robinson
Monday 29 January 2018 15:25 Comments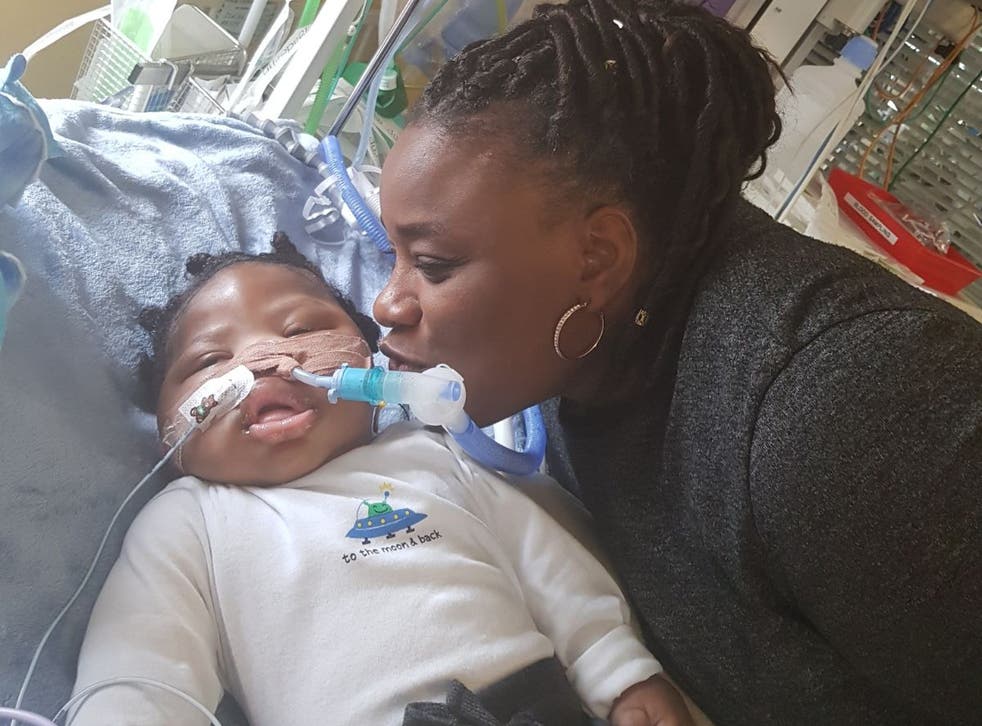 An 11-month-old boy will have his life support switched off against the wishes of his parents, a judge has ruled.
Isaiah Haastrup suffered "catastrophic" brain damage at birth, leaving him unable to move or breathe independently, the court heard.
His parents, Takesha Thomas and Lanre Haastrup, both 36, had wanted to keep him on life support, arguing he showed signs of being responsive.
But Mr Justice MacDonald sided with specialists at King's College Hospital who said giving further intensive care treatment would be "futile, burdensome and not in his best interests".
The judge announced his decision on Monday in Birmingham after analysing evidence at a trial in the Family Division of the High Court in London earlier this month.
Isaiah was in a low level of consciousness and did not respond to stimulation, doctors told the court.
But Isaiah's mother Ms Thomas told the judge: "When I speak to him he will respond, slowly, by opening one eye."
She added: "I see a child who is injured. He needs love. He needs care. I have it. I can give it.
"To say it is so poor, it is not worth living, that is not right. It is not their decision to make."
Mr Haastrup fought back tears at the trial as he outlined a series of complaints against the hospital to Mr Justice MacDonald.
He said the trust had "harmed" Isaiah at birth, and told the judge that a "negligence case" was under way, after Isaiah was deprived of oxygen at birth.
"There have been failings," he said. "But for them Isaiah would be at home having a lovely meal with me, with his lovely mum, playing around."
Mr Haastrup said "everything" was "about full control" for hospital bosses and accused doctors of not taking account of his views or those of Miss Thomas.
Register for free to continue reading
Registration is a free and easy way to support our truly independent journalism
By registering, you will also enjoy limited access to Premium articles, exclusive newsletters, commenting, and virtual events with our leading journalists
Already have an account? sign in
Join our new commenting forum
Join thought-provoking conversations, follow other Independent readers and see their replies