Backlog in coroners' courts: Bereaved families wait up to seven years for inquests
A new standards code calls for investigations to be completed within six months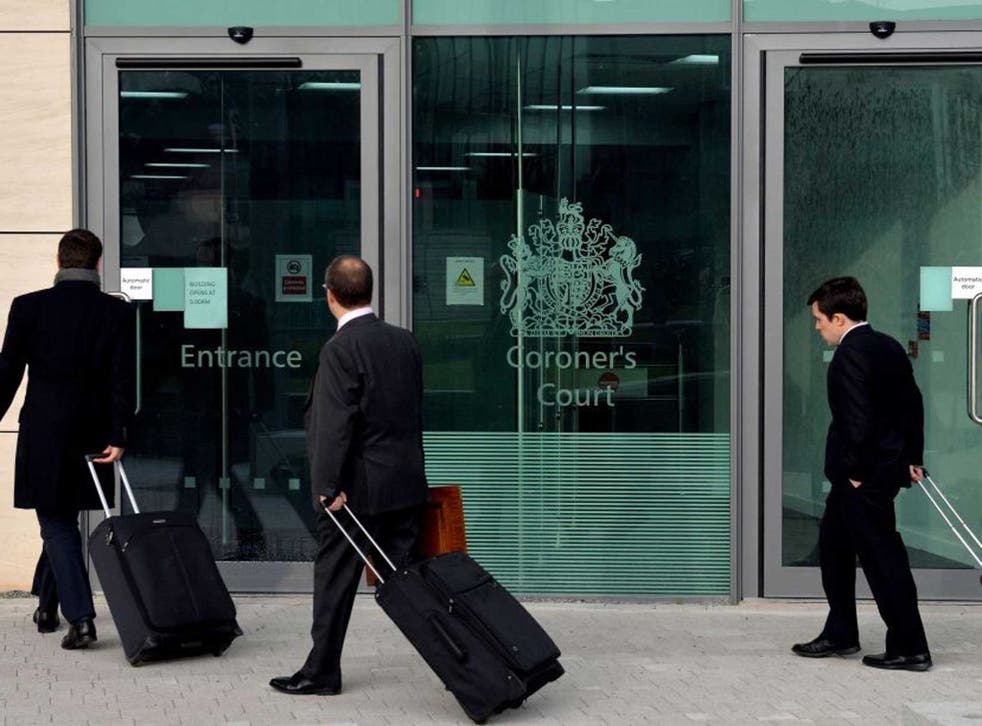 Grieving families are having to wait up to seven years to find out what caused the death of loved ones, as evidence mounts of growing backlogs of inquests, with which coroners are struggling to cope.
Coroners' courts investigate the medical cause of death, particularly if it appears to be sudden, unnatural or violent. Each year more than 30,000 inquests are held in England and Wales and individual coroners have been responsible for holding hearings "as soon as practicable".
Last year the chief coroner, Peter Thornton QC, introduced a new standards code that required all 96 coroners to complete inquests within six months of being informed of a death, unless there are good reasons not to do so. Acceptable delays include waiting for related criminal investigations, or trials, to be concluded.
Experts say the appointment of Mr Thornton helped reduce delays and raised standards, but a lack of resources, no independent inspection of coroners' operations and legal aid cuts for judicial review were undermining faith in the system.
The most recent coroners' statistics for 2012 show that the average time taken for inquests to return verdicts was 26 weeks. The report, published by the Ministry of Justice, said coroners' caseloads vary greatly but research by The Independent on Sunday shows that an increasing number of families are having to wait years for verdicts.
Inquests completed last week included verdicts on Stewart Maltby, a Nottingham pensioner who died 20 months ago having suffered "serious, repeated and systemic failures" by the NHS; and Anjali Sharma, a teenager who wanted to become a doctor, who died three years ago. Her inquest had been delayed for 20 months while the Wiltshire and Swindon coroner waited for toxicology results.
In Windsor, Berkshire, an inquest into the death of 19-year-old Jake Herring will continue this week. A jury heard on Wednesday that the trainee design engineer was electrocuted in March 2009 after he had not switched off a necessary unit before connecting a device to a control panel he was testing. A former colleague, Roger Scully, told the inquest that Jake was "a lovely lad" who should have been supervised.
An inquest into how Tahir Mehmood, a Pakistani asylum seeker, died in the short-term holding centre at Manchester airport last July was originally scheduled for October, but Manchester coroner's office said it has been put back and is still not listed.
In one of the worst delays, an inquest is scheduled to begin in September into the death of Arsema Dawit, a 15-year-old who was stabbed more than 30 times, near her home in Waterloo, London, in June 2008. Her attacker was arrested immediately and later detained indefinitely under the Mental Health Act. The victim's family claim their daughter warned police her life was in danger but was ignored and battled for years to get an inquest; in 2009 Dr Fiona Wilcox, an assistant deputy coroner, ruled that a full hearing was not needed despite police "failures". Dr Wilcox said there was "nothing that they knew or ought to have known of a real or immediate risk to Miss Dawit's life". A High Court judge later quashed the ruling and ordered that an inquest be held.
England's longest-serving coroner, who was been criticised for failing to clear a backlog of inquests, has announced he is to step down at the end of this month. Teesside's Michael Sheffield, 83, faced calls for his resignation after a review found his inquests took an average of 44 weeks to complete, nearly double the national average of 26 weeks.
An inquiry into delays on Teesside recommended that Mr Sheffield, who has held the post for 40 years, be issued with "informal advice" by the Lord Chief Justice.
North East Kent coroner Rebecca Cobb was formally reprimanded by the Lord Chief Justice in January for taking more than five years to complete an inquest into the death of Adam Scott, a 17-year-old schoolboy who died in 2007 after a car crash. His mother, Deborah Scott, made an official complaint because the inquest took until 2012 to complete.
Carolyn Hoare, from Chartham, Kent, endured an agonising seven-year wait after her 21-year-old son Matthew was killed in Canterbury in January 2006. A tyre that he was fitting to a vehicle exploded. Mrs Hoare, 53, said after the inquest was concluded earlier this year: "The inquest delays were disgusting and just added to the enormous stress we were under. I still don't understand how it could have taken so long."
Ms Cobb, who is due to retire in June, declined to comment, but a spokesman for Kent County Council said while "a few" of her cases went on for years, her average time taken to process inquests for 2012 was 21 weeks – below the national average.
Liverpool had the shortest average processing time at eight weeks, while Southend-on-Sea took the longest with an average time of 53 weeks, according to the latest figures. Seven districts had an average time of more than 40 weeks.
A spokesperson for Inquest, a charity providing support for families bereaved by a death in custody, said: "Finding out how someone died is an essential part of the bereavement process. Unnecessary delays cause considerable distress to bereaved families, who often report feeling as though their lives have been 'put on hold' until the inquest is over. Delays also hamper the role of the inquest in preventing further deaths, as failings are not identified and acted upon quickly…. This undermines public confidence."
Coroners' statistics for last year will be published on 15 May, and the Ministry of Justice will review the new rules at the start of 2015 to see if the changes have made a difference. A spokesperson for the MoJ said: "We are determined to make absolutely sure that the needs of bereaved families in coroners' courts are put first and foremost. We have already introduced changes to the law so people can be confident that inquests are being conducted quickly and consistently."
Register for free to continue reading
Registration is a free and easy way to support our truly independent journalism
By registering, you will also enjoy limited access to Premium articles, exclusive newsletters, commenting, and virtual events with our leading journalists
Already have an account? sign in
Register for free to continue reading
Registration is a free and easy way to support our truly independent journalism
By registering, you will also enjoy limited access to Premium articles, exclusive newsletters, commenting, and virtual events with our leading journalists
Already have an account? sign in
Join our new commenting forum
Join thought-provoking conversations, follow other Independent readers and see their replies