Bedford prison riot: Inmates claim to have 'taken over' guards offices
Emergency services were called to the prison in the town centre at around 5pm on Sunday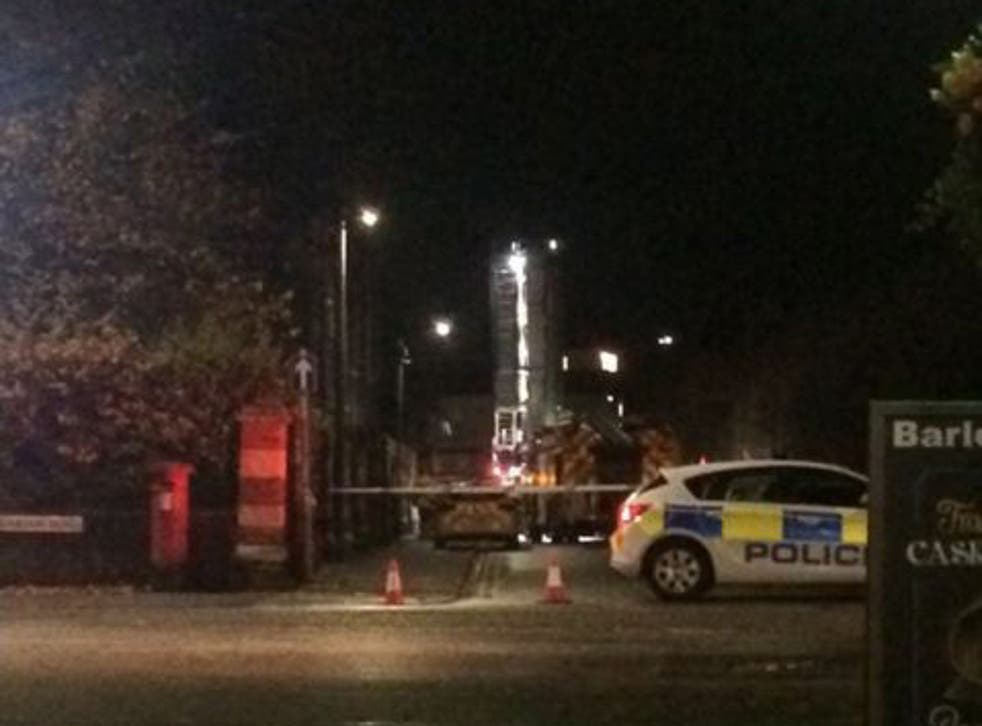 Police have been called to help guards at a prison in Bedford following reports of a riot.
Emergency services were called to the prison in the town centre at around 5pm on Sunday where hundreds of prisoners are understood to have taken over parts of the category B prison, some of whom allegedly carried blades and ransacked the guards' offices, sparking small fires and stealing medical supplies.
The Prison Officers Association (POA) said up to 200 inmates were involved in the unrest and some prison guards had retreated to a "safe place", while national teams of riot-trained officers had been deployed.
Steve Gillan, POA general secretary, said: "We do know there's concerted ill-discipline if not a riot situation going on in Bedford.
"There could be anything up to 200 prisoners involved. We don't know how many are out of the cells, some are still locked up.
"Prison officers on the landings have withdrawn to a safe place, so prisoners are out in large numbers.
"We don't know if it will turn into a full scale riot as these things can turn very quickly."
One man, claiming to be an inmate, told Mirror Online: "We've got control of the prison."
"Prisoners are walking around with knives and coshes. They've nicked mobile phones out of the office, everything's been smashed."
He suggested as many as 300 inmates were involved in the unrest.
The riot is believed to have been triggered by mounting frustration among prisoners over long periods of lock-down as a result of acute understaffing, the Guardian reports.
UK news in pictures

Show all 50
It is understood inmates have also ripped up toilets in an attempt to flood the buildings.
A police spokeswoman said: "Bedfordshire Police is currently assisting HMP Bedford following reports of unrest within the prison.
"We were called shortly before 5pm and have a number of officers at the scene working with prison staff to resolve the issue."
A Prison Service spokesman said: "Specially trained staff are working with the emergency services to resolve an ongoing incident involving a number of prisoners at HMP Bedford.
"We are absolutely clear that prisoners who behave in this way will be punished and could spend significantly longer behind bars."
Ambulance and fire services are also on standby outside the prison.
A spokesman for the East of England Ambulance Service said: "We are at the scene on standby at this stage. It's an on-going incident. We are not in the prison."
By 11:30pm the Prison Service announced that the disturbance had been "successfully resolved".
The incident comes after the head of the POA Mike Rolfe warned last week that British jails have been engulfed by a "bloodbath".
Mr Gillan said: "The POA has been warning about this situation of violence in our prisons - it would appear it's coming to fruition.
"I just hope there's no prisoners or indeed prison officers injured in the violence."
HMP Bedford currently holds around 500 inmates, according to a HM Inspectorate of Prisons report in September.
The watchdog's report found inmates claimed it was easier to get drugs than clothes or bedsheets at a prison where standards have deteriorated to "unacceptable levels".
The HMP inspection in May also found that the physical condition of the prison was poor, with many inmates living in cramped conditions. The report detailed damaged furniture, graffiti, shortages of clothing and dirty, unscreened showers.
Shadow justice secretary Richard Burgon said on Twitter: "More troubling news concerning our prisons. The Justice Secretary needs to do more urgently to tackle crisis."
Additional reporting by Press Association
Register for free to continue reading
Registration is a free and easy way to support our truly independent journalism
By registering, you will also enjoy limited access to Premium articles, exclusive newsletters, commenting, and virtual events with our leading journalists
Already have an account? sign in
Register for free to continue reading
Registration is a free and easy way to support our truly independent journalism
By registering, you will also enjoy limited access to Premium articles, exclusive newsletters, commenting, and virtual events with our leading journalists
Already have an account? sign in
Join our new commenting forum
Join thought-provoking conversations, follow other Independent readers and see their replies