Images of 'sinister' masked men patrolling Belfast streets investigated by police
Footage described as 'deeply concerning'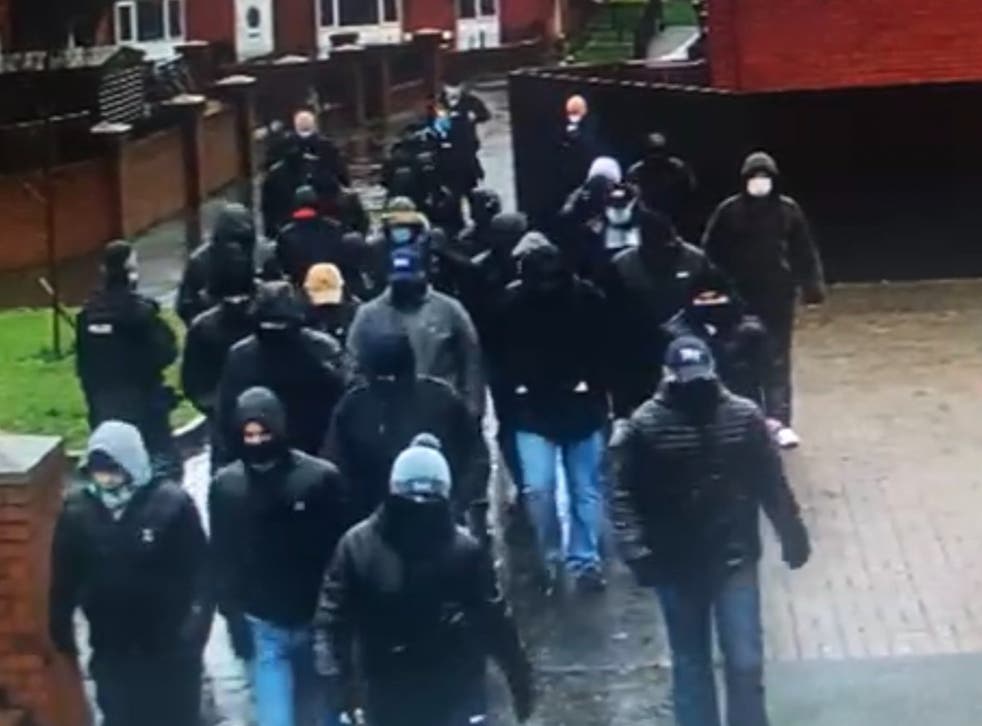 Police in Northern Ireland are investigating an incident in Belfast where a gang of at least 24 masked men were reported to have been patrolling streets in the city.
Video and images posted to social media appear to show a group of men mostly dressed in black, wearing hats and with their faces covered walking through the Pitt Park area of east Belfast, about a mile-and-a-half from the city centre.
In one video posted online, a number of police officers arrive at the scene and observe the group before following it out of a housing estate.
In a Tuesday night statement, the Police Service of Northern Ireland (PSNI) said: "Police responded to reports of suspicious masked men in the vicinity of the Newtownards Road in east Belfast, this afternoon (Tuesday, February 2nd). Officers attended and enquiries are continuing."
Local Democratic Unionist Party MP Gavin Robinson said that there had been a number of "worrying incidents" in east Belfast in past few weeks.
He said: "Homes attacked, families intimidated and our community living in fear. Today we saw a severe escalation of that in Pitt Park. It has to stop. East Belfast deserves better. The PSNI need to get a grip and show such action will not be tolerated."
Sinn Féin's Belfast West MP, Paul Maskey, said the images were "deeply concerning" and called on the PSNI to thoroughly investigate the incident.
He said: "This gathering is sinister and looks to be an attempt to exert control over the community of east Belfast.
"The PSNI, who attended the scene, must thoroughly investigate this afternoon's incident and ensure that criminal gangs are held accountable for their actions.
Mr Maskey added: "This also comes at a time when the emergency services are already under great strain because of the pandemic.
"We need to see calm heads and responsible leadership at this time and not attempts to raise tensions."
It came as both local and EU customs staff at ports in Belfast and Larne were removed due to security concerns.
Checks on animal products were suspended on Monday night following an "upsurge in sinister and menacing behaviour in recent weeks".
Graffiti has appeared attacking the impact of the Northern Ireland Protocol – which has created a customs border in the Irish Sea – and describing port staff as "targets".
Join our new commenting forum
Join thought-provoking conversations, follow other Independent readers and see their replies