Benedict Allen: British explorer made 'video will' for family before rescue from Papua New Guinea jungle
'I've got fever, bad fever. This is so very quick… so sudden'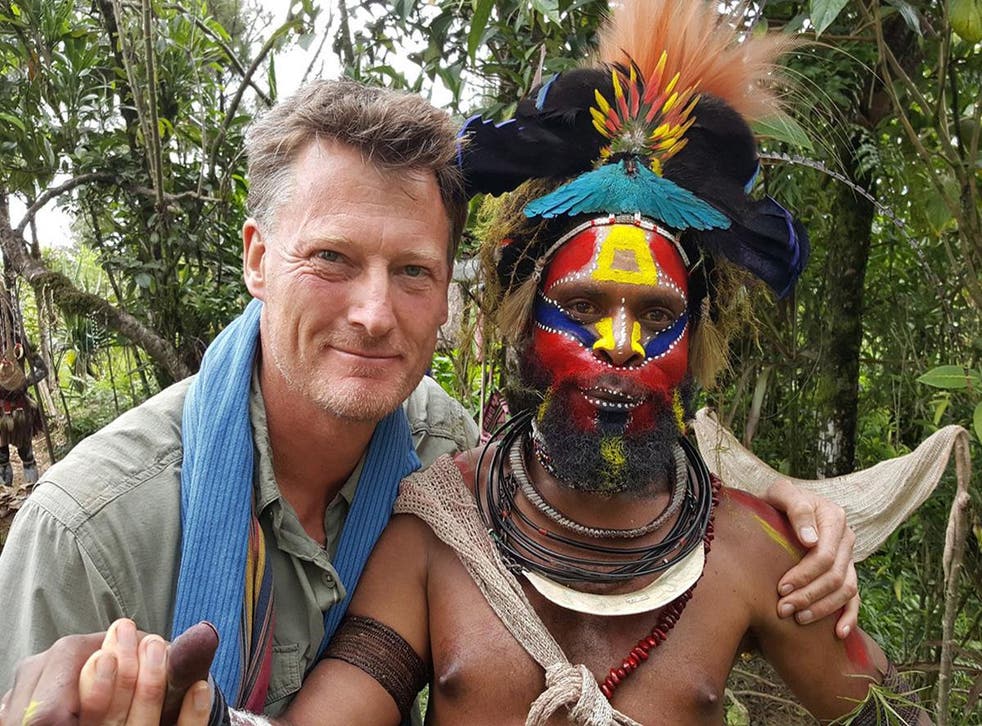 British explorer Benedict Allen, who was rescued from a jungle in Papua New Guinea after failing to catch his flight home, made a "video will" to his family, it has been reported.
Speaking to the Daily Mail, Mr Allen said he recorded the message in case he did not recover from his fever.
Mr Allen, 57, was reported missing by his wife when he did not board a flight back to the UK following his trip to the jungles of Papua New Guinea to reach an uncontacted tribe.
He had been dropped into the jungle three weeks prior with no mobile phone or GPS device to aid him in his quest to meet the Yaifo tribe, who he described in an earlier blog post as "one of the last people on the entire planet who are out of contact with our interconnected world".
He was spotted on an airstrip on Thursday and was later rescued by helicopter, along with a woman named Eka and her husband Peter who were both suffering from malaria, and was taken to hospital in Port Moresby.
Mr Allen told the newspaper he had made the video message on his camcorder while suffering badly from the fever while in an abandoned mission station in Hewa valley.
"I've got fever, bad fever. This is so very quick… so sudden," he reportedly said in the video.
He told the newspaper he had been "in a bad way" at the time and the abandoned mission station felt like "a place for the dying".
"I could hear birds of paradise singing outside, and it felt like I was slipping into heaven," he said, adding that he had been hallucinating about his children begging him to come home.
Mr Allen's agent Jo Sarsby said on Friday he had been rescued by helicopter and was feverish with suspected malaria.
"Benedict looks forward to being reunited with his family and friends but will need some time to get back to full health," she added, while passing on the explorer's thanks for the kind messages he had received.
Mr Allen's wife Lenka Allen previously told how the couple's children - 10-year-old Natalya, Freddie, seven, and two-year-old Beatrice - were missing their father.
Join our new commenting forum
Join thought-provoking conversations, follow other Independent readers and see their replies