Bill Gates urges Theresa May not to cut UK aid funding after Brexit vote
Exclusive: Speaking to The Independent ahead of a summit on neglected tropical diseases, the world's richest man says taxpayers should be 'very proud' of what their money is achieving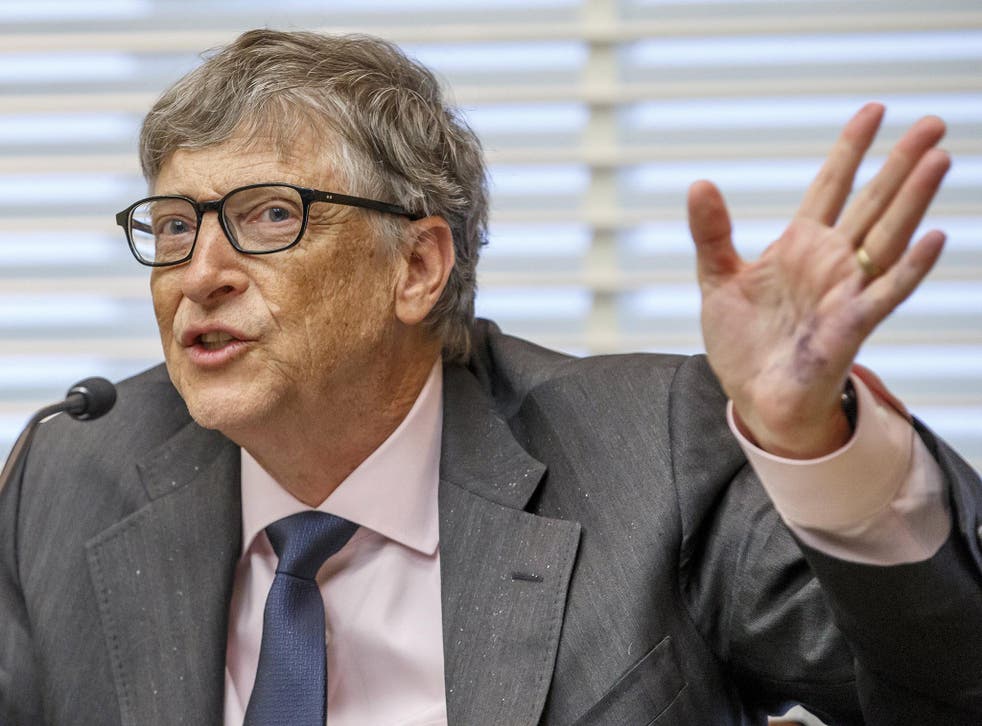 Britain must not let the Brexit vote be used as an excuse to slash aid funding and divert efforts away from helping the poorest communities in countries around the world, Bill Gates has warned, as the calling of a snap general election threw the UK into even greater political uncertainty.
Theresa May has come under pressure this week to scrap Britain's commitment to spending 0.7 per cent of GDP on international aid, a move which experts say would be a "disaster" for the global effort to defeat poverty by 2030.
Speaking in an exclusive interview with The Independent, the world's richest man said the UK was a largely unsung hero in the fight against some of the worst and most widespread diseases on the planet, and British taxpayers should be "very proud" of what their money is achieving.
Governments, NGOs and global health bodies are meeting in Geneva on Wednesday for a summit on neglected tropical diseases (NTDs). It is now five years since the Gates Foundation, set up by Mr Gates and his wife Melinda Gates, formed a global coalition under the London Declaration to eradicate these 17 diseases that affect more than a billion people living in tropical and subtropical conditions.
Mr Gates said the summit was an opportunity to hail the "huge" progress made against NTDs in the last five years, and said the UK had been a "very critical, and very generous" contributor to that.
But it has been reported that right-wing ministers within Ms May's Cabinet are urging her to scale back Britain's spending on international aid and divert the money to the Ministry of Defence – arguing that it all helps to improve global security.
Mr Gates said he was sure the PM would be "looking at her priorities" during the process of leaving the EU, and said: "We are hopeful that the commitment to 0.7 per cent – and things like neglected diseases – stays strong."
He stressed the close working relationship between the Gates Foundation and the UK on aid – noting that they are partners "on all the things the UK does in health and agriculture".
And he suggested there was a sense of urgency as Brexit threatens this funding, saying: "It's a good time for us to be talking about where that money has gone, what the impact of it has been."
Mr Gates, who founded Microsoft in 1975, when he was 19 years old, and went on to amass what is now an estimated personal wealth of $86bn (£67bn), has never suffered from a tropical disease himself.
Under his stewardship, the Gates Foundation has made NTDs a major priority since the London Declaration – for two reasons, Mr Gates said. First, because of how cost-effective it is to save lives, with pharmaceutical companies donating record numbers of free drugs as part of their social responsibility schemes.
Secondly, he believes the richest parts of the world have a duty to be outraged by a set of diseases which only affect the world's poorest.
"Until I got involved in the Foundation's work, other than knowing from the Bible that there was a thing called leprosy where your limbs would die off, I knew nothing about this," he said.
"But anybody who goes out and sees these things – whether it is river blindness or kids who are malnourished because of intestinal worms – you can see we are dealing with really tragic stuff.
While the diseases are all at different stages, Mr Gates said that "great progress" is being made with all of the 10 identified as priorities by the global coalition, cutting down the areas where they are endemic.
"On all these we have been able to shrink the maps," he said. "The best progress ever made is between 2012 and now."
The list of diseases classified as NTDs includes elephantiasis, which causes characteristic swelling of limbs, and Guinea worm disease, where parasitic worms enter the body through dirty drinking water and then burrow out of the skin.
The World Health Organisation is hosting the first day of the Geneva summit. Its annual report reveals that there are only eight countries left in the world where Guinea worm disease has not been eradicated. Of those eight, Kenya and Sudan are scheduled to be certified as free of the disease this year – and all are on course for eradication by 2020.
"With Guinea worm, we are down to very small numbers, with some uncertainty about Sudan and Chad where it's just too expensive to go in and do all the certifications," Mr Gates said.
"When we get it done, you'll have to say, 'Gosh, it is not neglected, the world came together and did the right thing.' And once we get these ones in good shape there are some lesser ones that are even more neglected. So it still needs funding, but in a sense they are not neglected now."
In an announcement on Sunday, which experts believe may have been rushed out before Theresa May could call her snap election on Tuesday, the UK revealed it would be spending a total of almost half a billion pounds on the fight against neglected tropical diseases (NTDs) over the next five years.
Professor David Molyneux, one of the UK's leading experts on NTDs based at the Liverpool School of Tropical Medicine (LSTM), said it was imperative that Britain retain its commitment to aid spending – regardless of who is in power after 8 June.
He told The Independent he believes Britain and other developed countries "have a global responsibility to look after the poorest on the planet".
"Very few people in the UK know the full story," he said. "How many know that you are contributing to giving a billion treatments a year for diseases that make poor people blind and disable them? This is something that needs to be promoted."
For those unconvinced by such arguments, Prof Molyneux noted that much of the money invested by the Department for International Development actually goes to scientists and experts at UK institutions like LSTM and the London School of Hygiene and Tropical Medicine, which then implement programmes on the ground.
World news in pictures

Show all 50
These world-leading scientific bodies are set to lose out on huge amounts in EU research funding, which will in turn have an impact on employment and scientific careers in Britain, Prof Molyneux says – a gap which can, in part, be filled by aid spending.
And finally, he says, the investment in fighting NTDs represents "as good value for money as you can get". "GlaxoSmithKline considers it the best option as part of its social responsibility – if they think it is value for their shareholders, surely it is good value for the UK."
When the NTDs summit assembles on Wednesday, those involved will celebrate that their pharmaceutical company partners set a Guinness world record for the number of drug donations in a single day, with more than 200 million NTD medicines given away on 30 January this year.
They will also celebrate the fact that those pills could not have got to the affected communities without the help of the UK, US and other governments, which have in turn facilitated the donations of millions of pounds from private philanthropists.
It's a message, Mr Gates says, that runs counter to what globalists see as the persistent negative headlines of Donald Trump's election, the Brexit vote, and the seemingly unending Middle East crisis.
"It is getting crowded out somewhat by the negative things, like some of these political votes or the unrest we have – particularly in the Syrian civil war," he said. "It's very important, the idea that global health is making huge progress and we are improving. I don't think anyone should take it for granted."
Responding to Mr Gates' comments, a government spokesperson said: "This Government takes its international responsibilities seriously and as a global, outward looking country we will continue to support the poorest people around the world."
Join our new commenting forum
Join thought-provoking conversations, follow other Independent readers and see their replies