Hundreds join Covid rule-breaching 'music, cocktails and water fight' party in Birmingham park
Impromptu boxing match among attractions at huge party sparking social distancing concerns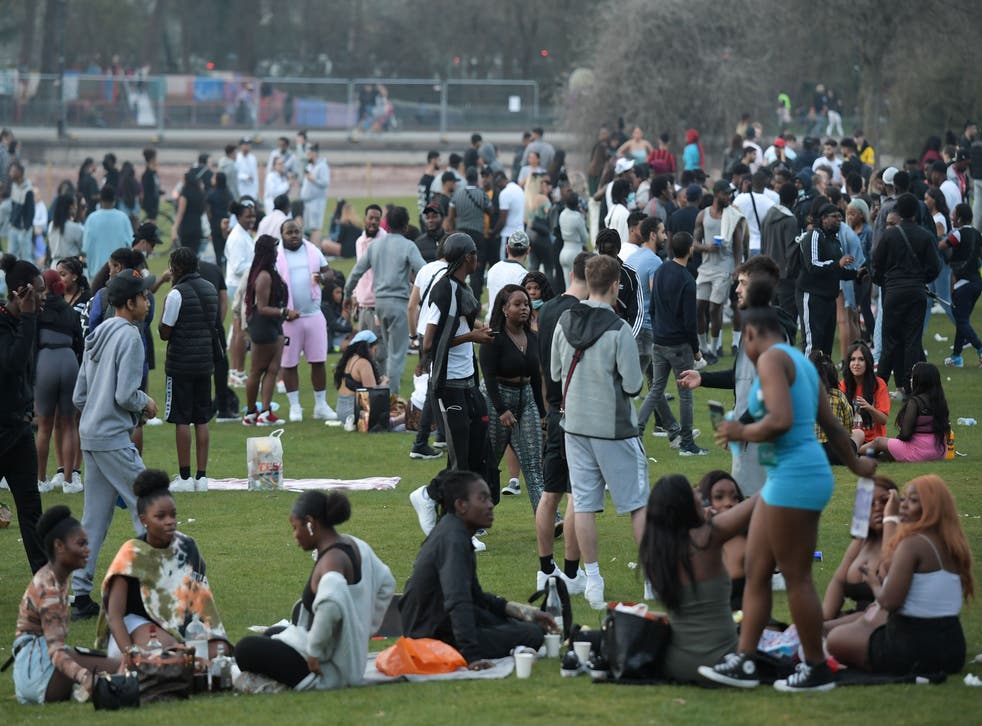 A huge organised student party promising 'music, cocktails' and even a 'water fight' was among the alleged Covid breaches reported to police as a relaxation in outdoor meeting rules coincided with one of the hottest March days for decades.
The aptly-named "21 degrees" party saw hundreds of young people gather in Birmingham's Cannon Hill Park — dancing and drinking, and, at one point, circling round an impromptu boxing match, all in apparent breach of regulations.
A digital "flyer" for the event, shared across social media, promised "mocktails, cocktails, music, water fight, rounders, football + more" to celebrate the unusually warm weather.
It came less than 48 hours after the latest relaxation in Covid rules across England allowed groups of up to six people, or two households, to meet outside.
Pictures taken on Wednesday morning show the park strewn with rubbish left over from the gathering.
Read more:
"I was there from around 8.30am until 11, there were around ten of us and it took us that long to clear it all up," said Georgia Mae, a local resident who helped with efforts to litter pick this morning.
"I heard about all of the gatherings last night and knew it would be a state this morning. There is always litter after a spell of nice weather, but this was significantly worse than usual."
It was not immediately clear who organised the event or if any fines were issued. West Midlands Police has been approached for comment.
There were similar reports of Covid rule breaches elsewhere in England, including Hull where large groups reportedly partied on the marina on Tuesday night.
In Nottingham, footage emerged on social media yesterday of hundreds thronging the Arboretum before a dispersal order was issued by police.
"There were probably 800 to 1,200 people," mature student Thomas Scott told the BBC. "I felt it was utterly disrespectful."
Drinking in the area is already forbidden.
"Let's enjoy the sun but let's do it safely. We have come so far, don't blow it now," Matt Hancock tweeted late on Tuesday.
Over the weekend, West Midlands Police shut down an illegal rave of around 30 people under an M6 bridge.
"We will be issuing 22 people with fines and will be looking to identify other people who attended the illegal gathering, said West Midlands Police.
"I understand people's frustrations at having endured a long lockdown but amassing in large numbers like this for an unlicensed event in such a dangerous environment is not acceptable and we have to take action."
Meanwhile, surge testing has been introduced in Bolton after a case of the South African variant was found in the town amid concerns it has the potential to spread more rapidly than the original strain of the virus.
Across the rest of the UK, 495,116 vaccinations were administered on Tuesday, with 176,063 of that total being first doses.
Join our new commenting forum
Join thought-provoking conversations, follow other Independent readers and see their replies