HMP Birmingham: Crisis plan to take inmates out and send more staff in 'will make other prisons even worse'
'Cramming more people into prisons than they were designed to hold is a recipe for violence, drug abuse and mental distress. It is surely time for ministers to learn the lessons from Birmingham and set out plans to reduce the prison population'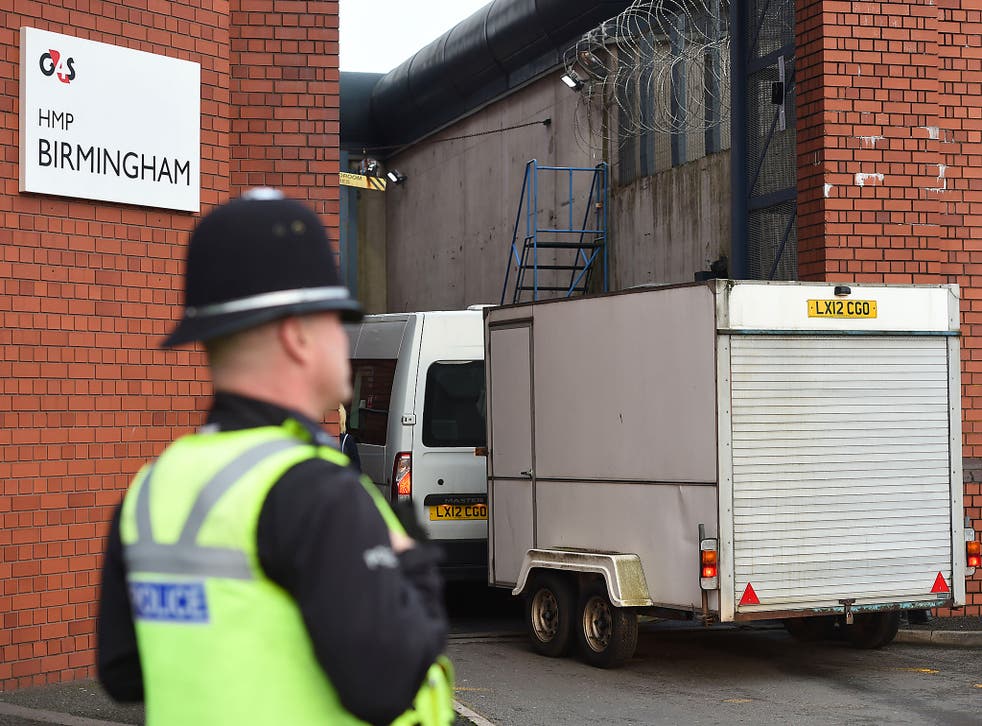 Government attempts to improve the state of HMP Birmingham by removing hundreds of prisoners and transferring in more officers will only "heap more pressure" onto other struggling jails, campaigners have warned.
Ministers announced on Monday that 200 inmates had been removed and 32 staff members deployed to the prison after inspectors issued an urgent notice warning that the jail was blighted by soaring violence, drug use and appalling living conditions.
But campaigners warned that while the plan ought to provide some respite at HMP Birmingham, it would worsen the situation at other struggling prisons "scarcely able to accommodate more prisoners or lose more staff on detached duty".
In a letter to the Chief Inspectorate of Prisons, Justice Secretary David Gauke said a key aspect of the plan for the jail was to "utilise support and resources from across the wider prison system", boasting that it would result in no additional cost to the taxpayer.
He conceded that this would "increase pressures elsewhere, which is not ideal", but said these impacts were "manageable and appropriate given the priority that must be given to Birmingham".
Two hundred prisoners have already been moved out of HMP Birmingham, with 100 more set to be moved before the end of September. Thirty-two extra experienced prison officers and additional senior staff have been transferred to the prison, with more set to follow.
Andrew Neilson, director of campaigns at the Howard League for Penal Reform, said: "The government's decision to send more officers to Birmingham while shipping out 300 prisoners is a tacit admission that chronic overcrowding and staff shortages are the root causes of the prison's problems.
"This move ought to provide some respite at one of the most troubled jails in the country, but it will heap more pressure on other struggling prisons that are scarcely able to accommodate more prisoners or lose more staff on detached duty.
"Cramming more people into prisons than they were designed to hold is a recipe for violence, drug abuse and mental distress. It is surely time for ministers to learn the lessons from Birmingham and set out plans to reduce the prison population."
The Inspectorate of Prisons issued an urgent notification over Birmingham jail last month - the first to be issued to a privately-run jail – warning that it had "slipped into crisis" following a "dramatic deterioration" in the last 18 months.
The prisons watchdog warned in July that prisoners in England and Wales were enduring the "most disturbing conditions ever seen" as authorities fail to take action to curb record high levels of violence and self-harm in jails.
In a sign of the discontent among staff, prison officers launched a protest last week after the government was issued an official warning over the deteriorating jails for the fourth time in nine months.
But the action was called off within hours following an agreement between the Prison Officers Association (POA) and prisons minister Rory Stewart.
UK news in pictures

Show all 50
Announcing the plans for HMP Birmingham, Justice Secretary David Gauke said: "We acted decisively at HMP Birmingham by taking it over from G4S, just as we are addressing issues in the wider estate by investing heavily in more staff and measures to improve safety and security.
"The Prison Service had been working with G4S for many months to drive up standards at Birmingham, but it became clear that they would not be able to make the necessary improvements alone.
"That's why we took over the running of the prison, appointed a strong governor to turn it around, brought in extra staff and began improvements to the building itself.
"This plan sets out in more detail exactly what we are doing to establish an effective regime, restore safety and decent living conditions, and allow staff to focus on rehabilitating offenders."
Join our new commenting forum
Join thought-provoking conversations, follow other Independent readers and see their replies