Inside the UK-based site that has become the far right's YouTube
BitChute describes itself as a 'free speech' website but report accuses it of platforming 'hate and terror', Lizzie Dearden reports
Wednesday 22 July 2020 22:19 BST
Comments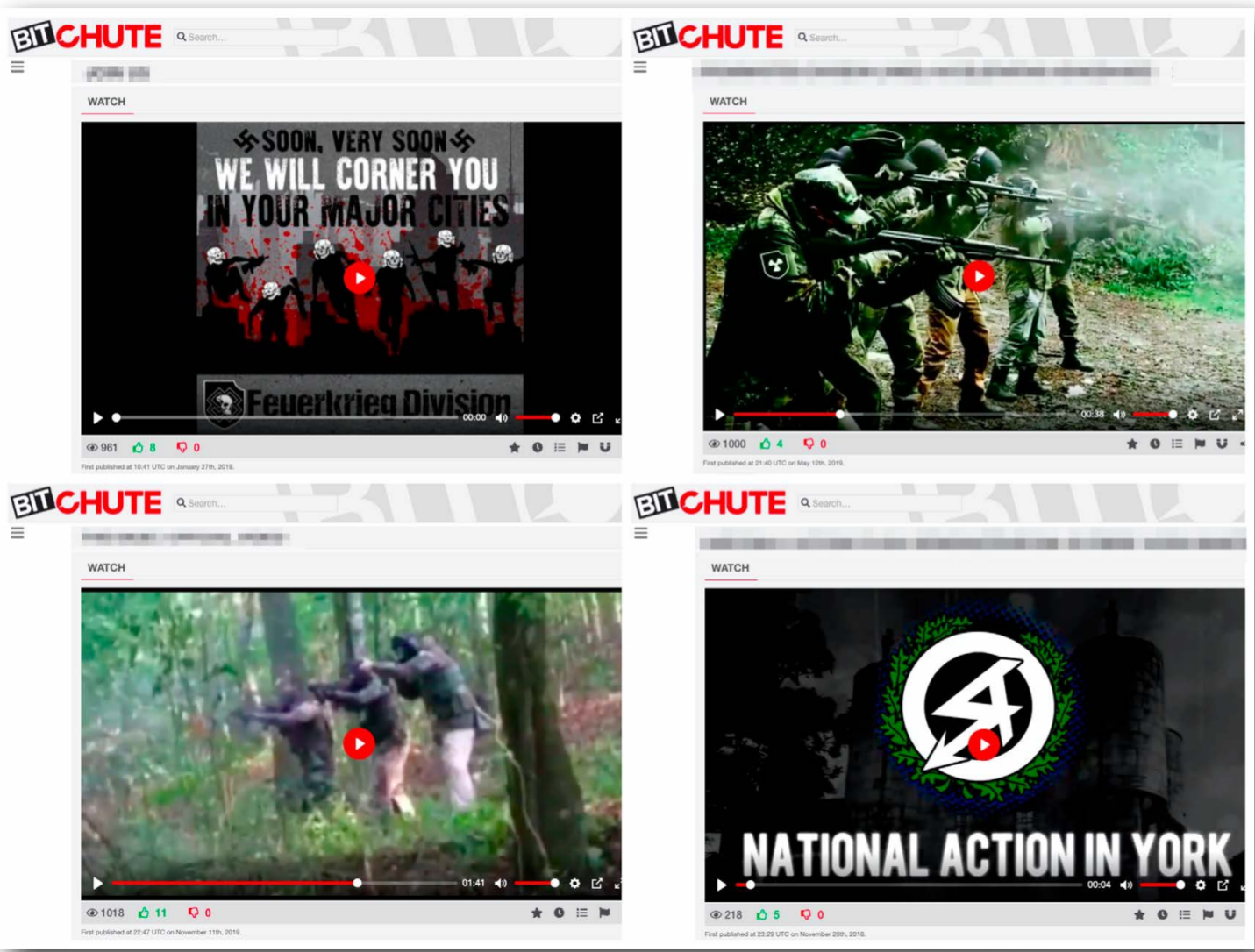 As mainstream social media platforms respond to pressure to ban extremists, the far right has found a new home for "hate and terror".
BitChute describes itself as a "free speech" website, but researchers say it is has become a major platform for neo-Nazi videos, racism, violence, conspiracy theories and even terrorist propaganda.
It is one of several "alternative" social media companies capitalising on mainstream takedowns, including Russian Facebook-equivalent VK, Twitter alternative Parler and the Gab network.
A report by counter-extremism research group Hope Not Hate said BitChute was "platforming hate and terror in the UK".
Author Gregory Davis described it as a version of "YouTube where you can get away with posting violent, Nazi and dangerous content".
"It is taking an increasingly large share of Nazi propaganda and really out-there Covid-19 conspiracy theories, including documentaries that question the existence of the virus," he told The Independent.
"The videos are predominantly far right, racist and homophobic … if you look on its trending list on any given day, you will see what people go there to watch."
On Wednesday, trending videos included one by prominent British conspiracy theorist David Icke claiming children were being used as "lab rats", and several others by anti-vaxxers.
Martin Sellner, a leading figure in the white nationalist Generation Identity group who has been banned from the UK and US on security grounds, was also near the top of the list.
So was Carl Benjamin, who goes by the name Sargon of Akkad, who was investigated by police over rape comments directed at MP Jess Phillips and ran for Ukip in the European elections.
Icke has more than 39,000 subscribers on his BitChute channel, while Sellner has 14,500 and Tommy Robinson is on 26,000.
Hope Not Hate's report said: "Not only does BitChute tolerate users that have been banned from numerous platforms for hate speech, it actively promotes such channels and content."
The far right in the UK
Show all 10
A February 2019 Facebook post from BitChute's official account read: "Tommy Robinson Banned from Facebook and Instagram (but still on Bitchute!)".
It was among dozens of posts allegedly promoting Robinson, as well as other far-right extremists, antisemites and conspiracy theorists.
The report said an absence of moderation and the ability to post hateful content had become a "unique selling point" for BitChute.
Founder Ray Vahey, who launched the site in January 2017, said at the time that it was the product of "increased levels of censorship by the large social media platforms," such as banning users, demonetising their videos and changing algorithms.
In an interview in November that year, he said the site was "catering to a completely different audience", adding: "We're after people who want to show their own work but are not able to because they've been shut down by YouTube."
BitChute's community guidelines say that terrorist material and "credible threats or incitement to violence", and "malicious use of the platform" will not be tolerated.
But Hope Not Hate researchers found 114 videos supporting terrorist groups, including 86 for Isis – including its own propaganda – and 23 National Action.
It also identified a further 93 videos supporting other groups and individuals linked to international terrorism, including al-Qaeda ideologue Anwar al-Awlaki and the neo-Nazi AtomWaffen Division.
Several hateful channels have overtly racist and antisemitic names, including "f*** the Jews" and "National Socialism Works".
Videos seen by The Independent also include shootings, violent attacks and targeted harassment against named individuals.
"There's quite a lot of violent content either intended to whip up anger or celebrate it," Mr Davis said.
"There is a lot of promotion for hate crime or violence, even leaving aside terrorist groups which aren't hard to find."
He added: "It's a British-registered company that is hosting content from British users, being viewed by British people and a lot of it is in breach of the law."
Hope Not Hate said that unless changes were made, BitChute "must be considered a bad actor and promoter of online harm".
The report called for mainstream social platforms to stop its links being shared, and for police to investigate any content that violates British law or terrorism legislation.
It said that the upcoming Online Harms Bill should include "meaningful consequences" for platforms that host dangerous content.
In a statement, BitChute said thousands of videos were being uploaded daily and the website was growing "incredibly fast".
Chief executive Mr Vahey added: "We have removed thousands that violate our terms of use, but we are improving our moderation systems and we know we need to do more.
"We are working hard to introduce new policies and processes which will further improve our ability to remove illegal content and we are already engaging with a number of organisations to scale up our capabilities.
"As a small platform, we have limited resources and encourage organisations like Hope Not Hate to help us improve our processes and enter into a direct dialogue with us."
Mr Vahey claimed that bans by online platforms push people onto other networks with "no accountability".
Join our commenting forum
Join thought-provoking conversations, follow other Independent readers and see their replies