BNP denies sending out leaflet blaming Jo Cox for 'misguided' campaign to welcome 'terrorist' refugees in UK
A leaflet attributed to the group said the killed Labour MP had made 'misguided actions'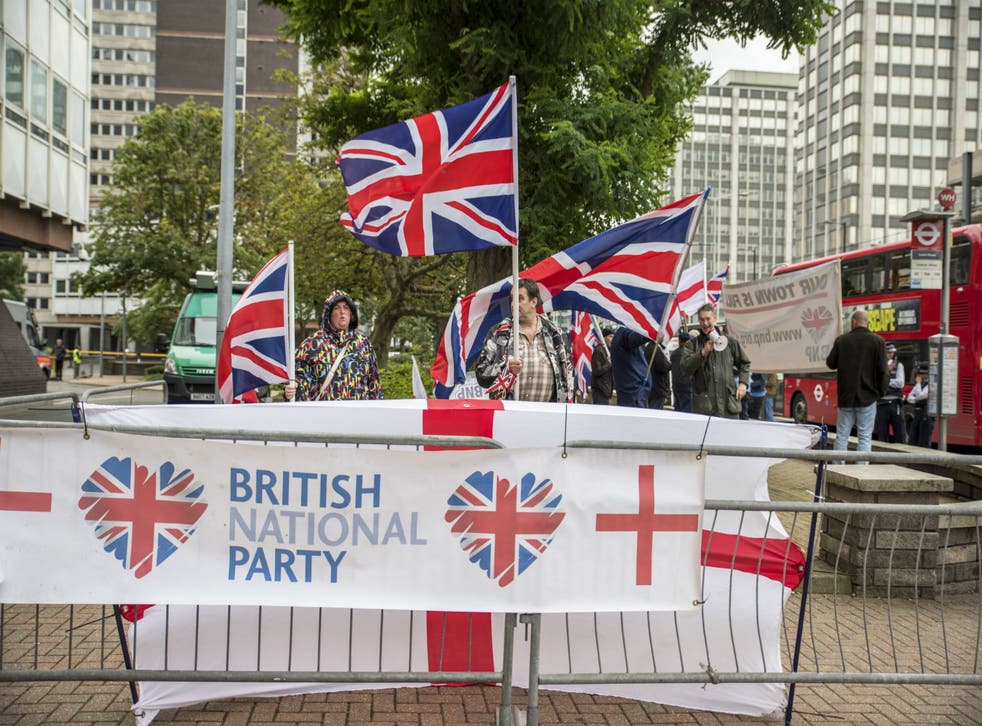 The British National Party (BNP) has denied sending out a leaflet blaming the killed Labour MP Jo Cox for her "misguided actions" supporting refugees.
The leaflet, which was condemned as "horrendous" in the House of Commons after being distributed in Dewsbury, claimed that Mrs Cox's campaigning for Britain to welcome more asylum seekers was tantamount to supporting future Isis militants and terrorists.
"How many (Muslim refugees) will make and explode bombs in this country," it asked. "How many will attack and kill Christians and Jews simply because they are non-Muslims."
Mrs Cox was shot and stabbed in Birstall, West Yorkshire, a week before the EU referendum.
The plain white and black leaflet carried the address, telephone number of the BNP's head office but none of the usual branding that usually accompanies its publications.
Paula Sherriff, the Labour MP for Dewsbury and Mirfield, told a special parliamentary debate on hate crime it was posted through letterboxes in her constituency on Tuesday.
Condemning the "horrendous allegations", she said received several complaints as well as reports of hate crimes following the EU referendum including a seven-year-old Muslim girl and her family being told: "Best day ever—go home all of you".
Karen Bradley, the Home Office minister, said she would meet Ms Sherriff over the "utterly unacceptable" incidents to ensure hate crimes are reported.
Clive Jefferson, the BNP's national treasurer, told The Independent the far-right group had nothing to do with the leaflet.
"It's obviously a fake – it's ridiculous," he added. "We have never produced or distributed a leaflet mentioning Jo Cox and it's absolutely disgraceful."
The BNP's recent leaflets include one claiming "immigrant hordes heading to Britain", warning of "terrorists on our streets" and "Islamic colonisation".
Another entitled "Islamist Timebomb" calls for a ban on the niqab and bears the slogan "no more mosques".
When asked whether a supporter of the BNP may have taken it upon themselves to produce the pamphlet, Mr Jefferson said he believed it was a "black ops" effort to smear the group.
"It's obviously somebody malicious – cruel towards to family and cruel to us," he said.
"We are the victims of hate crime as well…our literature is glossy, it's got its own letterhead, you could just print those (leaflets).
"Anybody can get our phone number and address from the website."
The BNP is demanding an apology from Ms Sherriff and the Home Office minister, as well as considering a formal complaint against media outlets that attributed the leaflet to the group without seeking comment.
A statement said the killing of Ms Cox was "abhorrent", adding: "Our thoughts and prayers go out to Jo Cox's family as this recent outrage must be adding significantly to the already terrible pain."
Jo Cox tributes - in pictures

Show all 20
Former BNP member Jack Buckby is to contest the by-election in the Batley and Spen constituency Mrs Cox represented, despite commitments from the Conservatives, Liberal Democrats and Ukip not to field a candidate.
Jeremy Corbyn raised reports of rising racist, xenophobic and Islamophobic incidents since the EU referendum at Prime Minister's question time on Wednesday.
David Cameron said he had spoken to the Prime Ministers of Romania, Poland and the Czech Republic after they raised concern and promised a new action plan on tackling hate crime.
"Whatever we can do we will do to drive those appalling hate crimes out of our country," he added.
Incidents in recent days have included the verbal abuse of a Polish shopkeeper in Leeds and the firebombing of a Halal butchers in Walsall.
The National Police Chiefs' Council reported a 57 per cent rise in hate crime complaints in the four days following the EU referendum vote, compared to the same period in May.