'Free from financial worries': BNP leader Nick Griffin declared bankrupt
News means he was having 'a good day'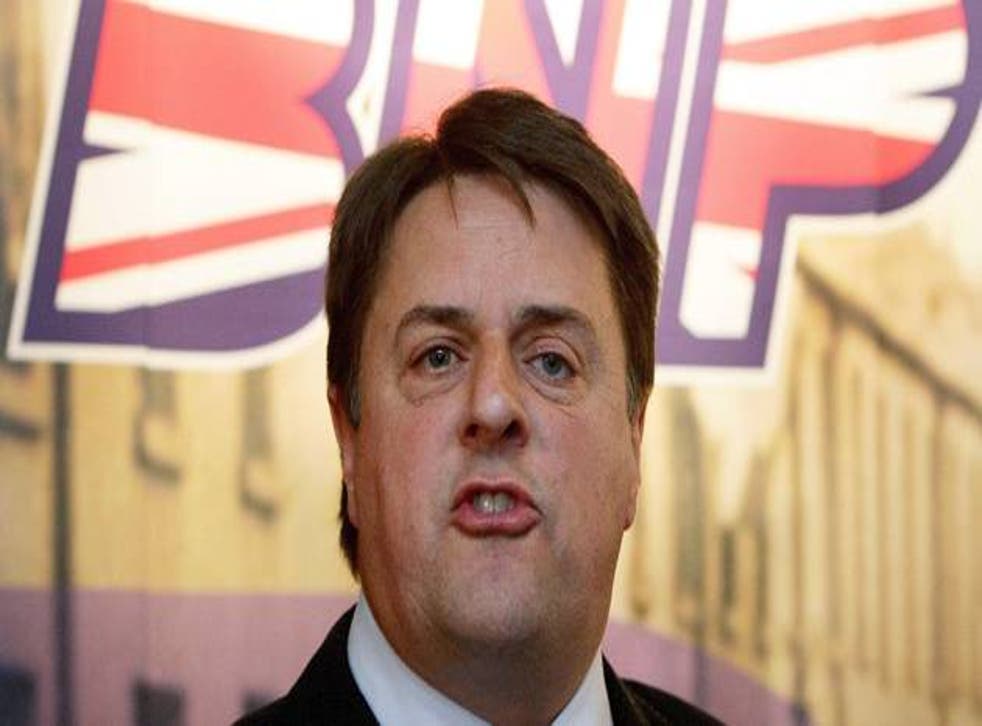 BNP leader Nick Griffin announced his bankruptcy on Friday claiming the declaration made him happy as it freed him from "financial worries".
He said the order, made at Welshpool and Newtown County Court 24 hours earlier, did not prevent him "being or standing as an MEP" - a role which earns him €91,980 a year plus generous expenses.
The European politician claims he was forced into the situation over a £77,000 bill from Welshpool-based law firm Gilbert Davies and Partners who had advised him on several cases, including a legal battle with the Equality and Human Rights Commission over the BNP's previous "whites only" membership criteria.
Gilbert Davies chased the BNP leader for the unpaid bills and he was ordered to pay nearly £120,000 in outstanding fees and costs at a hearing in February last year.
According to the BNP the MEP applied for an Individual Voluntary Arrangement (IVA) offering to pay 42p in the pound over five years to the firm. The offer was rejected leading a judge to dismiss the IVA application and grant the bankruptcy petition, a BNP spokesman said on Friday.
Under his full name of Nicholas John Griffin the far-right politician featured on a bankruptcy list published by the Insolvency Service but said he would campaign to keep his seat in May's European elections.
BNP spokesman Simon Darby compared the bankruptcy to Michael Schumacher's situation - the former F1 driver is currently in a medically-induced coma fighting for his life in hospital following a skiing accident. He said: "Look at it this way. Michael Schumacher has millions in the bank, but he'd do anything to be in Nick's position now wouldn't he?"
Mr Griffin claimed that the bankruptcy "does free me from financial worries" and added that the news meant he was having "a good day".
He added: "Party funds are not affected in any way. Our campaign in May will be our most professional yet and I will be lead candidate in the North West. I am now turning the experience to the benefit of hard-up constituents by producing a booklet on dealing with debt. No surrender!"
Mr Griffin was elected in 2009 when the BNP polled 943,598 votes (6.2 per cent of those cast) in North West England. He will continue to draw his €91,980 MEP's salary plus a flat-rate subsistence allowance of €298 per day towards accommodation and other expenses when working in Brussels or Strasbourg.
MEPs also receive a Parliamentary Assistance Allowance of €210,480 per year, which no part of goes to Mr Griffin as additional personal income according to his website. MEPs are also provided with a General Expenditure Allowance of €50,424 per year to cover office costs and a Communications Allowance of €43,697.
According to insolvency specialists Grant Thornton, anyone declared bankrupt faces several financial restrictions such as being unable to apply for more than £500 credit without disclosing their status.
The firm said: "Discharge from bankruptcy occurs within one year. The trustee, however, continues in office for as long as is necessary to realise the assets that he holds, agree claims and make distributions to creditors."
A spokesman for the Electoral Commission confirmed that bankruptcy itself does not disqualify a candidate from standing as an MP or MEP.
Mr Darby said: "(Nick) can still stand, he will be standing again, he won't be disqualified from his seat. It is business as normal as far as it we are concerned."
Gilbert Davies declined to comment.
Join our new commenting forum
Join thought-provoking conversations, follow other Independent readers and see their replies