Body-shaming adverts to be banned on London transport by Sadiq Khan
'It's high time it came to an end,' says capital's new mayor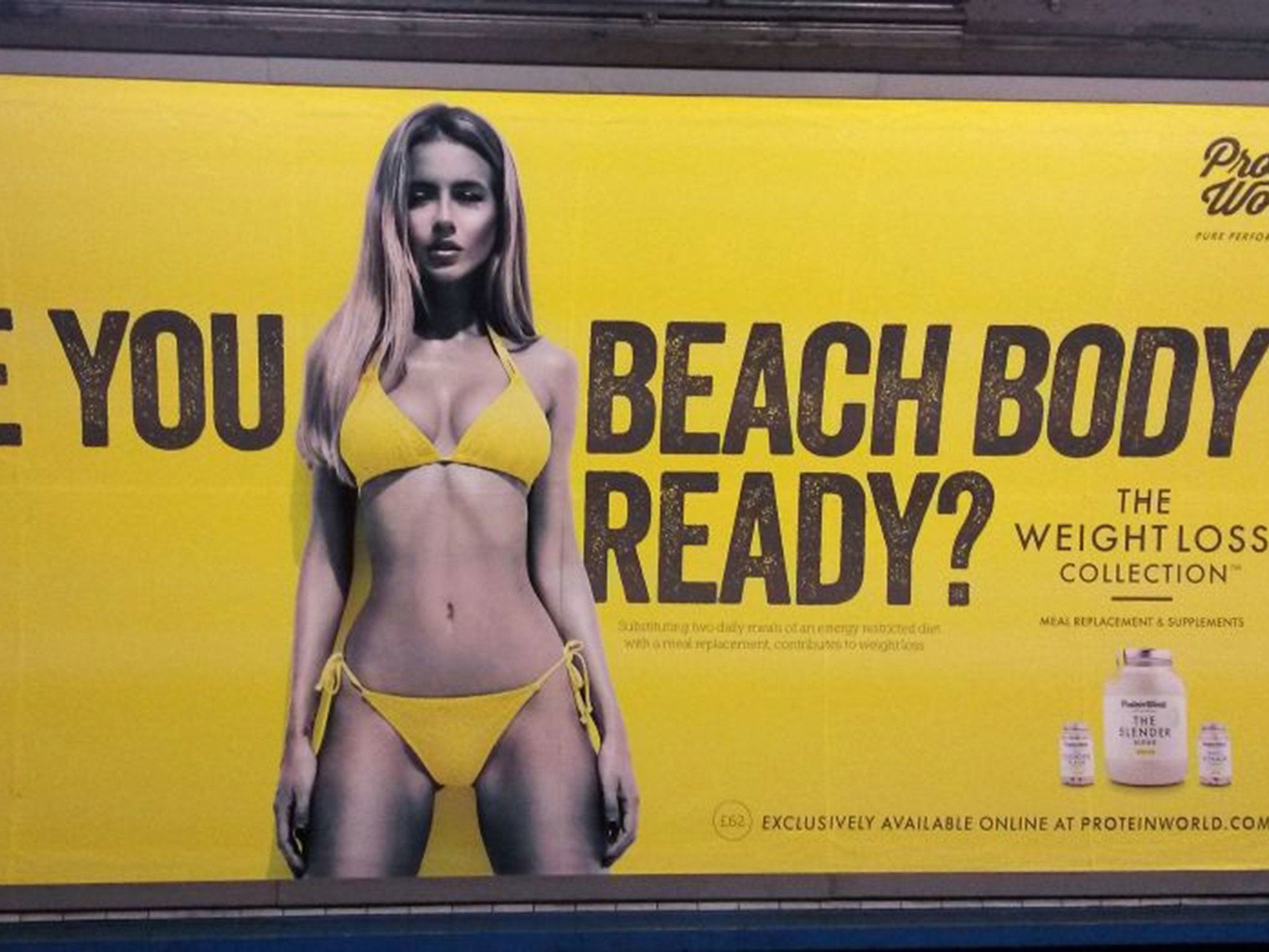 Adverts which make people feel ashamed of their bodies or pressured into looking a certain way are to be banned from public transport in London.
The city's new mayor, Sadiq Khan, announced a move that will see an end to adverts such as the controversial Protein World campaign - which asked "are you beach body ready?" - in its promotion of protein shakes.
The advert, which appeared in underground stations across London, was accompanied by a model posing in a bikini, and attracted considerable criticism for allegedly encouraging unrealistic body expectations and for being demeaning to women.
Mr Khan said: "As the father of two teenage girls, I am extremely concerned about this kind of advertising which can demean people, particularly women, and make them ashamed of their bodies. It is high time it came to an end.
"Nobody should feel pressurised, while they travel on the Tube or bus, into unrealistic expectations surrounding their bodies and I want to send a clear message to the advertising industry about this."
As well as banning adverts deemed to cause body confidence issues, Mr Khan has also called on Transport for London (TfL) - which oversees the city's public transport - to establish an Advertising Steering Group to keep its new policy under review.
Graeme Craig, TfL's commercial development director, said: "Advertising on our network is unlike TV, online and print media. Our customers cannot simply switch off or turn a page if an advertisement offends or upsets them and we have a duty to ensure the copy we carry reflects that unique environment.
The most important plus-size moments in fashion
Show all 12
"We want to encourage great advertising that engages people and enhances the transport network."
TfL's advertising estate is believed to be among the most valuable in the world and is expected to generate more than £1.5 billion in revenue over the next eight and a half years.
Every year, 12,000 adverts are placed across TfL services, including the Tube, London Overground, DLR, trams and bus shelters, reaching the millions of people who travel daily.
Between April 2014 and March 2015 alone there were 1.3 billion passenger journeys on the tube, 2.4 billion on London's buses, and 110 million on the Docklands Light Railway.
Elsewhere, 140 million journeys were made on London overground, 30.9 million by tram and more than 10 million passengers took a London riverboat service boat.
Press Association contributed to this report.
Join our commenting forum
Join thought-provoking conversations, follow other Independent readers and see their replies