Bonfire Night: Thousands attend Lewes Bonfire to see torching of David Cameron effigy
Cameron, Clarkson and Blatter puppets were paraded through the streets of Lewes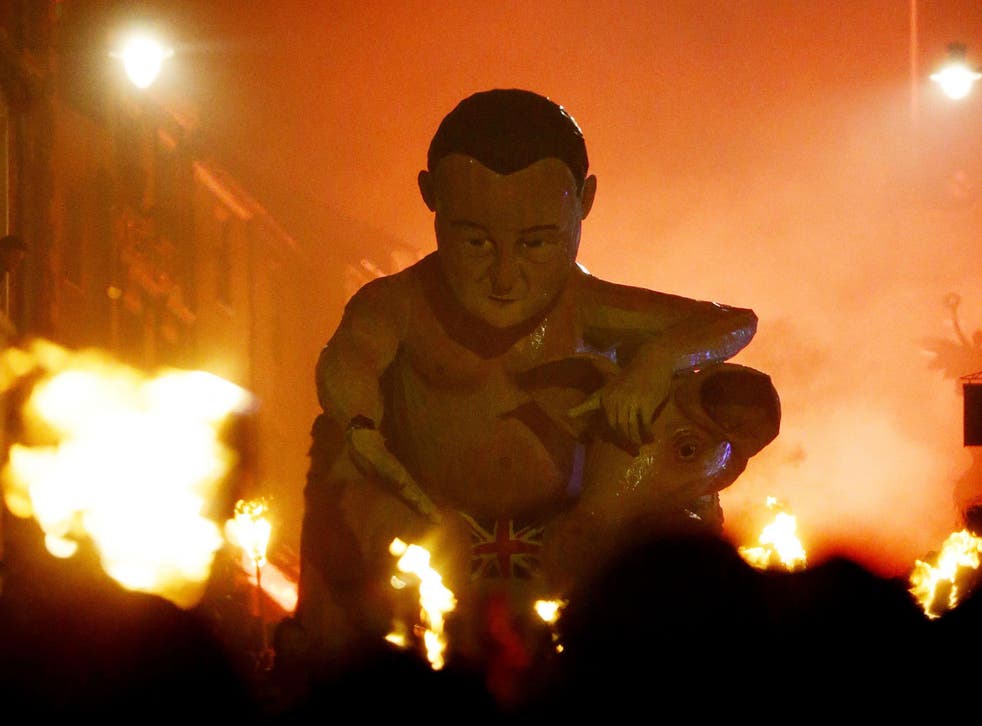 Thousands watched an effigy of a semi-naked David Cameron and a pig get set on fire during one of the UK's most famous annual Bonfire Night celebrations.
The giant figure, depicting the Prime Minister in Union Jack underwear and holding a pig's head, was paraded through the narrow streets of Lewes, East Sussex, dubbed the UK's bonfire capital.
The sculpture refers to the recent "piggate" allegations, claiming Mr Cameron put "a private part of his anatomy into a dead pig's mouth" as part of an initiation ceremony at university.
The Prime Minister has denied the claims, which were made in a book by the former deputy Tory chairman Lord Ashcroft.
Thirty processions made their way through the town carrying effigies, including one of former Top Gear presenter, Jeremy Clarkson, who was sculpted with boxing gloves in a nod to his "fracas" with a colleague.
Crowds reportedly jeered as a figure of suspended Fifa president Sepp Blatter, sticking his middle finger up, surrounded by piles of money and bearing a sign saying "Thiefa" was paraded through the streets.
Lewes Borough Bonfire Society created a 50ft tall Guy Fawkes effigy, torched in a bid to set a record for the tallest Guy and stuffed with the largest amount of fire works ever used in the society's 162 year history, according to the Sussex Express.
Society chairman, Jason Winter, said: "It's a world record but it's an unofficial one because Guinness World Records won't return my calls or emails."
Lewes, which has seven bonfire societies, has earned a global reputation for its raucous Bonfire Night celebrations and controversial effigies, some of which have sparked criminal enquiries.
Last year, Sussex Police launched an investigation over an effigy of ex-Scottish First Minister Alex Salmond, but prosecutors later ruled there had been no criminal offence.
Shops and homes were boarded up throughout the day, yesterday, in preparation for an estimated 80,000 people to descend on the town. Numbers were fewer than expected, however, due to wet weather.
In Lewes, Bonfire Night marks both the date of the uncovering of the Gunpowder Plot in 1605 and commemorates the burning of 17 Protestant martyrs in the town's High Street in the 16th century.
To mark their killing, 17 burning crosses are carried through the town and a wreath-laying ceremony takes place.
Additional reporting by Press Association
Join our new commenting forum
Join thought-provoking conversations, follow other Independent readers and see their replies