Boris Johnson furious as Thames Estuary airport idea shelved by Government-appointed commission
The four-runway airport would have been an alternative to Heathrow and Gatwick, but its viability was called into question by the Airports Commission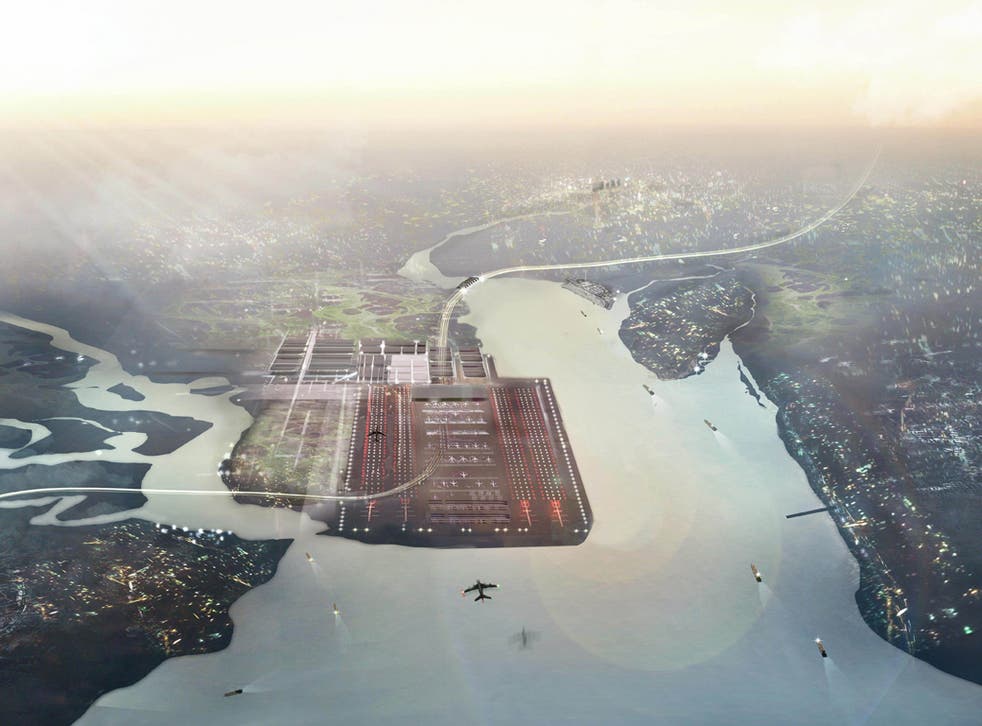 Boris Johnson's ambitious attempt to build a new airport in the Thames Estuary has been officially rejected by the Airports Commission in a move dubbed by the London Mayor as "myopic".
Commission Chairman Sir Howard Davies said that it had been ruled out after being considered too economically disruptive with "environmental hurdles" that "may prove impossible or very time-consuming to surmount".
"We are not persuaded that a very large airport in the Thames Estuary is the right answer to London's and the UK's connectivity needs," Sir Howard, the former head of the Financial Services Commission, said.
"While we recognise the need for a hub airport, we believe this should be a part of an effective system of competing airports to meet the needs of a widely spread and diverse market like London's."
Boris Johnson's defining moments

Show all 32
The thumbs down for the Thames Estuary hub leaves just three remaining shortlisted schemes: two related to Heathrow expansion and one involving a new runway at Gatwick.
The commission is due to analyse these options and report back to the Government with recommendations in the summer of 2015.
Mr Johnson, who is against Heathrow expansion, criticised the shelving of the idea: "In one myopic stroke the commission has set the debate back by half a century and consigned their work to the long list of vertically-filed reports on aviation expansion that are gathering dust on a shelf in Whitehall."
He added: "Gatwick is not a long-term solution and Howard Davies must explain to the people of London how he can possibly envisage that an expansion of Heathrow, which would create unbelievable levels of noise, blight and pollution, is a better idea than a new airport to the east of London that he himself admits is visionary, and which would create the jobs and growth this country needs to remain competitive."
The Thames Estuary plan was considered "too risky" with a chance that it would "never actually get built", Sir Howard told BBC Radio 4 this morning, in sentiments shared by some other politicians and air officials.
Shadow Transport Secretary Mary Creagh called Mr Johnson's scheme a "vanity project" and "fantasy island airport plan, which would have closed Heathrow and caused longer passenger journeys".
She welcomed the scrapping of it, adding: "This back-of-a-fag-packet scheme was designed less for the country's economic future and more for the omnishambles mayor's political ambitions."
Rodney Chambers, a Councillor in Medway, the area which would have been affected, said he was "pleased" their campaign to halt the estuary airport had worked.
"The cost to the taxpayer was never fully explained and it would have resulted in the mass destruction of habitat and wildlife that could never be replaced," he said.
The Chief Executive of the British Air Transport Association, Nathan Stower, said that Britain does need extra airport capacity "but not at any price".
He called the ruling out of the idea "sensible".
Despite the rejection of the idea, Mr Johnson remained adamant that it would, eventually, be adopted nevertheless.
"It remains the only credible solution, any process that fails to include it renders itself pretty much irrelevant, and I'm absolutely certain that it is the option that will eventually be chosen," he said.
The Thames Hub would have been a four-runway airport on the Isle of Grain in Kent, which would have operated 24 hours a day and have an initial capacity for 100million passengers per annum.
It was a project led by architectural and design practice Foster + Partners alongside engineer consultants Halcrow.
In a consultation of affected parties, published today, warehouse and property developer SEGRO said that it had conducted a survey of local businesses - 50 per cent of which said they would relocate from Heathrow to the Thames Estuary if the UK's biggest airport hub was moved, leading to the loss of at least 9,000 jobs in the region.
Other responses were also submitted by the Royal Society for the Protection of Birds (RSPB), London City Airport and Medway, Essex, South Buckinghamshire and Kent Councils.
Register for free to continue reading
Registration is a free and easy way to support our truly independent journalism
By registering, you will also enjoy limited access to Premium articles, exclusive newsletters, commenting, and virtual events with our leading journalists
Already have an account? sign in
Register for free to continue reading
Registration is a free and easy way to support our truly independent journalism
By registering, you will also enjoy limited access to Premium articles, exclusive newsletters, commenting, and virtual events with our leading journalists
Already have an account? sign in
Join our new commenting forum
Join thought-provoking conversations, follow other Independent readers and see their replies