Boris Johnson's pledge to recruit 20,000 extra officers will fail 'unless half a million apply to join police'
Official data shows more than half of forces currently failing to meet their recruitment targets
Lizzie Dearden
Home Affairs Correspondent
Wednesday 11 September 2019 10:50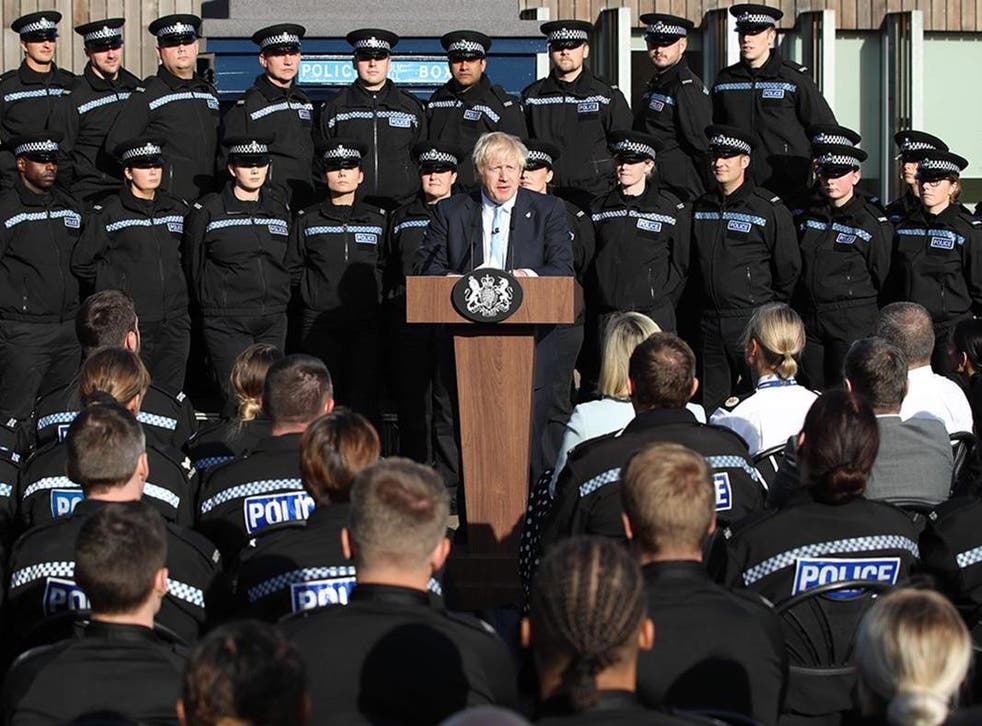 Up to half a million people will have to apply to become police officers over the next three years in order to meet Boris Johnson's 20,000 target, a senior officer has said.
Martin Hewitt, chair of the National Police Chiefs' Council (NPCC), warned that because of the number of officers who retire or leave every year, 50,000 new officers may have to be hired in total.
Speaking at the Police Superintendents' Association conference, he said that only one in every 10 applicants currently becomes a police officer in England and Wales, meaning 500,000 hopefuls would be required at the current rate.
"It is a huge number but I think we will get that ratio down considerably over time by doing some things with how that process works," Mr Hewitt told journalists. "We're looking at every stage of how you recruit, train and develop people ... the important point is that we get the right people."
An NPCC report predating the new recruitment drive found more than half of forces missed recruitment targets in 2018-19, with many falling short by over 25 per cent.
UK news in pictures

Show all 50
"Most have no trouble attracting initial applicants but, in some cases, the conversion rate is low," the document said. "This suggests that the calibre of applicants may not be of the quality required or there are potential issues with the recruitment process that lead to high attrition."
Asked by The Independent whether it was possible to reach the 20,000 target by March 2023, Mr Hewitt acknowledged that it would be "a lot of work".
"It is a really good challenge for us to have," he added. "This is not simply about replacing 20,000 people that we had before [2010] – this is an opportunity for us to get the kind of workforce that we need for the next five or 10 years."
Mr Hewitt sits on the new national policing board charged with implementing the policy.
Some senior officers fear the government has set an impossible task with the unprecedented speed and scale of the 20,000 uplift, and will let the board take the blame for falling short.
Sajid Javid has awarded £750m for the first year of recruitment, which is planned to pay for up to 6,000 officers, an increase in police staff and associated costs.
But ministers are yet to decide how the extra officers will be shared between the 43 police forces in England and Wales and National Crime Agency, or different roles and ranks.
On Monday, Priti Patel admitted that Conservative budget cuts had left police "overworked and undervalued", as violence rose and prosecutions dropped.
Mr Hewitt said the increased number of police officers would not solve the root causes of crime and called for preventative services to be properly funded.
Priti Patel denies that Boris Johnson politicised police in Yorkshire speech
"You can't just simply by putting more police officers in there solve the issues," he added. "It will allow us to do more but it is not single-handedly the answer to all of the challenges we face."
Asked what would happen if the current government leaves office before Mr Johnson's pledge is implemented, Mr Hewitt replied: "I will carry on delivering the 20,000 until somebody tells me that isn't happening."
Speaking at the same conference in Stratford-upon-Avon, HM chief inspector of constabulary called for police to modernise and increase cooperation between forces.
Sir Thomas Winsor said he had found some still using "pencils and paper" and said the 43 police force model was "policing based on an old system for a very different world".
He stopped short of resurrecting calls for local forces to merge into regional units, but said the "flow of information" must be improved.
Sir Thomas called the criminal justice system in England and Wales "defective and dysfunctional", citing violence in prisons, poor rehabilitation, plummeting prosecutions, court closures, delayed trials and decaying buildings.
"Access to justice is essential for everyone and yet in too many respects, it is the preserve of large corporations, the very wealthy or the very poor," he said.
"Why has the criminal justice system come to this state? Funding cuts are the basic answer, and the fact that unlike health or education there are very few votes in criminal justice."
Sir Thomas said police had been "run ragged" by years of funding cuts and said the 20,000 uplift would increase pressure on the system in the short term.
Register for free to continue reading
Registration is a free and easy way to support our truly independent journalism
By registering, you will also enjoy limited access to Premium articles, exclusive newsletters, commenting, and virtual events with our leading journalists
Already have an account? sign in