Violence rockets as police solve 40,000 fewer crimes a year in deepening 'crisis'
Police chief says fewer crimes are being solved because of strain on policing
Lizzie Dearden
Home Affairs Correspondent
Thursday 18 July 2019 19:27 BST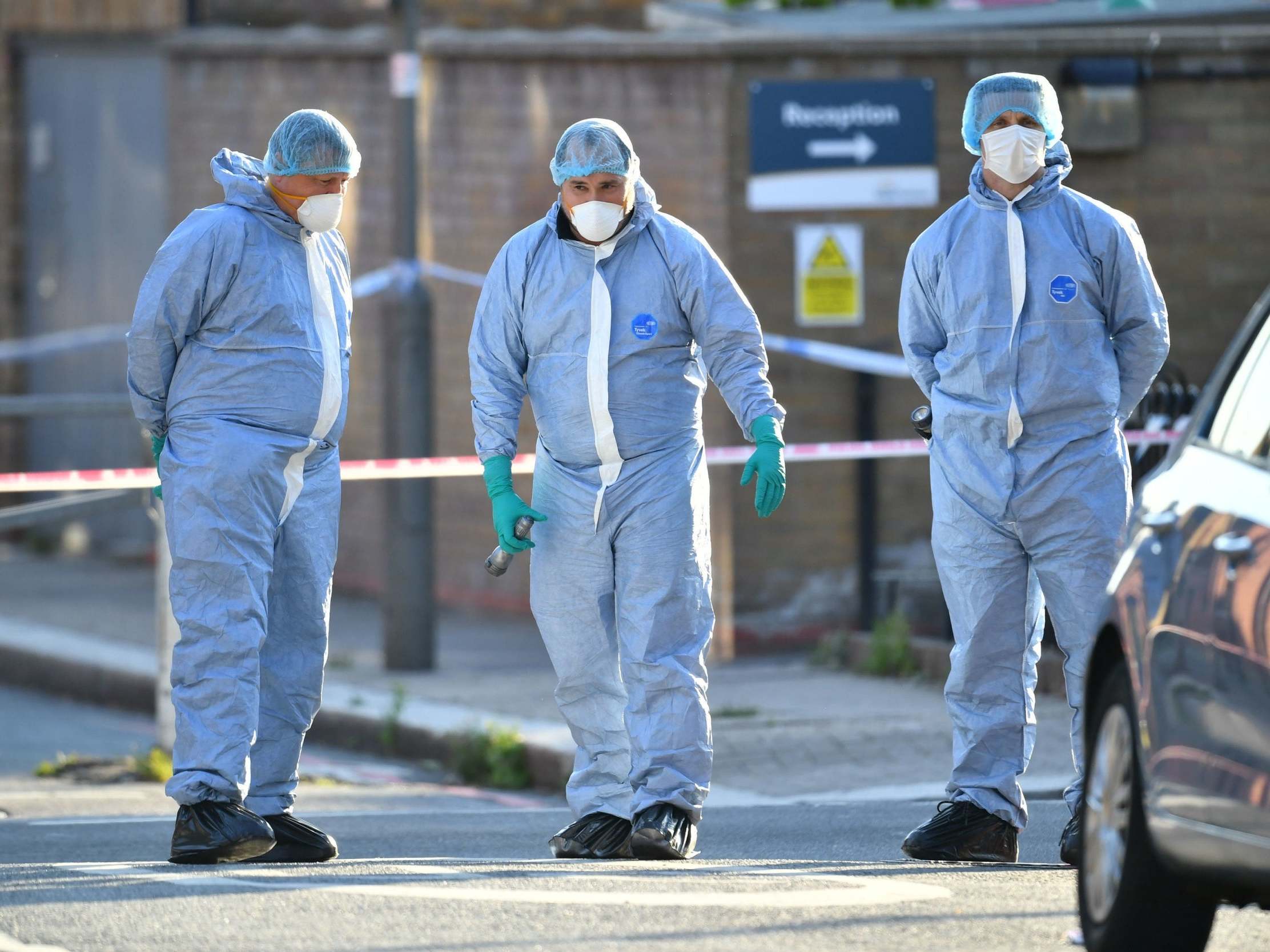 Violence has risen by 20 per cent in a year as the number of crimes solved plummeted by 40,000, new figures show amid warnings of a deepening "crisis" in the justice system.
Knife crime hit a record high in 2018-19, rising by 8 per cent in 12 months, while violence against the person offences were up a fifth to almost 1.7 million.
The stark figures, which do not include a recent string of bloody stabbings and shootings, sparked calls for action to stop the "endless spiral of violence".
But separate statistics released by the Home Office show that the number of reported offences resulting in a prosecution had fallen to the lowest level since data recording began in 2015.
Only 7.8 per cent of crimes saw a suspect charged or summonsed in 2018-19, compared to 9.1 per cent the year before.
The teenagers murdered in London in 2018
Show all 21
For rape, the figure was just 1.5 per cent – down from 3 per cent in 2017-18 – and the figure was only 8 per cent for violence, 7 per cent for robbery, 6 per cent for theft and 3.5 per cent for sexual offences.
Overall, the number of crimes prosecuted fell by 39,500 to 403,000, out of a total of 5.26 million reported.
Chief Constable Andy Cooke, of the National Police Chiefs' Council Lead for Crime, said funding cuts were damaging officers' ability to investigate crimes.
"Too few crimes are being solved and brought to court for justice to be done," he admitted.
"This is a symptom of the strain on policing as we try to manage growing crime and demand that is ever more complex.
"We continue to work across policing and with the Home Office in advance of the upcoming government spending review. Our aim is to build a stronger policing system that's properly funded so we can reduce crime, improve outcomes and build public confidence."
Dame Vera Baird, the Victims Commissioner for England and Wales, told The Independent she expected the figures to worsen further.
"What does this say to victims?" she asked. "If you're affected by crime, even something that may not look very serious, you suffer from an impact.
"If you report it to police and nothing happens, you don't get out of that sense of depression and chaos. You need some kind of outcome."
Sadiq Khan claims cuts mean 'fighting crime with one hand tied behind our back'
The Barnardo's charity said violence was a "symptom of a much bigger problem".
"It's unacceptable that the knife crime crisis continues unabated," said chief executive Javed Khan.
"Urgent action must be taken so that future generations are not condemned to live in an endless spiral of violence."
The Reform think tank said pledges by Boris Johnson and Jeremy Hunt to increase the number of police officers on the streets were insufficient.
"Until politicians take seriously the need to invest in prevention alongside enforcement, more young people will continue to die on our cities' streets," director Charlotte Pickles said.
"Any increases in police numbers must be targeted and coupled with serious investment to tackle the lethal mix of poverty, school exclusion, poor mental health and drugs."
It came as David Gauke appealed for the next prime minister to take forward his call to abolish short prison sentences of under six months.
In what was expected to be his last speech as justice secretary, he said three-quarters of all crime that results in a caution or sentence "happens because of reoffending".
"Whilst long prison sentences will always be right for those who commit the most serious crimes, particularly of a violent or sexual nature, the fact is that the vast majority of all offenders will at some point be released," Mr Gauke added, saying short sentences were not a deterrent and exacerbated the causes of offending.
"I believe the public therefore expect the justice system to focus on rehabilitation to reduce the risk of subsequent offending – and the likelihood of them becoming a victim of crime."
In a veiled blow to Mr Johnson's campaign statements, Mr Gauke said: "I don't want to see softer justice; I want to deliver smarter justice."
"We need to be guided by a clear assessment of the facts rather than saying what we think people want to hear," he added.
"I hope that whoever is prime minister and whoever is justice secretary from next week onwards will look at the evidence."
Many senior police officers blame the Conservatives for hampering their ability to prevent crime by implementing budget cuts that saw the loss of 20,000 officers since 2010, as well as slashes to community programmes and social services.
Home Office data showed a small increase in the number of police officers in England and Wales, rising by 0.6 per cent (766 officers) to 123,171.
Nick Hurd, the policing minister, said the government was "deeply concerned" at the increase in serious violence and was taking urgent action.
"Police funding is increasing by more than £1bn this year, including council tax and £100m for forces worst affected by violent crime," he added.
"I am encouraged to see officer numbers increasing, and that Police and Crime Commissioners have committed to recruiting over 3,700 additional officers and staff this year.
"We are also acting to address the root causes of violence and stop young people being drawn into crime in the first place. This week we announced a new legal duty for public bodies to work together to prevent and tackle serious violence as part of our public health approach."