Council branded 'inhumane' after installing metal bars on benches to stop homeless people sleeping on them
Charity says Bournemouth council's 'hostile' strategy is 'a sad indictment of how we treat the most vulnerable people in our society'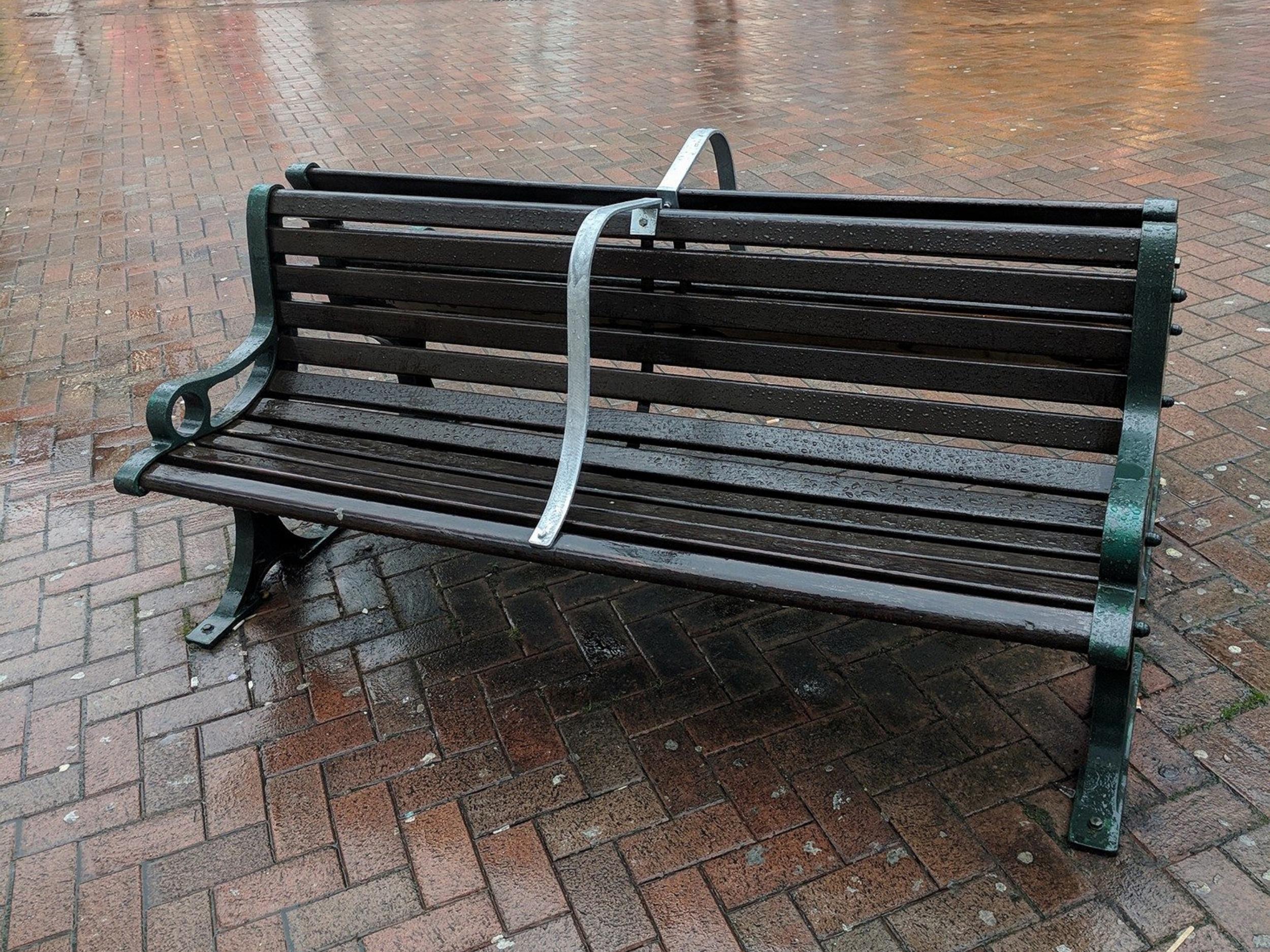 A council has been criticised as "inhumane" after installing metal bars on benches to stop homeless people sleeping on them.
Bournemouth Borough Council has adapted seats across the town centre to deter rough sleepers.
The Conservative authority said it installed the bars "following numerous complaints by members of the public and local traders" about people lying on the benches.
But charities condemned the "hostile" move and called for the local authority to focus on helping homeless people.
Photos of the benches have also provoked anger on social media, with Facebook users branding the council "shameful" and "heartless".
The council's strategy first came to wider attention after Bournemouth artist Stuart Semple posted a picture of one of the benches on Facebook. He said between 20 and 30 seats had been "retrofitted".
"The second I saw it I knew exactly what it meant and I was really shocked and quite angry to see it in my home town," Mr Semple told The Independent.
He added: "This kind of hostile design is really wrong. Most people will just take these things for granted and walk past them but for a homeless person I think it would be deeply upsetting to see something like that.
"I really don't think we should be making those kind of statements in our towns and cities, we should be making inclusive places. Everybody is welcome."
The founder of a charity which hands out food to Bournemouth's homeless said the measure was "an utter waste of taxpayers' money."
Claire Matthews, whose organisation Hope For Food runs a soup kitchen in the seaside resort four nights a week, told The Independent: "All it is doing is putting a sticking plaster over the wound. If [the council] stop and think and look at what they are doing and help the homeless off the streets, they would not need all this.
"Why can't they actually put the money into helping the homeless?"
Matt Downie, director of policy and external affairs at homelessness charity Crisis, said: "The use of hostile architecture and other anti-homeless measures is a sad indictment of how we treat the most vulnerable people in our society. Rough sleeping is devastating enough without homeless people having to endure such hostility in their communities.
"Rather than perpetuating people's homelessness, we need to address the root causes of rough sleeping to end it once and for all. We have evidence to show how the situation could be turned around, now is the time to act."
More than a million people have viewed Mr Semple's photo since Saturday and more than 2,000 people have commented on it.
"All the money wasted on these inhumane acts would provide the care the homeless need," said one Facebook user. Another wrote: "This spiteful intervention just goes to show their attitude to truly needy people."
A Bournemouth council spokesman said: "As a council, we need to maintain a careful balance between our responsibility to the wider public to ensure that amenities are available to them, and our duty of care to vulnerable members of our community, including people rough sleeping.
"Changes were made to a small number of benches in very specific locations in the town centre several months ago, and only following numerous complaints by members of the public and local traders. The complaints related to a number of the benches being unavailable to members of the public throughout the day due to people lying on them during the daytime."
The council added it provided a "wide range of services for homeless people", including 150 hostel beds and a "rough sleeper assertive outreach team".
By the time of publication, it had not responded to a request for information on the number of benches adapted or their cost.
The number of people sleeping rough in Bournemouth has risen by 300 per cent since 2010 amid a record surge across the country, Government figures revealed last week
The town's council has repeatedly come under fire over its homelessness strategy. The authority was accused of "passing the buck" after it emerged it had bought one-way train tickets out of the resort for 144 rough sleepers.
In 2015, authorities played the theme from Alvin and Chipmunks to drive homeless people out of Bournemouth coach station in a scheme criticised as "cruel and unnecessary".
Last week the council denied claims its staff removed the sleeping bag and belongings of a 66-year-old homeless man who was later found dead in a car park.
Join our commenting forum
Join thought-provoking conversations, follow other Independent readers and see their replies