Plane passengers could see waiting times double at UK border control after Brexit, bosses warn
'Border Force is struggling to deal with the pressure now, let alone with tens of millions of EU passengers going through the hard border on top of that'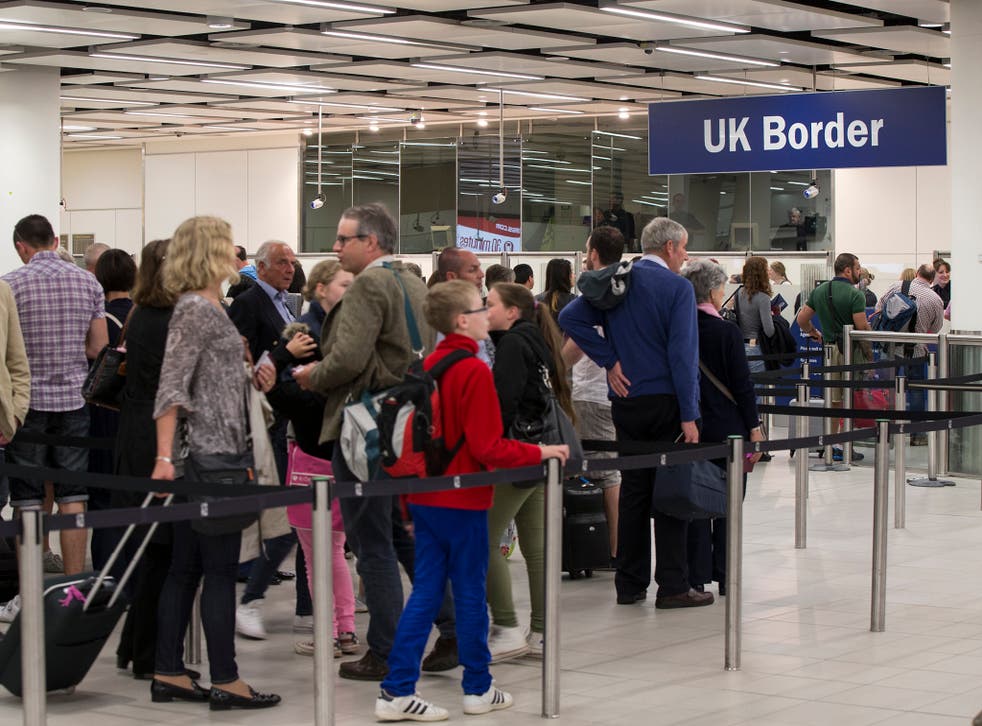 Airline passengers arriving in the UK could see waiting times in passport queues "almost double" after Brexit as Border Force struggles to cope with demand, the Airport Operators Association (AOA) has warned.
The AOA, which represents 50 airports in the UK, said Border Force was "already struggling" to meet official waiting time targets, and have appealed to the Government to either maintain the same system for EU nationals after Brexit or "invest heavily" in airports to ensure they can meet the heightened demand.
It warned more stringent passport checks for EU nationals would put "even more pressure" on airports at a time when border resources are already failing to match the growth in passenger numbers.
EU nationals arriving in the UK are currently screened through a "soft border" – an identity verification that generally takes less than 25 minutes – while non-EU passengers are required to go through a 'hard border', which assesses whether they have the right to enter, and can take considerably longer – often up to 45 minutes.
​Henk Van Klaveren, spokesman for the AOA, told The Independent that airport bosses were "highly concerned" about the potential impact Brexit could have on the movement of people, especially at a time when Border Force is already struggling to meet growing demand.
"The Government's target waiting time for EU nationals is 25 minutes, while for non-EU passengers it's 45, but we are increasingly going beyond these targets. Complaint logs have gone up," said Mr Van Klaveren.
"We should be meeting the waiting time targets 95 per cent of the time, now it's more like 50 per cent because of a real struggle for Border Force to cope.
"If we change the rights of EU citizens to come in through free movement, they will be subjected to the hard border checks, which could result in waiting times almost doubling.
"Border Force is struggling to deal with the pressure now, let alone with tens of millions more passengers going through the hard border on top of that. It would have to be invested in heavily to meet demand."
Resources for airport border staff have not matched the increase in passenger numbers in recent years. While passenger numbers increased from 220.6 million in 2012 to 251.5 million in 2015, the Border Force budget dropped from £617 million in 2012/13 to £558.1 million in 2016/17.
Meanwhile, figures from Heathrow airport show waiting times have been increasing over recent years. For example, the proportion of non-EEA passengers who were screened through the airport's Terminal Five within the Government's target waiting time of 45 minutes fell from 99 per cent in December 2015 to 91 per cent in December 2016.
Mr Van Kalveren noted that recent technological advancements mean airports are using more e-gates, which in theory don't require a member of staff, but said the AOA was concerned the technology was only being seen as a "replacement of existing staff rather than an enhancement of their service offering", and was not a solution to the Brexit concerns.
"The e-gate function works well only when sufficient Border Force agents are on hand to deal with peak-time rushes, passengers unable to use the gates, and passengers who are directed by the e-gate to a manned desk," he said.
"Many EU passengers travel on ID cards, which are not accepted by the e-gates. These passengers still require the normal manned desks."
The AOA has sent evidence of their concerns to a House of Lords inquiry into the movement of people between the EU and UK, outlining the impact changes to migration would be likely to have on the UK border regime.
Mr Van Klaveren said the AOA was appealing to the Government to ensure airports keep the "soft border" system for EU nationals, or to invest "heavily" in Border Force if there are changes to freedom of movement.
"The Government must embark on an open and transparent long-term resource planning-exercise for Border Force operations at UK airports," said Mr Van Klaveren.
"We ask them to, for now, keep it the same system for EU nationals, or to invest heavily in Border Force to allow for demand to be met.
"We'd like them to take into account projected levels of growth at national level and at individual airports. and review their target waiting times at the same time to ensure performance better reflects the passengers' experience of passport control.
Brexit Concerns

Show all 26
"The welcome at the border needs to improve to demonstrate that we're open for business to the millions of leisure and business visitors who come to the UK every year.
"This is the backdrop against which we have expressed some concerns about the need to consider carefully the impact of changes to the current border regime following the UK's exit from the EU on the smooth operation of entry to the UK."
Responding to the AOA warning, a Home Office spokesperson said: "We are about to begin negotiations with the EU and it would be wrong to set out further positions in advance, but we are clear that Border Force has the capacity to meet passenger demand and maintain security.
"Our Border Force officers currently clear passengers within our agreed waiting times in more than 95 per cent of cases and will continue to carry out stringent checks on 100 per cent of scheduled passengers arriving in the UK."
Join our new commenting forum
Join thought-provoking conversations, follow other Independent readers and see their replies