EU referendum: Reports of hate crime increase 57% following Brexit vote
National Police Chiefs' Council says it is 'monitoring situation closely'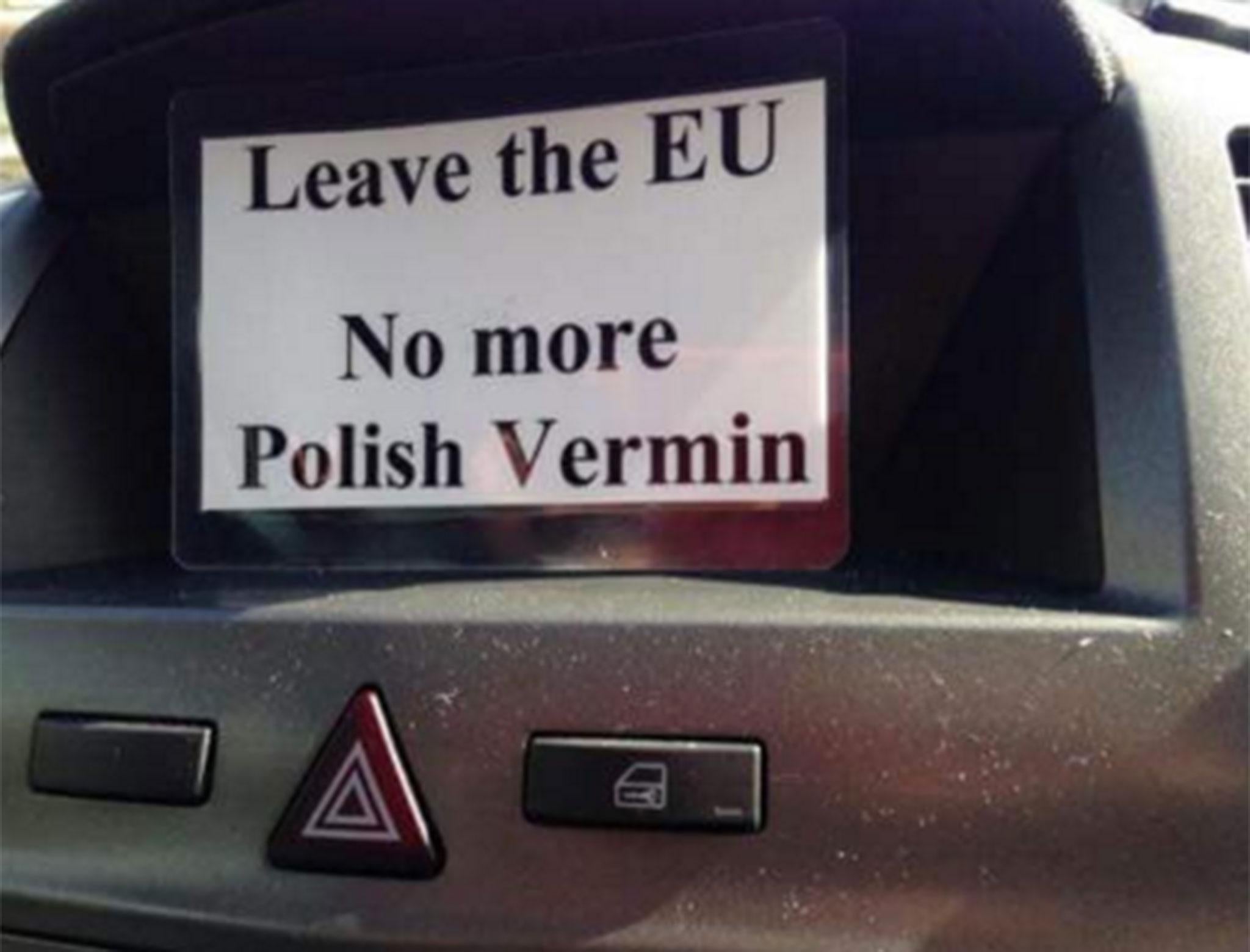 Reports of hate crime have risen 57 per cent in the aftermath of the EU referendum vote, according to the National Police Chiefs' Council.
There were 85 reports of hate crimes to True Vision, a police-funded reporting website, between Thursday and Sunday compared with 54 reports over the same period four weeks ago.
Mark Hamilton, Assistant Chief Constable for the National Police Chiefs' Council Lead for Hate Crime, confirmed it is "monitoring the situation closely".
Mr Hamilton said in a statement: "Police forces are working closely with their communities to maintain unity and tolerance and prevent any hate crime or abuse following the EU referendum.
"At the national level, the vast majority of people are continuing to go about their lives in safety and security and there have been no major spikes in tensions reported.
"However, we are seeing an increase in reports of hate crime incidents to True Vision, the police online hate crime reporting site. This is similar to the trends following other major national or international events. In previous instances, crime levels returned to normal relatively quickly but we are monitoring the situation closely.
He added that all forms of hate crime are "unacceptable", continuing: "Hatred not only has the potential to cause serious physical and emotional harm, it damages communities and undermines the diversity and tolerance we should be instead celebrating.
"Police forces will respond robustly to any incidents and offenders can expect to receive enhanced sentencing. Everyone has a right to feel safe and confident about who they are. Being yourself is not a crime: hate crime is."
Rose Simkins, chief executive for Stop Hate UK, told The Independent the issue "may well get worse".
She said: "Hate Crime is generally very underreported but what we are seeing in the last few days is the result of more people being targeted and more people coming forward to report because of fear for their safety.
"We are talking to people who have never been targeted before and are now experiencing nasty abuse or people who have been but they have never reported before and are doing so now out of fear and because the frequency or the intensity of the abuse is increasing.
"We want all those targeted and all those who witness Hate Crime to report to the Police or to organisations such as Stop Hate UK and not suffer in silence."
A spokesperson for telephone helpline SupportLine reiterated the need to report incidents.
They told The Independent: "Hate crime is a criminal offence and anyone who has been subjected to a hate crime needs to report it to the Police. Every individual deserves to feel safe in the community."
True Vision defines hate crimes as "any crimes that are targeted at a person because of hostility or prejudice towards that person's disability, race or ethnicity, religion or belief, sexual orientation, transgender identity."
6 ways Britain leaving the EU will affect you
Show all 6
It notes a hate crime can be committed against a person or property.
In reference to freedom of expression, the website adds "in particular, a wide degree of tolerance is accorded to political speech and debate during election campaigns or referendums".
Since the UK voted to leave the EU, there has been a wave of hate crime and racial abuse. A Facebook album entitled "Worrying Signs" has been created to document alleged incidents in which people have been targeted with xenophobic comments.
One video, purportedly filmed in Hackney on the morning after the referendum, shows a man arguing with someone in a car before yelling: "Go back to your country."
In Huntington, Cambridgeshire, there have been reports of signs saying "Leave the EU, no more Polish vermin" posted through the letter boxes of Polish families on the day of the referendum result.
There were 52,528 hate crimes recorded by forces in England and Wales in 2014-15 – an increase of 18% compared with the previous year, according the most recent Home Office statistics.
More than 80% were classed as race hate crimes, with others involving religion, disability, sexual orientation and transgender victims.
If you have experienced or witnessed hate crime you can report it by calling the police on 101, contacting Crimestoppers or using the True Vision website (www.report-it.org.uk).
Join our commenting forum
Join thought-provoking conversations, follow other Independent readers and see their replies