Brighton Pride organisers say train services put people's safe at risk with 'appalling' treatment after Britney Spears show
'We are very disappointed that GTR were unable to provide sufficient services to people returning home from a day of celebrating Pride and enjoying the hot weather in Brighton & Hove'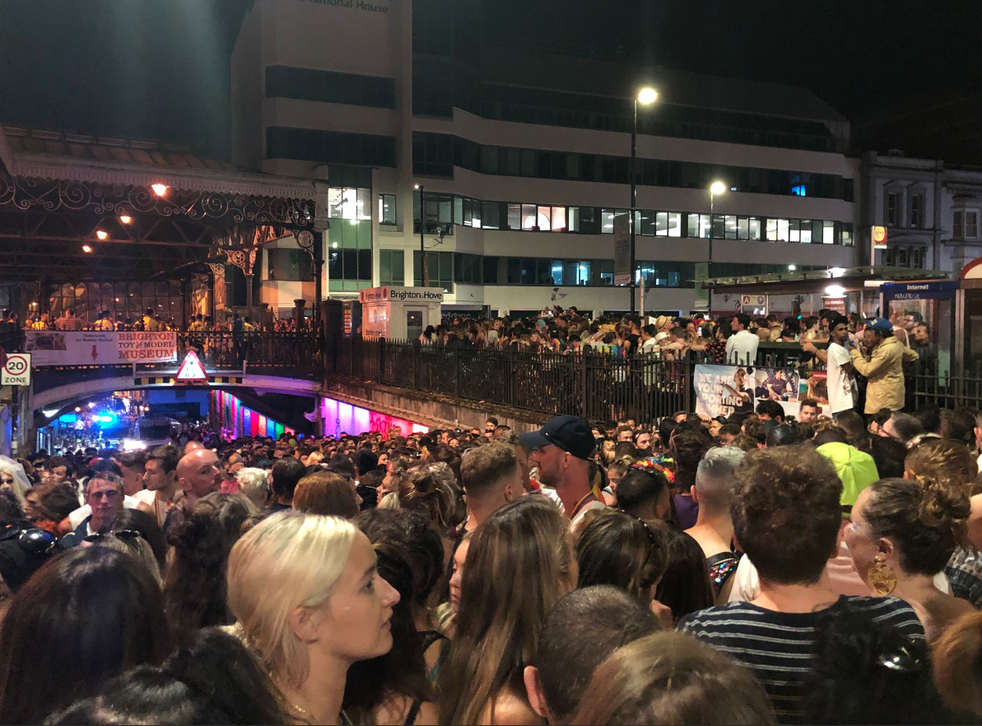 The organisers of Brighton Pride have criticised train operators after thousands of people were locked out of the station and made to wait for hours in dense crowds following Britney Spears' performance.
Police ordered the city's main train station to close and services to be suspended so they could impose crowd control measures but the situation soon descended into chaos, with people reportedly passing out during the "mayhem".
Organisers blamed Govia Thameslink (GTR), the rail operator, for its inability to provide sufficient services, which they said put "people's safety in jeopardy".
"We were appalled to see that Pride-goers were standing for long periods of time, at the end of the event, while waiting to access Brighton Station, and with almost no information provided by GTR," a spokesperson said.
"People's safety was put in jeopardy by GTR and the station's failure to plan for adequate train services.
"We are very disappointed that GTR were unable to provide sufficient services to people returning home from a day of celebrating Pride and enjoying the hot weather in Brighton & Hove.
"This is particularly concerning, given the months of planning and inter-agency working that we undertake each year to make Brighton Pride a safe and happy event."
GTR have faced mounting criticism since the introduction of a new timetable in May which saw hundreds of trains taken off the schedule.
Labour has since demanded it should be stripped of its franchise while calling for the whole of Britain's rail network to be nationalised.
It had been widely known that up to 400,000 people would be in Brighton for Saturday's festivities but chaos ensued when people tried to make their way home.
Paul Kemp, the managing director of the non-profit Brighton & Hove Pride community interest company expressed his disappointment with the train operator and said "lessons need to be learned clearly".
"It is disappointing that there have been several occasions of station closures at crucial high volume times over the last few years," he said.
"Lessons need to be learned clearly. We are keen, as always, to work with GTR to improve the City and service-wide approach to major events that benefit Brighton and Hove and the UK and our city's economy."
Revellers said staff screamed at them as they were pushed into each other outside Brighton station as police guarded the doors while under capacity trains departed.
When they arrived inside they found an empty station and trains with plenty of space as services to London resumed at 2.15am.
One passenger said she waited for at least three hours before getting on a train, and there were also reports of people fainting in the large crowds with others claiming emergency services did not provide travellers with water.
UK news in pictures

Show all 50
"Thousands of people had Brighton Pride ruined for them again this year because of the incompetence of Southern Rail and Thameslink Rail," said Mick Tayk. "How dare they display Pride colours on their trains and Twitter account when all they do is bring misery to the event."
Nick Graham, who was was also caught up in the chaos, said: "Amazing day at Pride yesterday soured by the poor organisation and mass crush at Brighton station. I'm amazed nobody was killed or seriously injured. Seriously scary, and then trains were leaving not full!"
A Govia Thameslink spokesperson said: "We ran 15 extra trains yesterday to cope with the unprecedented visitor numbers, in addition to the plan we had agreed with the event organisers. Access to Brighton station was closed for a period by the police to help with crowding in the town. Everyone who needed to get home last night did so. We are talking to the organisers and police about whether we need to enhance today's timetable."
Join our new commenting forum
Join thought-provoking conversations, follow other Independent readers and see their replies