Hotel 'tricked' into hosting far-right Britain First conference to donate profits from stay to charity
Party leader Paul Golding pictured at Wyboston Lakes resort in Bedforshire under banners reading 'Taking Our Country Back!' days after US President Donald Trump retweets group's racist videos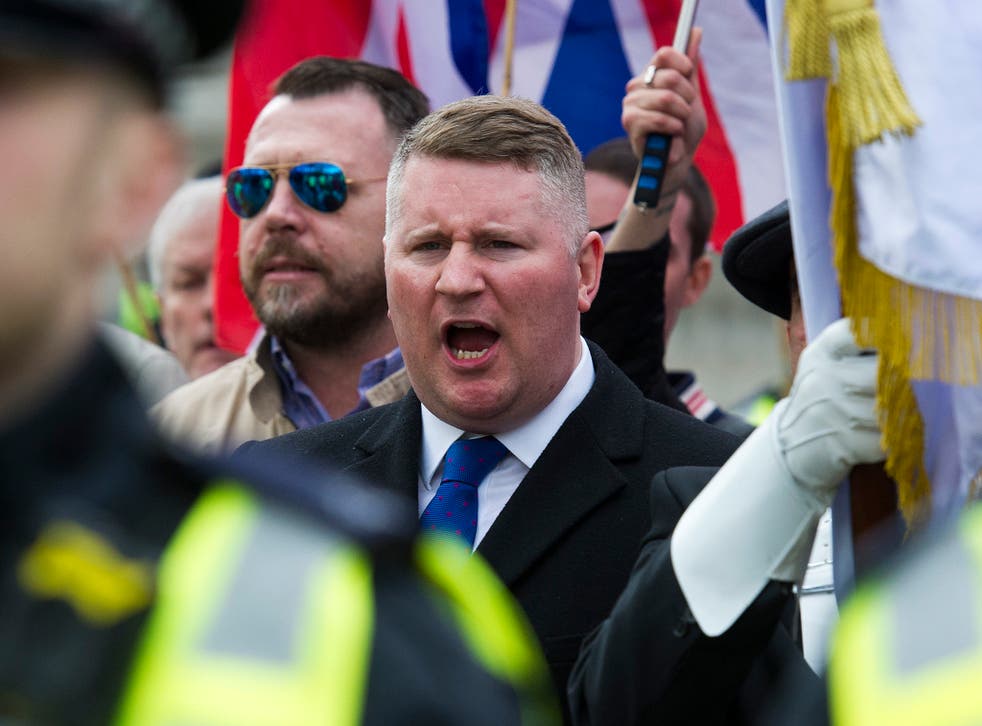 An award-winning resort has been left "deeply offended" after unwittingly hiring out a meeting room to far-right group Britain First.
The Wyboston Lakes resort in Bedfordshire said the controversial organisation booked the £2,250 room under a different name for its conference.
Pictures posted online by the fringe political group's leader Paul Golding appeared to show dozens of people sitting in a small room decked with banners declaring "Taking Our Country Back!"
The resort faced criticism online when news of the conference, the location of which had not been made public by the group, became clear.
The meeting was booked at short notice under the name Patriot Merchandise, a resort spokesman said, and did not appear to have any obvious connections to Britain First.
Patriot Merchandise is listed at Companies House as a private limited company based in Belfast.
No staff entered the meeting room during the event and the banners were erected only in the "closed off conference room", the spokesman said.
The hire cost of the five-hour event on Saturday will now be donated to an as-yet undecided charity.
In a statement released on Sunday evening the resort spokesman said: "For the sake of clarity, had we known the nature of the event being held by Britain First, we would not have taken the booking, as the values of our organisation conflicts with theirs in totality."
Wyboston Lakes, which was ranked at 28 in this year's Sunday Times best 100 companies to work for list, said it "embraces diversity".
The spokesman added: "We can fully understand the concerns expressed, but we can only refer to our company values and principles, our standing as an award-winning employer and assure everyone that we are deeply offended by their presence on our property."
Britain First's conference came days after Donald Trump retweeted three anti-Muslim videos posted by the group's deputy leader Jayda Fransen.
Two featured violent scenes, including someone being pushed off a roof and another person being assaulted.
The group has since boasted they received hundreds of new membership applications and said its Facebook posts were reaching hundreds of thousands more users.
UK news in pictures

Show all 50
Fransen, 31, from Penge, south east London, is on bail facing trial over four charges of causing religiously aggravated harassment as part of a Kent Police investigation into the distribution of leaflets and the posting of online videos during a trial held at Canterbury Crown Court in May.
She will go on trial at Folkestone Magistrates' Court on 29 January alongside Golding who faces three similar charges.
Fransen will also appear in court in Northern Ireland in December charged with using threatening and abusive language in connection with a speech she made at an anti-terrorism demonstration in Belfast on 6 August.
PA
Join our new commenting forum
Join thought-provoking conversations, follow other Independent readers and see their replies