Britain First should be listed as a terrorist organisation, suggests Labour MP
It comes as it is revealed a quarter of suspected extremists undergoing intervention in the government's anti-radicalisation programme are from the far-right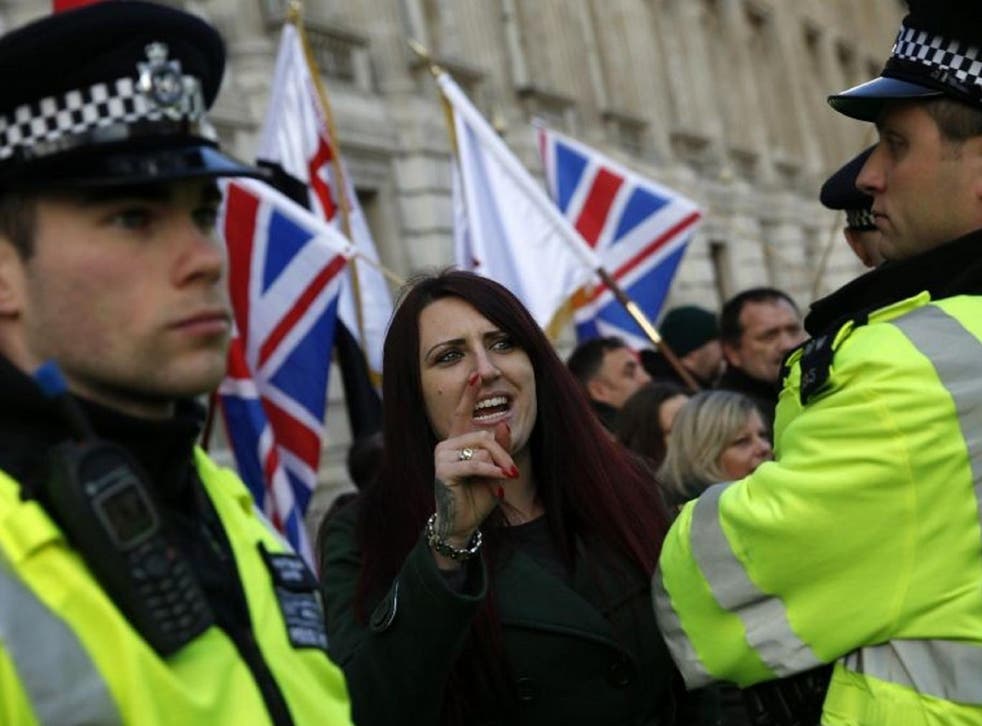 An MP has called on the Home Secretary to consider listing Britain First as a "terrorist organisation" following the murder of Labour MP Jo Cox by a far-right white supremist.
Louise Haigh, Labour MP for Sheffield Heeley, said the House of Commons should debate whether Britain First should be proscribed as a terrorist organisation and banned from standing in democratic elections, which would prohibit the far-right group from arranging meetings or rallying support.
Ms Haigh said: "Can we have a debate about whether Britain First should be proscribed as a terrorist organisation and banned from standing in democratic elections?"
David Lidington, the Leader of the House, replied that Ms Haigh's request would be reported to the Home Secretary Amber Rudd, saying: "I can't offer a debate. As you probably know, the Home Office brings forward orders for the proscription of particular organisations but must do so on the basis of evidence.
"There have been cases in the past where organisations have been so proscribed, have gone to the courts and successfully won a judicial review to say that the evidence on which that action had been taken was not sufficient.
"So, I'll make sure that your proposal is reported to the Home Secretary but there has to be clear evidence of terrorist involvement for the terrorist proscription to be applied."
On Wednesday white supremacist and neo-nazi Thomas Mair was found guilty of killing Mrs Cox in a "planned and pre-meditated murder" in the lead-up to the EU referendum.
The 53-year-old shouted "Britain first, this is for Britain" over her body after shooting the Labour MP three times and inflicting 15 stab wounds, the court heard.
Following her remarks in Parliament, Ms Haigh told The Independent: "There is little doubt that the threat and violence of the extremist political right is of serious concern.
"Indeed, the UK's top counter-terrorism officer yesterday sounded the alarm warning that the threat posed by the extremist right is growing and poses a similar risk to other forms of extremism.
"We need to take this seriously. And we need a full and frank debate in this country about how such hate-filled, violent extreme right organisations are threatening and undermining the values we hold dear and providing the space from which political extremists could emerge."
UK news in pictures

Show all 50
Ms Haigh's comments come as it was revealed that one in four people undergoing intervention in the government's programme to tackle radicalisation have white supremacist views.
Whitehall sources told The Times that a quarter of those undergoing intervention in Channel, which deals with hundreds of individuals deemed likely to engage in violent extremism, now come from the far right.
Statistics from the National Police Chiefs Council last week revealed that there were 561 far-right referrals to the programme - around 13 per cent of the total.
Register for free to continue reading
Registration is a free and easy way to support our truly independent journalism
By registering, you will also enjoy limited access to Premium articles, exclusive newsletters, commenting, and virtual events with our leading journalists
Already have an account? sign in
Register for free to continue reading
Registration is a free and easy way to support our truly independent journalism
By registering, you will also enjoy limited access to Premium articles, exclusive newsletters, commenting, and virtual events with our leading journalists
Already have an account? sign in
Join our new commenting forum
Join thought-provoking conversations, follow other Independent readers and see their replies