Zimbabweans deported by Britain arrive at Harare airport
Some of those being deported have lived in the UK for decades and have been forced to leave their families behind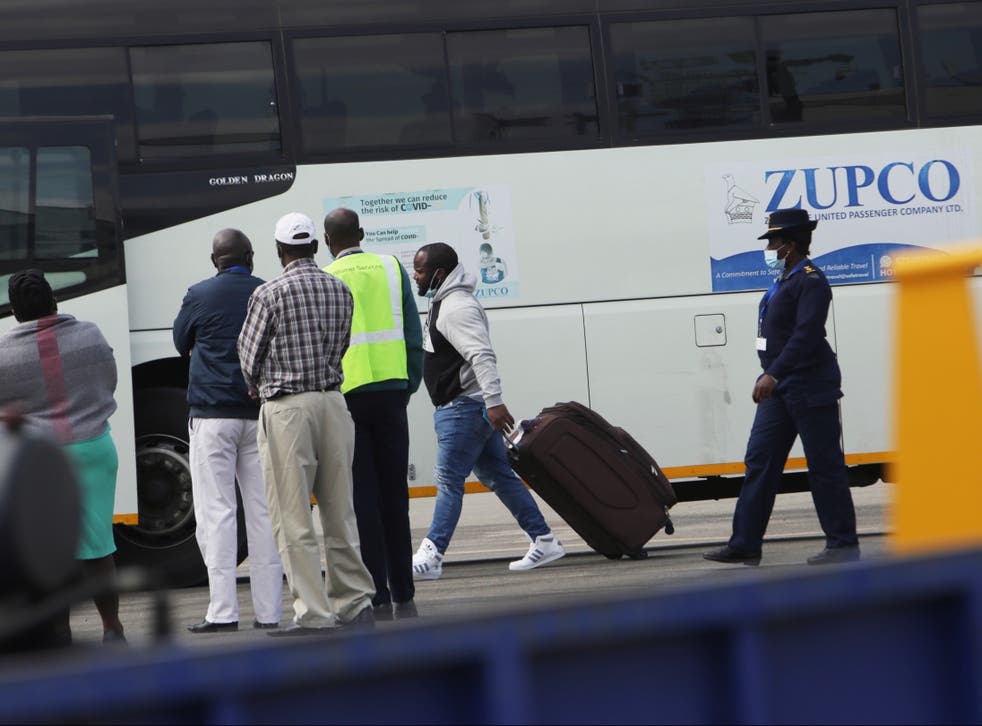 The first group of Zimbabwean nationals being deported from Britain have arrived in the country.
Some of those being deported have lived in the UK for decades and have been forced to leave their families behind.
A petition set up to stop the deportations has been signed by more than 18,000 people. It was signed by nine organisations including the Joint Council for the Welfare of Immigrants (JCWI) and Bail for Immigration Detainees.
However, the United Kingdom says it has a right to deport foreigners who commit serious crimes after they serve out their sentences, and the first group of deported Zimbabweans was people convicted of committing crimes in Britain.
Last week, The Independent revealed that the deportations were taking place.
The paper spoke to Bryan Mucheriwa, who has been in the UK for 20 years and has three British children. He claimed asylum in the early 2000s on the basis that he faced political persecution in Zimbabwe because he had opposed the government, but has been refused asylum a number of times.
"I feel so afraid. The Home Office called me last year to verify my identity, but they used someone from the government in Zimbabwe to confirm my identity. Even if I tried to relocate in Zimbabwe, someone in the government has all my information," he said.
Zimbabwean authorities dismissed fears that the returnees would be persecuted.
On Thursday, 14 of the deportees arrived at the main airport in the capital, Harare, and were quickly put into waiting buses to go to a quarantine centre where they will stay for 10 days before they can rejoin their families.
The first flight was supposed to carry 50 passengers classified as "foreign national offenders," but the deportations of some were postponed because of a coronavirus outbreak at a detention centre and ongoing legal processes, said Livit Mugejo, spokesman for Zimbabwe's ministry of foreign affairs.
He said: "Some were isolated and could not travel. Others lodged last-minute appeals arguing that they were supposed to be deported five years ago and that their circumstances have now changed so the courts there agreed to hear their cases."
He added: "The deportations are ongoing. It's only that the UK had temporarily halted them at some point but deportations are not unique. Some of these people committed crimes such as murder and rape so the UK or any other country has a right to deport them."
Mr Mucheriwa, who has not been eligible to work or receive state support for most of his time in the UK, told The Independent he spent a year in prison a decade ago for drug offences, which he says he committed because he needed to "put food on the table".
Distraught relatives waited outside the Harare airport Thursday but were not able to meet the deportees.
Although there are no exact figures, scores of thousands left Zimbabwe for the UK, the former colonial power, to escape a biting political and economic crisis at the turn of the century. Many Zimbabweans whose bids for asylum were rejected by Britain also face deportation.
Additional reporting by The Associated Press
Join our new commenting forum
Join thought-provoking conversations, follow other Independent readers and see their replies