Britain to send five Royal Navy warships to join Nato's maritime arm in response to Russian threat
British troops will also be stationed on the ground in the Baltic states, near to the Russian border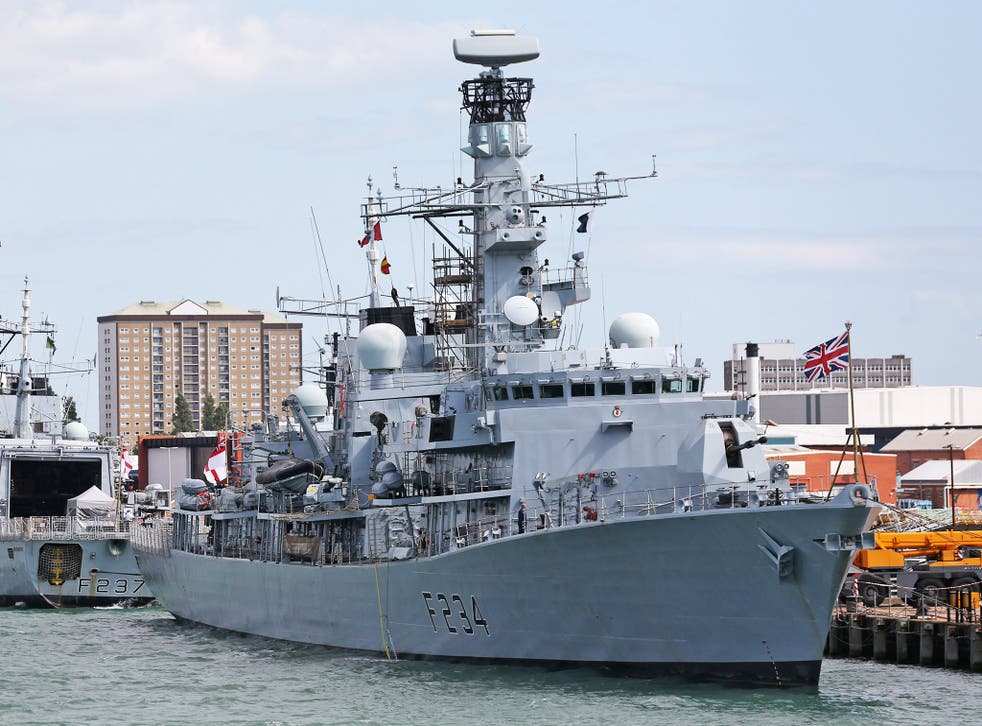 Britain is sending five warships and 530 naval personnel to join Nato's maritime arm as the alliance boosts its military force to counter what it sees as a growing threat from Russia. British troops will also be stationed on the ground in the Baltic states, near to the Russian border, it has emerged.
Nato defence ministers are set to also approve measures including the stockpiling of weapons in bases in eastern Europe. The US has quadrupled its budget for forces in Europe to $3.4bn (£2.3bn) and has announced that half of this will be spent on a "heavy brigade" armour and artillery in western Europe.
Global Hawk surveillance drones, previously used in Afghanistan, will be based in Sicily and used to gather intelligence from all the Nato's borders.
The British deployment, the first to Nato's maritime force in six years, will consist of a Type 23 frigate, HMS Iron Duke, a destroyer and three minesweepers. They will be in service in the Baltic, the North Atlantic, the North Sea and the Mediterranean. The Royal Navy's largest warship, HMS Ocean, took part in a major "reassurance" exercise for eastern member states in the Baltic region last year.
Michael Fallon, the Defence Secretary, said: "Increasing our Nato deployment sends a strong message to our enemies that we are ready to respond to any threat and defend our allies; 2016 will see a particular focus on the Baltic region with our ships sent there as part of the Maritime Group, the Mine Counter Measure Group and the Baltops exercise."
NATO reinforces Baltic presence as tensions rise with Russia
Jens Stoltenberg, Nato's Secretary-General, said that all member states were agreed on the need for action. He said: "I expect ministers to agree to enhance our forward presence in the eastern part of our Alliance. This will boost our collective defence and at the same time send a powerful signal to deter any aggression or intimidation."
Western leaders regard the new measures as imperative because of increasing aggression by the Kremlin, including Russia's annexation of Crimea and its support for separatists in eastern Ukraine. Former members of the Soviet-dominated Warsaw Pact that are now part of Nato have repeatedly called for a show of strength from the alliance to head off Russian aggression.
A Nato summit in Warsaw in the summer will work out the composition of western forces to be stationed in six Baltic states. It is believed that up to 6,000 troops will be stationed in these countries and each contingent will have a substantial proportion of soldiers from western Nato members, the UK, USA, Germany and France.
The US ambassador to Nato, Douglas Lute, denied that the moves were provocative towards Russia or broke an agreement between Nato and Russia which barred the establishment of bases by the alliance in former Warsaw Pact states. "We don't agree with that at all. It isn't provocative towards Russia and it does not violate the Nato-Russia Act," he said. "This is not an aggressive move. Nato has not invaded anyone lately."
Mr Lute insisted that the decision to station armour and artillery in western Europe rather than in the east was not to avoid breaching the agreement between Nato and Russia. "They will be there because there are better facilities, better transport links in the West," he said. "It will also be less expensive because we can use the old Cold War bases."
Alexander Grushko, Russia's envoy to Nato, said that the deployment of Nato forces in eastern Europe "cannot be left without a military answer" and added: "Russia won't compromise its security interests".
The Kremlin has ordered a military exercise in the northern Caucuses, the Crimea and areas close to Ukraine's bordercompromise its security interests."
America's national intelligence director, James Clapper, told the Senate Armed Services Committee yesterday that Russia's aggressive military intervention in Ukraine and other moves could put Moscow and the US "into another Cold War-like spiral", adding: "I think the Russians fundamentally are paranoid about Nato."
Join our new commenting forum
Join thought-provoking conversations, follow other Independent readers and see their replies