'He saved British lives. It's ridiculous': Senior soldier condemns plan to deport Afghan man who worked with UK Army
Exclusive: William Locke, who served as a troop leader in Helmand Province with Hafizzulah Husseinkhel working as his translator, tells The Independent someone who has 'done so much to save British lives' should be allowed to stay in the UK
May Bulman
Social Affairs Correspondent
Tuesday 05 December 2017 17:30 Comments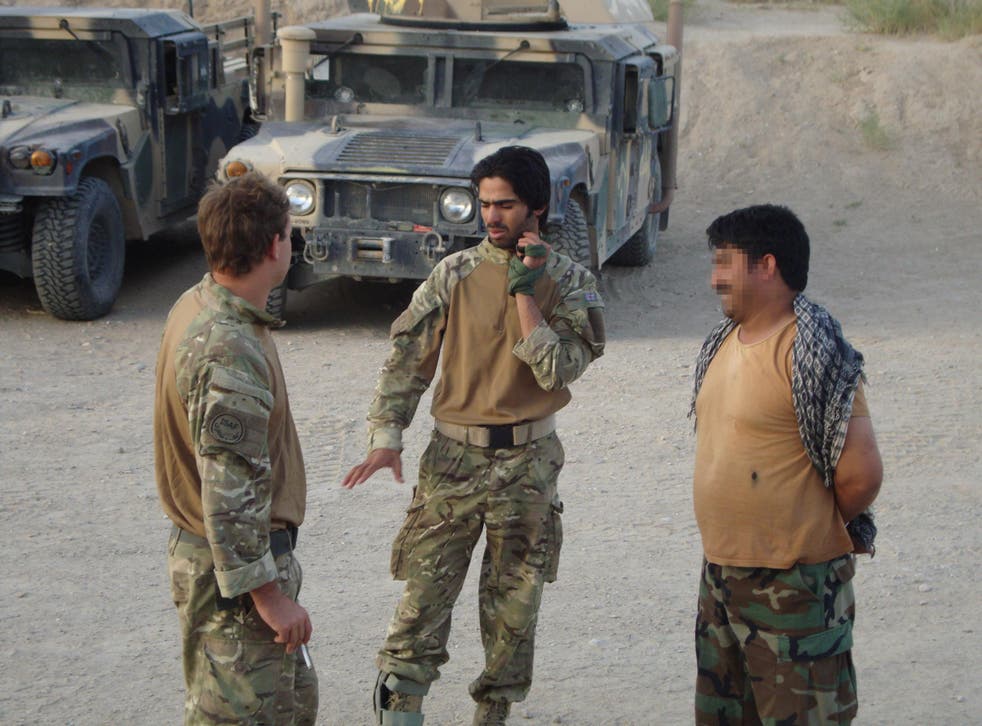 A former senior British army officer who worked with an Afghan translator facing removal from the UK has said it is "ridiculous" that the Home Office plans to deport an interpreter who "helped save British lives".
William Locke, who served for five months as troop leader of a squadron deployed in Afghanistan in 2011, told The Independent Hafizzulah Husseinkhel "risked his life" on the front line in and around Helmand Province.
Mr Husseinkhel has been told he will be removed from the UK within days after the Home Office handed him removal papers and sent him to a detention centre near Oxford last Wednesday.
His asylum claim was rejected in June, and an attempt to overturn the decision by applying for a judicial review at the High Court was later also refused. He is now likely to be deported to Austria, the first country he was registered in as an asylum seeker.
The 26-year-old served on the front line for the British Army between 2010 and 2012, when he worked as an interpreter between British and Afghan officers. He spent several years working for Nato forces before that.
Mr Husseinkhel fled from Afghanistan in 2014 after receiving death threats from the Taliban. His father was shot in the leg when he refused to reveal his whereabouts.
Campaigners attempting to prevent his removal say recent changes to the immigration system in Austria mean he is likely to end up being sent back to Afghanistan, where his life would be in danger.
Now Mr Locke, 32, who was troop leader of the Queen Royal Lancer's squadron during Operation Herrick in Helmand Province, has spoken out against the imminent removal of his former translator from the UK.​
Speaking to The Independent, the former army officer said: "The guy worked for us and put his life on the line for us for some years, and I think he deserves better treatment. It seems ridiculous that someone who's done so much to help us and to save British lives isn't allowed to settle in our country.
"I'm a pretty hard-line conservative, but I have a fairly developed sense of what's right and wrong, and this is clearly wrong. People like him should be supported and allowed to remain."
Mr Locke said Mr Husseinkhel was a "proactive" and "helpful" interpreter who helped to save lives, citing one incident where he warned of an impending ambush after hearing about it through the Taliban radio network, enabling troops to leave the area before they arrived.
"Hafis was good. His English was fantastic, certainly a lot better than my Pashtu. He was proactive. He was a helpful, nice guy and without him, more lives would've been lost. He rode with us on our jackals through every single operation, both mounted and on foot. We would've achieved very little without him," he said.
"There was one particular incident when we were manning a checkpoint in a fairly nasty part of the country. He was monitoring the Taliban radio network and let us know of an impending ambush, which allowed us to react and get out of the way quickly enough so as not to cause an enormous fight in the middle of the town."
Mr Locke's words echo those in a reference Mr Husseinkhal received from the regiment after leaving the post, which said he fulfilled his duties to an "extremely high standard" and described him as "enthusiastic, personable and loyal".
"Hafizullah has fulfilled his responsibilities to an extremely high standard and has fitted well into the squadron," it stated. "He is very popular amongst his Troop who have commented on several occasions on how impressed they have been with his performance, both in terms of his day-to-day activities and his calm approach during enemy engagements.
"He is an enthusiastic, personable and loyal individual."
The Ministry of Defence announced in 2013 that up to 600 Afghans who worked as interpreters, or in other dangerous roles supporting British and allied forces in Helmand, would be eligible to resettle in the UK.
But the resettlement package was available only to staff who were in post on 19 December last year – shortly after Mr Husseinkhel quit.
The 26-year-old was reportedly caught in a blast from an improvised explosive device (IED) while serving with US forces in Afghanistan before moving to be with the British Army – an incident that left him with serious eye injuries, causing him to have 20 per cent vision in one eye and 80 per cent in the other.
Mr Locke added that there would be an "absolute and genuine threat" to Mr Husseinkhel if he were to return to Afghanistan, especially since the security situation there has recently worsened.
"There is an absolute genuine threat to the safety and security of anyone who worked for the British forces, and especially the interpreters because they were seen as complicit with what we were doing. The security situation in Afghanistan has worsened, it's certainly not safe. There's a genuine and real threat to Hafis's life," he said.
UK news in pictures

Show all 50
"It seems ridiculous that interpreters weren't allowed to come to the UK straight off the bat. Clearly if people start misbehaving here then things should be reconsidered, but it appears Hafis hasn't been involved in anything he shouldn't have been, apart from the fact that he's illegally come to the UK.
"There should be a better route for people like him to legally immigrate to this country and remain here."
An emergency injunction has been made to the High Court by a legal team from Imperium Chambers for Mr Husseinkhel to be released from detention and granted the right to remain in the UK.
The Home Office has told The Independent it does not comment on individual cases.
Register for free to continue reading
Registration is a free and easy way to support our truly independent journalism
By registering, you will also enjoy limited access to Premium articles, exclusive newsletters, commenting, and virtual events with our leading journalists
Already have an account? sign in
Join our new commenting forum
Join thought-provoking conversations, follow other Independent readers and see their replies