British women now among top drinkers in world and no difference in amount men and women consume, study finds
'More parity in drinking may in part be due to more women engaging in paid work and therefore in post-work drinking. There is also much less stigma around women drinking than say 50 years ago,' sociologist says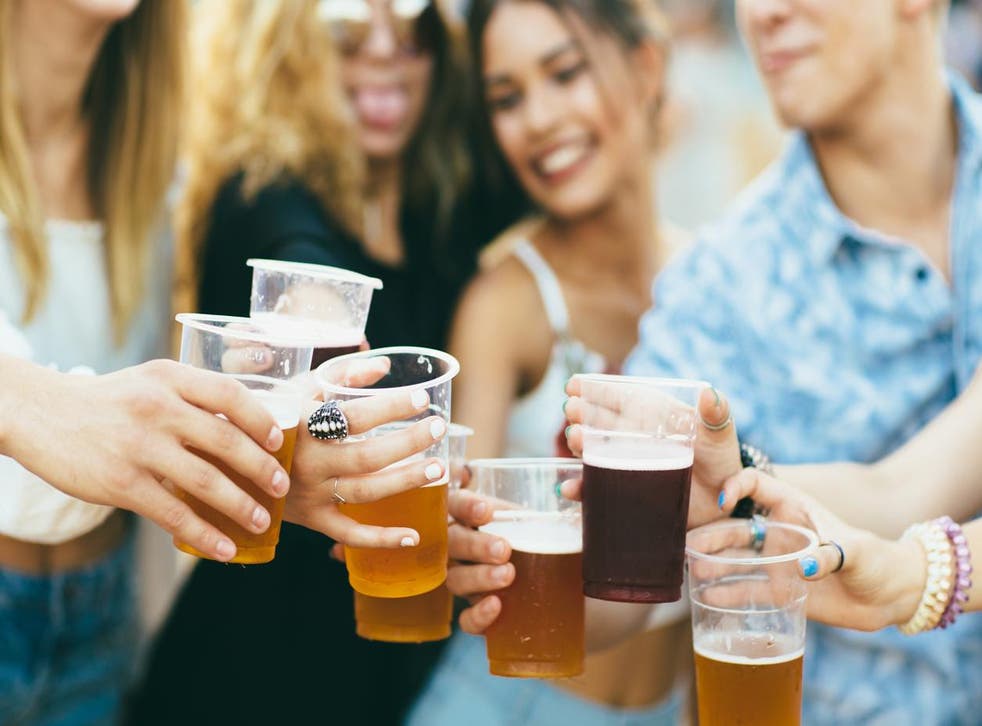 British women are among the biggest drinkers in the world and consume the same amount of alcohol as men, according to a major global study.
The new research, which was published in The Lancet and tracks 195 countries worldwide, demonstrates Britain is almost unique for having no difference in the quantity of alcohol men and women drink.
The study, which was led by the University of Washington, showed that on average women in the UK are now consuming three alcoholic drinks on a daily basis – precisely the same amount as British men.
The researchers covered almost 200 countries between 1990 and 2016, pooling data from hundreds of other studies with 28 million participants.
The findings raise questions about the growing consumption of alcohol among women.
Health campaigners have frequently argued that the change in drinking habits can be partially attributed to successful marketing campaigns, and the creation of sweeter products expressly targeted at women.
Dr Alison Mackiewicz, a lecturer in psychology at Aberystwyth University whose research interests focus on alcohol consumption and gender, said she thought the trend could be a result of greater financial independence among women.
"The night-time economy and venues have become highly sexualised and women are expected to go out all dressed up and conform to a hypersexualised appearance when they go out drinking but a lot of them lack the confidence to do that so they drink," she told The Independent.
"They drink before they go out because it's cheaper so they are intoxicated by the time they arrive at venues".
UK news in pictures

Show all 50
Dr Mackiewicz, whose research looks at women in the 16-24 age bracket, said there was a greater stigma attached to women drinking than there was to men.
"If men go out drinking, it's 'oh they are a typical male' but if a woman goes out drinking, it's seen as dreadful. Tabloid articles always pick on women - they will always have pictures of women half-dressed drinking. It's been happening since the 18th century. William Hogarth, a London artist, had a series of prints where women are condoned for drinking alcohol."
The study found that among countries where alcohol consumption is commonplace, just two other countries - South Korea and the Gambia - witnessed men and women consuming the same quantities. However, in both instances, it was considerably lower levels than those in Britain.
In historic terms, far more men drank alcohol than women. Men born between 1891 and 1910 were twice as likely as their female counterparts to consume alcohol and more than three times as likely to be involved in problematic use.
But a study published in the journal BMJ Open in 2016 found that in all three respects, this had almost reached parity among those born between 1991 and 2000.
Katherine Twamley, senior lecturer in sociology at University College London, said the stigma which surrounded women and drinking had declined.
"On the face of it, this research does suggest more convergence among men and women in their practices," she told The Independent.
"More parity in drinking may in part be due to more women engaging in paid work and therefore in post-work drinking. There is also much less stigma around women drinking than say 50 years ago. These can be considered as positive changes for many women."
"But as a feminist scholar, I would say that huge amounts of feminist debate has centred around the kind of gender equality we aspire to as well as how we can achieve it. As in, do we want women to become just like men?
"Traditionally masculine behaviours are in general more respected in society - competitiveness, risk-taking, ambition - while behaviours traditionally associated with femininity and women have received less respect - such as care and compassion.
"For me, to see parity in drinking alcohol as a boon for gender equality is a mistake, especially as it relates to dangerously high levels. This could be seen as a further signifier that traditionally male culture is being seen as the standard by which women should live.
"That is a race to the bottom in this particular instance. And given that women experience worse health impacts for the same amount of alcohol intake, one could say that it is, in fact, a sign of further inequality rather than equality."
The new study also found giving up drinking completely is the only way to avoid the health risks associated with alcohol.
Alcohol-related problems kill around seven per cent of men and two per cent of women every year and drinking is the leading cause of death and disability for people aged 15-49.
Despite previous research suggesting moderate levels of drinking may protect against heart disease, the new research concluded that any supposed health benefits are radically offset by the costs.
Addressing the findings on women, Andrew Misell, a director at Alcohol Concern/Alcohol Research UK, told The Independent: "Women have been drinking more like men for a number of years now, and as a result, alcohol-related health problems amongst women are increasing. But the reasons why women are drinking more is complex.
"One of the key reasons links to changes in society where women are much freer to choose their own lifestyle today than they were in previous decades. Of course, none of us would want to change our freedom of choice in this or many other issues.
"But the fact of the matter is that we all, male and female, need to consider our relationship with alcohol – how we drink and why; and consider whether we need to change our drinking habits to improve our health and wellbeing both for the short and long-term."
Register for free to continue reading
Registration is a free and easy way to support our truly independent journalism
By registering, you will also enjoy limited access to Premium articles, exclusive newsletters, commenting, and virtual events with our leading journalists
Already have an account? sign in
Register for free to continue reading
Registration is a free and easy way to support our truly independent journalism
By registering, you will also enjoy limited access to Premium articles, exclusive newsletters, commenting, and virtual events with our leading journalists
Already have an account? sign in
Join our new commenting forum
Join thought-provoking conversations, follow other Independent readers and see their replies