Britons driven to food banks by poverty seen as 'collateral damage' by DWP, says Trussell Trust
Exclusive: Britain's biggest food bank provider says the Government has threated the charity for speaking out on the issue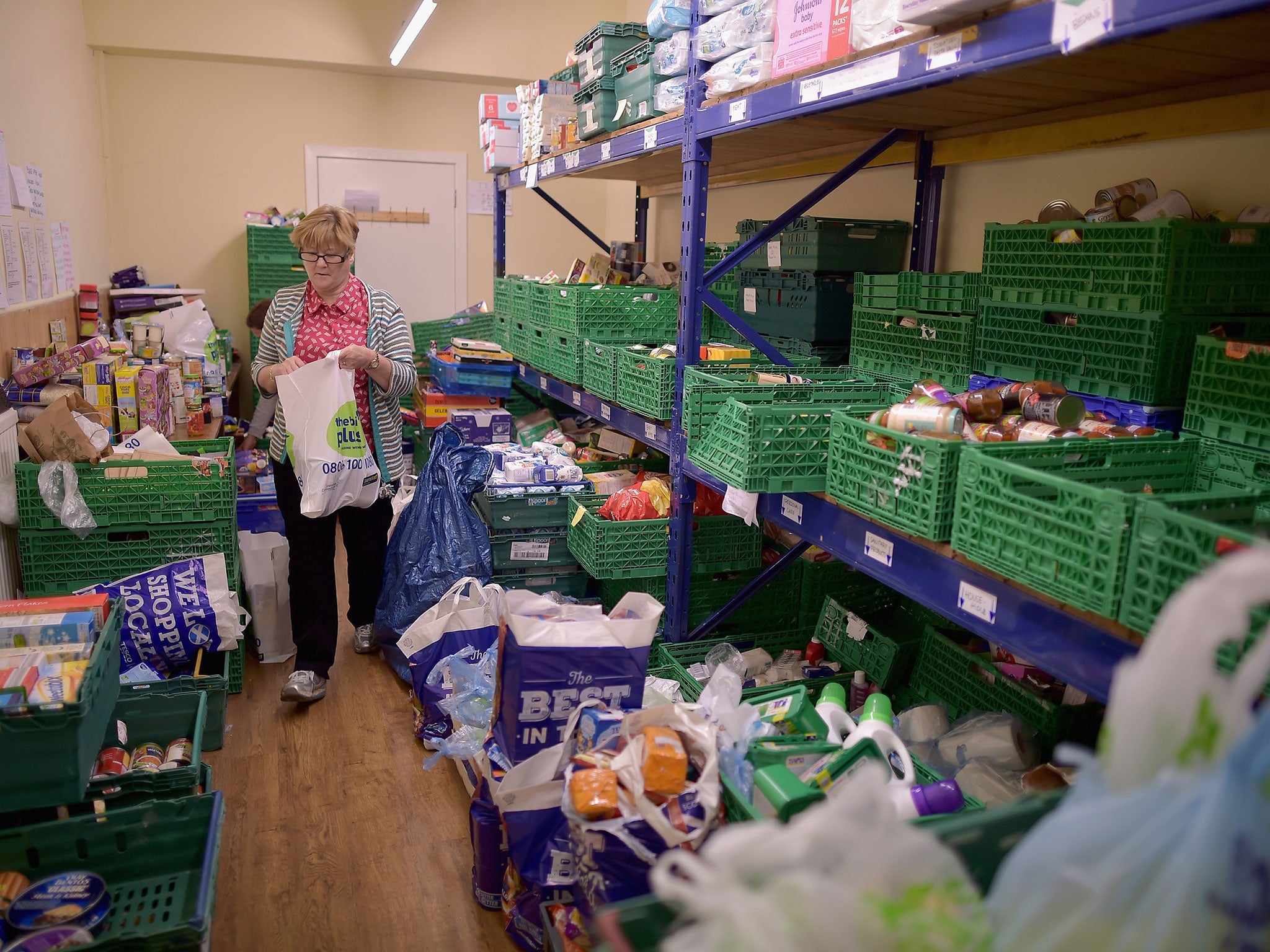 Hundreds of thousands of Britons driven to food banks by poverty in the past year are seen as "collateral damage" by the Department for Work and Pensions (DWP), according to Chris Mould, chair of the Trussell Trust.
The Government has spent years in denial of the existence of food poverty and continues to threaten the charity for speaking out on the issue, he said.
The Trussell Trust is Britain's biggest provider of food banks, with more than 420 around the country. But despite years of repeated attempts by the charity, Iain Duncan-Smith, the Secretary of State for Work and Pensions who has accused the organisation of scaremongering, has never met its representatives, said Mr Mould.
"We've asked on many occasions over many years and we've always suggested that we'd like to have a conversation with his department about the issues that we see."
He added: "The only time we've had access to the Department for Work and Pensions at any sensible process of dialogue was during the early part of the Coalition government in 2010-2011 when they were consulting on issues relating to the social fund and welfare reform."
Lives are at stake, said Mr Mould, who ran the Central Police Training and Development Authority and NHS trusts in Wiltshire and Bedfordshire before becoming involved with the charity more than a decade ago.
"We are dealing with people who have been going hungry but, more importantly, have come to a point where they see no point in continuing to live. What makes me angry is that I've met too many people who have been driven to that place by inadequate implementation of existing public service and policy."
He added: "There are many people who have told me that the food bank saved their lives and several instances of people where that's absolutely true; they had reached the end of their tether and they were planning to commit suicide."
Food-bank use in Britain is at record levels. More than one million food parcels, each providing enough food for three days, were given out between 2014 and 2015, more than 400,000 of which went to children. In recognition of the growing problem, the Big Lottery Fund gave the Trussell Trust £748,423 last month. In more than 40 per cent of cases, the main reason for people needing food parcels is related to delays or changes to their benefits, says the charity. Although official figures are not yet available, food banks were busier than usual over Christmas.
Commenting on the DWP's refusal to have a meaningful dialogue with the charity and its stance on the plight of Britons who cannot afford to eat, Mr Mould said: "I would imagine they see it as collateral damage as they implement new policy and they don't intend to divert or adjust their policy, so it's better not to hear. That's how it feels."
Attempts by officials to undermine the charity continue but are more subtle than tactics used in the past, he said. Last year The Independent revealed how a senior aide to Iain Duncan-Smith had warned Mr Mould that the "Government might try to shut you down", because of the charity's campaigning on food poverty. Asked if such threats persisted, Mr Mould said: "What's happened is that the messages are passed through in a more subtle way, that's all I can really say. What we hear is that we will never get access to policy makers in Government." He added: "We get told that if we were to say less, and to be less regular in the saying of what we say, we would then get the chance to have conversations with Government departments."
Food poverty in Britain is set to worsen in the coming years, he fears. "We have to face the reality that what we are seeing now is just the beginning," he told the IoS. "The measure must be that when things go wrong, we fast-track putting them right. But we have a Government department that tolerates without shame situations where people have no access to financial support for months on end at times.
"If you were to take the same principle and apply it to the health service and say, 'A tiny proportion of patients won't get a good service', and as a consequence they don't get better and die, there would be a scandal. Because you would never be allowed to consider that that's how you would operate a public service."
Cameron defends poverty record
In a statement, a Government spokesman said: "Britain has a proud tradition of volunteering and of civil society and faith groups providing support to vulnerable people and this Government welcomes that. We know that the reasons for food-bank use are complex and often overlapping, so it is misleading to claim that it is driven by benefit delays. The vast majority of benefits are paid on time and improvements are being made year on year."
He added: "We continue to spend around £80bn a year on working-age benefits so we have a strong safety net in place to support millions of people who are unemployed or on low incomes."
Join our commenting forum
Join thought-provoking conversations, follow other Independent readers and see their replies