Thousands attend funeral of 'bullied' 11-year-old who was found hanged
Mourners at Asad Khan's funeral in Bradford wore t-shirts printed with anti-bullying slogans and 'RIP little man Asad'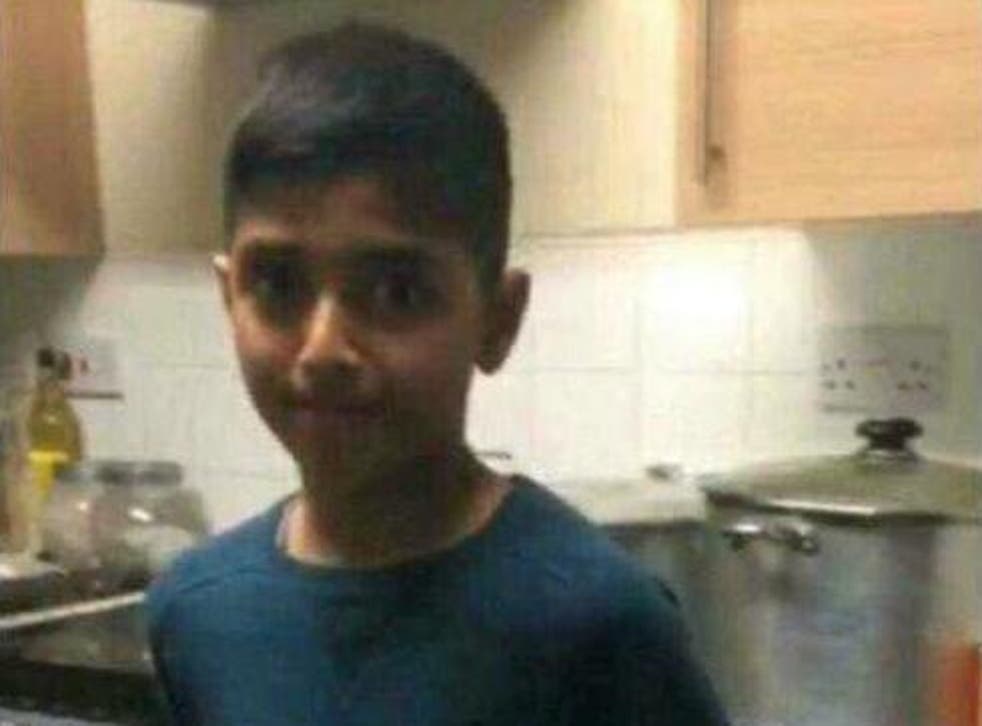 Thousands have attended the funeral of an 11-year-old boy who killed himself amid claims he was being bullied by older boys at his new school.
Asad Khan was found by his mother hanging in his bedroom at their family home in Bradford on September 28, minutes after he had told her he never wanted to return to the secondary school he had started at just three weeks before.
Ms Khan forced her way through Asad's locked bedroom door and tried to resuscitate the unconscious child, but he was later pronounced dead in hospital.
Mourners at the boy's funeral, which took place on Monday at the Masjid Bilal mosque in the west Yorkshire city, wore tops printed with anti-bullying slogans and 'RIP little man Asad'.
Police are investigating the boy's death, but suggested claims he was assaulted on the day he died are untrue.
Detective Inspector Paula Bickerdike of Bradford District Police said: "We have spoken to someone who was reported to have witnessed Asad being assaulted at his school just hours before his death.
"We have now established that this person did not witness such an incident.
"We are continuing to investigate what was happening in his life prior to his death on behalf of the coroner and are appealing for anyone with information which may assist this inquiry to come forward."
An inquest heard Asad did not want to continue attending Beckfoot Upper Heaton School in north west Bradford.
Coroner's officer Simone Holmes told the inquest: "He was a fit, healthy, sociable and chatty boy.
"Recently he'd started a new school. He was reluctant to attend that school."
On the day he died, Asad came home from school, went to the bathroom and then into his bedroom, where he killed himself, Bradford Coroner's Court was told.
Asad's aunt Rehana Bibi, 34, told the Bradford Telegraph and Argus: "The boy was scared. Because he was scared he did not even know what he was doing, he was too innocent to know: what I am doing is death. Maybe he just wanted a bit of attention, or he was fed up that day."
Ms Bibi said she had heard Asad was being bullied from children in the family, who had spoken to other boys at Asad's school.
"He didn't even really say openly, 'I am getting bullied'," she said, "but one of the boys said he had seen seen him in school once and that Asad was standing in the corner with tears in his eyes. The boy said he had wiped Asad's tears and asked what was wrong and Asad had replied, 'Them boys'.
Bradford West MP Naz Shah visited the bereaved family shortly after the boy's death and said they were devastated.
Ms Shah told the local paper: "Mum was very quiet and very much in shock. Asad's dad said his son was a very reserved and quiet young boy and he used to pray that he would be okay.
"This bullying needs to stop, it is taking young boys' lives. I strongly believe this is bullying from school," she said.
Simon Wade, the head teacher at Beckfoot Upper Heaton, confirmed the boy had been a pupil for three weeks. He said the 11-year-old had appeared to be doing well and had made a "great impression on all who met him". Mr Wade said Asad had a positive approach to school life.
Speaking after the funeral, family friend Haliba Ali, 17, told the Mirror: "We wanted to show our support for Asad with the message that bullying has to stop."
Local resident Riaz Ahmed said he was there to pay respect to the family, adding: "It is so shocking that a young life has been wasted. It has broken everyone's hearts and will strike a chord with every parent that this can happen anywhere."
Quotes on depression

Show all 14
Arshad Ali, a local psychotherapist, said he and Rafiq Sehgal, former President for the Council of Mosques, were going to get together with Asian TV companies to broadcast the message that people need to be aware of bullying.
"It is a hidden evil. So many people have come today in respect and mourning but this cannot be forgotten.
"We must make people, teachers, parents all aware to look for signs and act on them.
"We do not want this young boy's life to have been a waste. If we do not do anything and this does not go further then what would have been the point?"
Anyone affected by any of these issues should contact the Samaritans
Register for free to continue reading
Registration is a free and easy way to support our truly independent journalism
By registering, you will also enjoy limited access to Premium articles, exclusive newsletters, commenting, and virtual events with our leading journalists
Already have an account? sign in
Register for free to continue reading
Registration is a free and easy way to support our truly independent journalism
By registering, you will also enjoy limited access to Premium articles, exclusive newsletters, commenting, and virtual events with our leading journalists
Already have an account? sign in
Join our new commenting forum
Join thought-provoking conversations, follow other Independent readers and see their replies