Calais strike 'suspended' but thousands of lorry drivers still stuck on M20 in Kent
Thousands of bottles of water and emergency food supplies were distributed in yesterday's heat as part of Operation Stack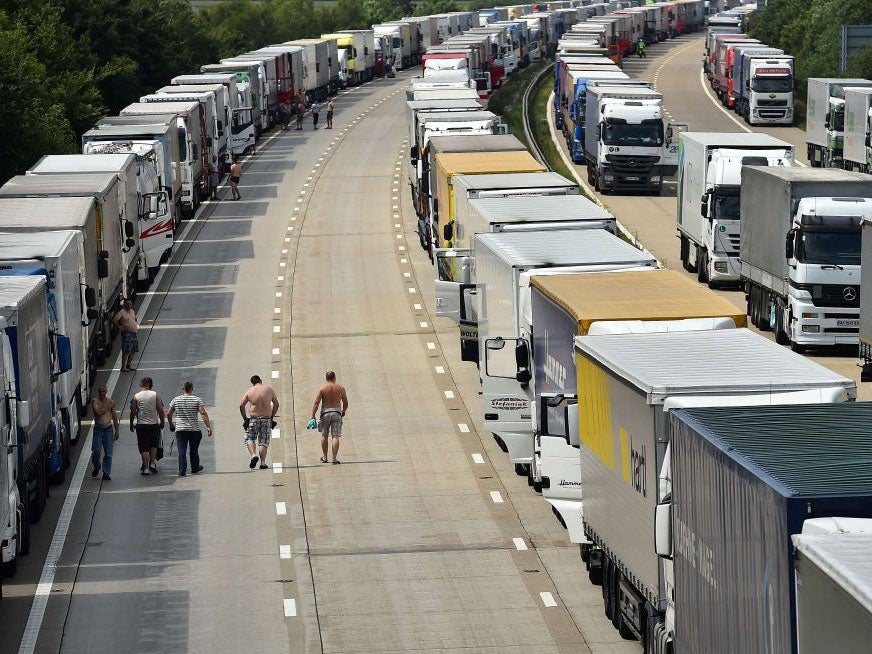 More than 3,000 lorry drivers are facing a fourth day stuck in sweltering cabs on the M20 in Kent as chaos continues after strikes on the other side of the Channel.
Emergency water and food was distributed yesterday as temperatures hit 35C on the hottest July day on record in the UK.
Ferry services have resumed between Dover and Calais after the blockade by French strikers was partially lifted at 6pm yesterday.
P&O planned to run "limited" service once every two hours today but said this morning that industrial action had been "suspended" in France and ferries could run in both directions again.
It was unclear how long the window will be open and how quickly the huge backlog of lorries can be cleared, with P&O continuing to advise people to re-book tickets for non-essential travel.
More than 3,400 vehicles were stationary on the M20 yesterday, which police closed to non-freight traffic between junctions eight and 11, and London-bound between junctions nine and eight, last night.
As part of Operation Stack, they have been parked in four huge queues stretching for more than 30 miles.
Kent County Council, police, firefighters and the Red Cross handed out more than 2,000 bottles of water and 750 snack meals to drivers yesterday as part of humanitarian assistance on the closed stretch of the M20.
Hundreds more meals and 5,000 bottles of water were on standby to be distributed today as temperatures cool to around 25C, and vans have been set up off the road providing more tea, coffee and stacks. Portable toilets have also been put in place.
A council spokesperson warned that freight drivers entering the queue will not have "immediate" welfare provided and said the measures depend on weather conditions.
The Road Haulage Association said the action was having a "massive effect" on the UK economy and was placing livelihoods of hauliers at risk.
Its chief executive Richard Burnett called the situation "absolute mayhem", adding: "The UK and French governments must acknowledge their responsibilities to all Port of Calais users, move in and act. If this means deployment of the armed forces then so be it.
"Let's get this desperate mess sorted out now and talk about a long term solution afterwards. The scale of the current situation has to be seen to be believed.
"The only word to describe what is happening there is absolute mayhem."
Alan Overton, a lorry driver from Grimsby, told BBC Radio Kent he had been stuck since just after 4am on Tuesday with a lorry load of wet fish.
"At the moment we have enough fuel to keep the refrigerated motors going, but there'll come a point when that runs out and the load is in jeopardy of being scrapped," he said.
"It's already smelling... and fish water is dripping out of the trailers."
Drivers are still being advised to report to junction eight of the M20 and wait for assistance, and anyone trying to take the M2 is being diverted.
A spokesperson for the Port of Dover said: "We sincerely regret the impact to the travelling public, freight and the Dover community of a situation that is beyond our control.
"We will continue to monitor the situation closely in liaison with our ferry partners and the Port of Calais in order to resume normal operations as soon as possible."
The authority could not say whether industrial action, which was the second French strike in a week, would resume.
Motorists told to avoid the area vented their frustration about the delays and their impact on traffic in Kent.
On Twitter, one wrote: "This Operation Stack is a disgrace, wasn't even travelling in the direction of France and it's still causing hour delays."
Another tweeted Conservative Dover MP Charlie Elphicke, saying: "For the record, the people of Dover are now stranded, completely cut off in their own town."
In pictures: Calais crisis
Show all 15
The disruption began on Monday when MyFerryLink workers staged an unannounced strike in protest at expected job cuts in Calais.
Migrants have been taking advantage of slow-moving and queuing traffic by trying to board vehicles bound for Britain, risking their lives by clinging to the underside of lorries.
More than 3,000 people displaced from countries including Eritrea, Syria and Afghanistan have set up camp in the French port as they attempt to reach the UK.
Cabinet minister Oliver Letwin has chaired a meeting of the Government's Cobra emergency committee to discuss the situation in Calais, and Prime Minister David Cameron has spoken to President Francois Hollande on the issue.
Holidaymakers are advised to contact their ferry operator before travelling and go to the Port of Dover website for information.
Additional reporting by PA
Join our commenting forum
Join thought-provoking conversations, follow other Independent readers and see their replies