Council worker blames 'people of certain culture' for drowning deaths at Camber Sands
'The job of the council is to protect people, not to judge them on appearance' says victim's mother
Peter Walker
Saturday 24 December 2016 18:07 Comments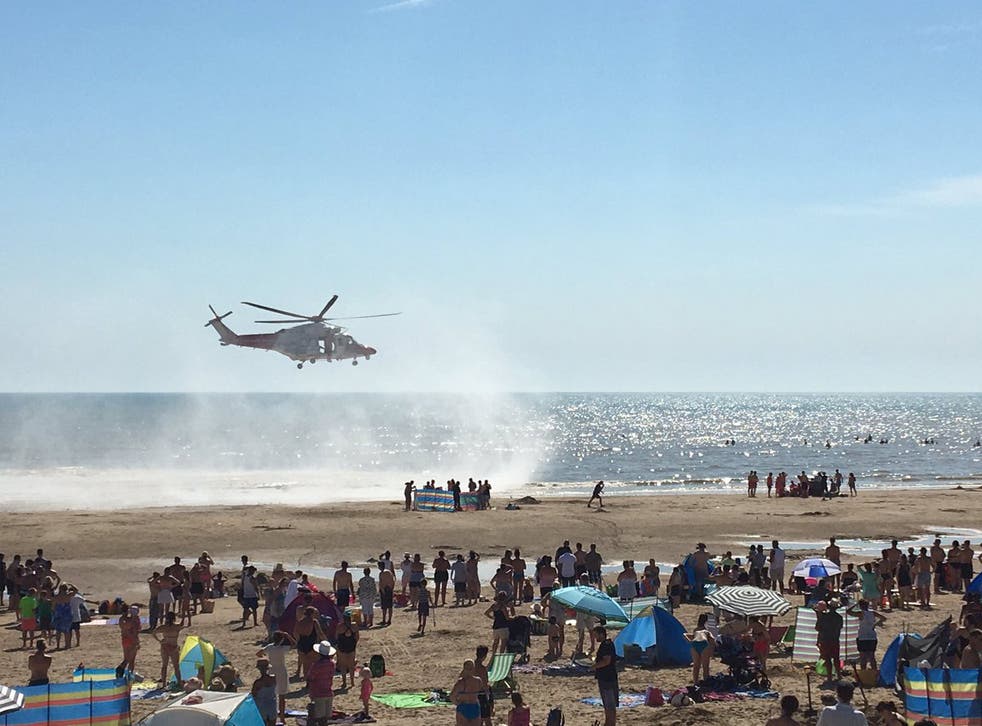 A council is facing mounting criticism after an employee appeared to bemoan people of a "certain culture" drowning along its coastline, according to reports.
A British council officer said it was "unfair for us to deal" with "non-swimming persons" dying at an East Sussex beach.
Seven men – six Asian and one Brazilian – drowned at Camber Sands beach this year.
One of the men's mothers, ahead of a full inquest scheduled for early next year, has since said it is the council's job to "protect people" and not "judge them".
The Rother District Council incident log, which The Guardian claims to have seen, was written on the day that two of the men died on 24 July this year.
The log reportedly states: "We are again faced with incidents of non-swimming persons of a certain culture that enter the water in great numbers with deadly results.
"The combination of a beach as shallow as Camber attracting predominantly non-British visitors has been an increasing issue over the last 10 years and the risks that these people create upon their lack of ability in being 'tempted in' to such a shallow bay are becoming unsustainable and unfair for us to deal with or carry the burden of responding to."
It continues: "For a non-swimmer to jump into the deep end of Rye swimming bath would be foolish but we are faced with thousands entering an ocean and responding to their actions and inevitable consequences. An incoming tide, sand bars and breeze is a lethal combination for such people of little swimming ability and we are being left with the trauma of responding to the consequences."
The dead includes Londoner Mohit Dupar, of Asian heritage, who died trying to save Brazilian 19-year-old Gustavo Silva Da Cruz on 24 July.
On 24 August, Kenugen Saththiyanathan, 18, his brother Kobikanthan Saththiyanathan, 22, both of Erith, south-east London, their friends Nitharsan Ravi, 22, of, Plumstead, south-east London, Inthushan Sriskantharasa, 23, of Grays, Essex, and Gurushanth Srithavarajah, 27, of Welling, south-east London, all died.
They were all of Tamil origin, from south India and Sri Lanka.
More than 8,000 people subsequently signed a petition calling for lifeguards to man Camber Sands, where around 25,000 people visit on hot days, during the summer.
The council is reportedly yet to make a decision, even though in 2013, the Royal National Lifeboat Institution recommended a lifeguard setup.
"I don't understand why these things are said about nationality and culture," said mother of Gurushanth, Uthayamalar Srithavarajah, speaking to The Guardian.
"The job of the council is to protect people, not to judge them on appearance."
Mayuru Ravi, 17, sister of Nitharsan, said: "All five could swim really well."
Rother District Council was unavailable for comment when called on 24 December by The Independent.
A spokesman told The Guardian that it was inappropriate to comment before the inquest concluded next year. They also said the council was looking closely into safety options for Camber beach.
Register for free to continue reading
Registration is a free and easy way to support our truly independent journalism
By registering, you will also enjoy limited access to Premium articles, exclusive newsletters, commenting, and virtual events with our leading journalists
Already have an account? sign in
Join our new commenting forum
Join thought-provoking conversations, follow other Independent readers and see their replies