Canada Day: What is it, when does it happen and how to celebrate if you are in the UK
Canada's 150th anniversary celebration kicks off on 1 July – here's what it's all about and how to join in the festivities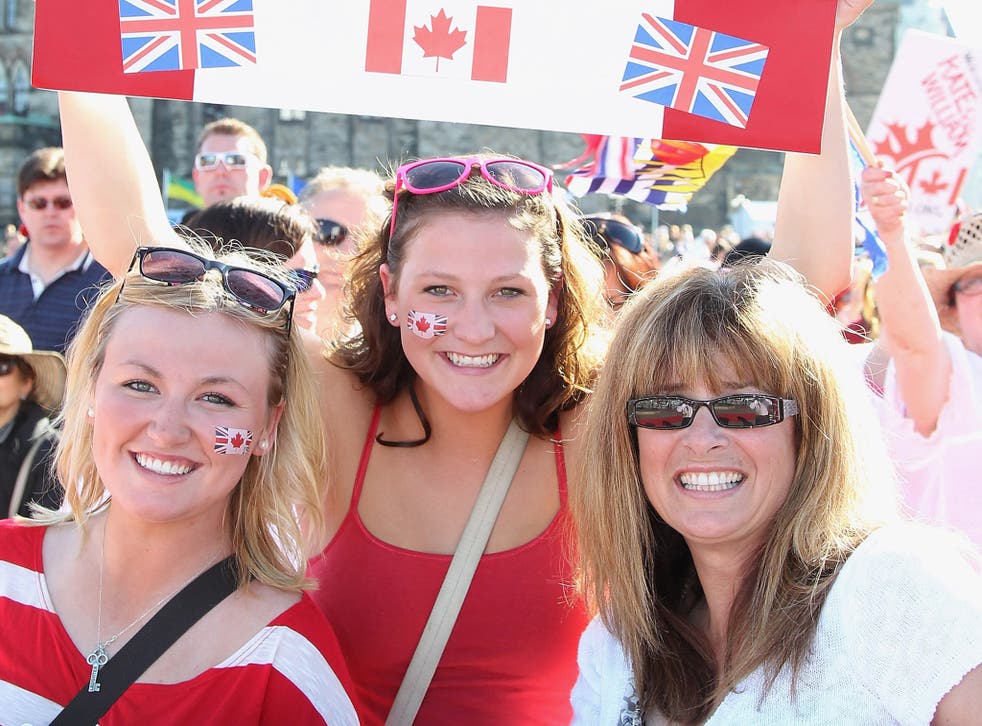 What is Canada Day?
Canada Day marks the anniversary of the day the North American country's three colonies, Canada, Nova Scotia and New Brunswick, came together. The three colonies formed a Dominion that was part of the British Empire – and is now is a member of the Commonwealth.
The union took place on 1 July, 1867, although Canada was not entirely independent of England until 1982.
Each year, Canadians and friends celebrate the country's "birthday" all around the world – but this 1 July marks a special occasion: Canada's 150th anniversary.
When is Canada Day?
Canada Day takes place on 1 July every year in honour of the country's 1867 union. The only exception is if the day falls on a Sunday, in which case the country's birthday is celebrated on 2 July.
This year, the anniversary falls on a Saturday.
How does Canada celebrate?
Canada has already been celebrating its 150th anniversary all year long with a series of Canada 150 events across the nation.
This Saturday will see major celebrations across the country – "from sea to shining sea" – including concerts, parades and firework displays.
The northern nation's capital Ottawa will be hosting a huge celebration on Parliament Hill, which Prime Minister Justin Trudeau is expected to attend.
Members of the Royal Family also frequent the capital to attend the festivities; this year, the Prince of Wales and the Duchess of Cornwall have made their way to Ottawa to celebrate the anniversary.
There will also be special performances from Canadian artists, including Cirque du Soleil, Alessia Cara, Walk Off the Earth, Gordon Lightfoot and more, followed by a pyromusical fireworks show.
How to celebrate in the UK?
Trafalgar Square celebrations
Canadian expats celebrating Canada Day out-of-country shouldn't despair.
A major celebration is expected to be underway in London's Trafalgar Square, where the northern country's birthday is celebrated each year.
The popular landmark will be getting a red-and-white makeover, with classic Canadian treats up for grabs, from Tim Hortons double-doubles to sweet maple syrup snacks.
The festivities kick off at 11am, with a number of activities, including hockey and a CFL obstacle course, and booths from Canadian companies like Lululemon and One Ocean Expeditions on display.
There will also be performances from celebrated Canadian artists including singer Tanya Tagaq, Pup, Safia Nolin, Daniel Caesar, cast members from Kinky Boots, jazz with Ron Davis, Flip Fabrique performances from Canadian comedians like John Hastings, Paul Myrehaug and Glenn Wool (full schedule below).
Project Moose after parties
The party wraps up at around 8 pm, but there are a number of after parties planned all across the UK that you can find through Project Moose. You can also check out the map below to find a party near you, or follow the fun on Twitter with #projectmoose150.
London's Maple Leaf bar, which touts itself as the "one and only Canadian pub in the heart of London" is also participating, of course. Expats and lovers of Canadian beer can find a number of Canuck brews, including Moose Head, Sleeman's, Molson Canadian and Molson Canadian Ice, as well as a range of Canadian wines and spirits. You can also try a Canadian Caesar, which is arguably one of the country's greatest inventions – a vodka cocktail mixed with Clamato juice (that's clam and tomato), hot sauce and Worcestershire sauce, topped off with a celery stick.
Canadians Mount the Guard
The Princess Patricia's Canadian Light Infantry, the Royal Canadian Regiment and the Royal Canadian Artillery Band have been marking Canada 150 by mounting Her Majesty's Guard in both London and Windsor.
Canadian soldier Megan Couto already made history this June, becoming hte first female infantry officer to command troops guarding the Queen at Buckingham Palace. The captain led as many as 40 Canadian soldiers through the changing of the guard ceremony as part of the Canada 150 celebrations.
Her troops are expected to serve as the Queen's Guard until 3 July, keeping watch over Buckingham Palace, St James's Palace, the Tower of London and Windsor Castle.
Join our new commenting forum
Join thought-provoking conversations, follow other Independent readers and see their replies